Decoding the Modi Union Cabinet 2.0
Apart from the four key appointees of the Cabinet Committee on Security (CCS), the rest of the cabinet stresses continuity, despite several ministers who have been dropped.
Prime Minister Narendra Modi has lived up to his reputation for mixing surprises with continuity — the 2019 Union Cabinet is an amalgam of old and new.
Surprises with continuity: Modi's cabinet 2.0 promises to retain the old and usher in the new. (Photo: Business Today)
Consider the big four portfolios that comprise the Cabinet Committee on Security (CCS).
Home:
Amit Shah broke the back of terrorism in Gujarat when he was the state's home minister. As Union Home Minister, he will have several challenges — the first is continuing to exert pressure on Naxalites in central and eastern India. The second is tackling the volatile situation in Jammu & Kashmir where assembly elections are due by year-end.
The security forces have had significant success since the Balakot strike in eliminating dozens of Jaish-e-Mohammed (JeM) and Lashkar-e-Taiba (LeT) terrorists. Ceasefire violations along the Line of Control (LoC) have reduced and a nervous Pakistan has extended the closure of its airspace till June 14 — well over three months after the Indian Air Force (IAF) bombed a terror facility in Balakot deep within Pakistan's Khyber Pakhtunkhwa province.
Shah's challenge will be to enhance security operations against Pakistan-sponsored terrorists in the Kashmir Valley while de-radicalising a section of Kashmiri youth and winning the trust of ordinary Kashmiris with developmental projects.
The man who broke the back of terrorism in Gujarat as the state's home minister, Amit Shah has several challenges now. (Photo: Twitter/ BJP4India).
Shah's other key challenge will be to fast-track corruption cases against alleged financial offenders. These include ongoing investigations and cases of alleged wrongdoing against Robert Vadra (land), Karti Chidambaram and P. Chidambaram (AircelMaxis) and Sonia and Rahul Gandhi (National Herald and Income-Tax).
With the Central Bureau of Investigation (CBI), Enforcement Directorate (ED), Intelligence Bureau (IB) and the Directorate of Revenue Intelligence (DRI) under different jurisdictions of the home and finance ministries as well as the Prime Minister's Office, Shah will work closely with the Modi-led PMO and Finance Minister Nirmala Sitharaman to ensure no bureaucratic blockages derail cases as they have in the past.
While Shah will no longer be BJP president, he will keep a close eye on the three key state assembly elections due this year: Haryana, Jharkhand and Maharashtra.
As home minister, Shah will be privy to a continuous flow of intelligence from the Research and Analysis Wing (RAW) and Intelligence Bureau (IB). This will help in assessing the party's growth in the South and preparing the ground for an electoral assault on West Bengal Chief Minister Mamata Banerjee's Trinamool Congress (TMC) fortress in the 2021 assembly poll.
External Affairs:
The second big CCS appointment is Subrahmanyam Jaishankar as external affairs minister. A sharp strategic thinker and former ambassador to China and the United States, Jaishankar, who is fluent in Mandarin and Russian, and has a Japanese wife, will be Modi's point man as the country gears up for a bigger role on the world stage.
Modi will meet Chinese President Xi Jinping at the Shanghai Cooperation Organisation (SCO) summit in Bishkek, the capital of the Kyrgyz Republic, on June 13-14 and again at the G20 summit in Osaka, Japan, on June 28-29. Modi is scheduled to hold bilaterals in Osaka with both US President Donald Trump and President Xi Jinping.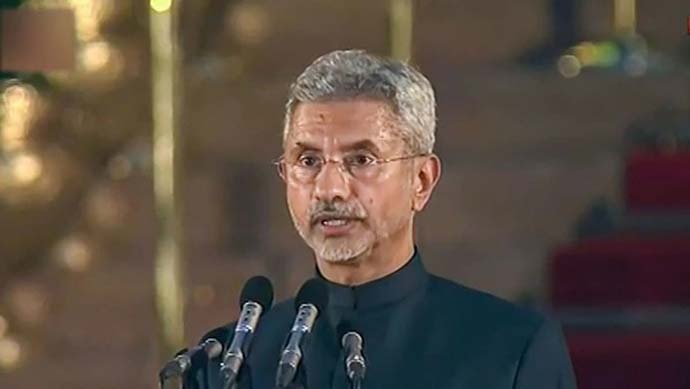 Fluent in Mandarin and Russian, Jaishankar will be Modi's point man as the country gears up for a bigger global role. (Photo: PTI)
Jaishankar's presence will add heft to India's foreign policy in a domain where New Delhi has historically punched below its geopolitical weight. With Ajit Doval continuing as National Security Advisor (NSA), India's foreign policy and national security interests will now merge seamlessly.
Finance:
Nirmala Sitharaman's appointment as finance minister is one of the most intriguing in Modi's new Union cabinet.
She was a junior minister in both the finance and the commerce ministries under Arun Jaitley and has the ability to grasp issues quickly.
NirmalaSitharaman is at ease with economy and finance with her background in economics. (Photo: Twitter/ BJP4India)
As a former member of a policy think tank and a post-graduate in economics, 59-year-old Sitharaman is at ease with economy and finance. With Railways Minister Piyush Goyal also in charge of commerce and industry, there will be significant synergies between the two ministries. Given the economic slowdown, India needs urgent structural reforms as well as taking welfare schemes to their conclusion. Working in tandem, Goyal and Sitharaman could form a proactive team.
Defence:
Rajnath Singh's lateral shift from home to defence is something of a gamble. With defence acquisitions behind schedule and the Rafale fighter jet controversy still in the Supreme Court, he will have his work cut out for him. Rajnath's honesty and straight-forwardness though will discourage arms dealers (officially banned since 2014) from using bureaucrat-surrogates to corrupt defence purchases.
Rajnath Singh's honesty and straight-forwardness will discourage any graft and many arms dealers. (Photo: Twitter/ BJP4India)
Apart from the four key CCS appointees, the rest of the cabinet stresses continuity — though several ministers have been dropped, among them, Jayant Sinha, Maneka Gandhi, Radha Mohan Singh, Rajyavardhan Rathore and Suresh Prabhu.
Overall, as expected, Modi has sprung several surprises, rewarded loyalty (Ravi Shankar Prasad, Prakash Javadekar and others) but been parsimonious with allies. JD(U) declined the cabinet berth offered to it, Apna Dal wasn't offered one at all, and Shiv Sena, Akalis and LJP (Paswan) got just one portfolio each.
A message too to Smriti Irani who could have expected a big promotion after her giant-killing performance against Congress President Rahul Gandhi — never take Modi for granted.
Also read: Who's got the toughest job? Amit Shah Home Minister, Rajnath Singh Defence Minister, Nirmala Sitharaman Finance Minister?
The views and opinions expressed in this article are those of the authors and do not necessarily reflect the official policy or position of DailyO.in or the India Today Group. The writers are solely responsible for any claims arising out of the contents of this article.