RIGHT Foot Forward
When the tide turns: How the political current is gradually favouring Narendra Modi once again
There is a realisation that the BJP may not have brought the promised 'acche din' but it has not been 'burey din' either.
'How is the josh' has become the BJP's signature call.
Ironically, however, it is the Congress and its president who appear to be high on josh. In contrast, the BJP seems to have woken up and smelt the coffee.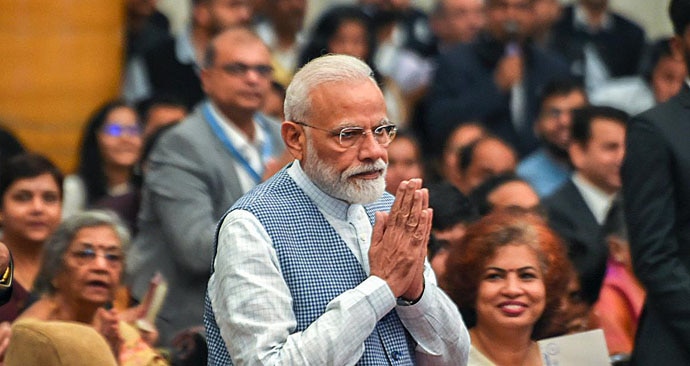 The BJP is busy forming new alliances, soothing ruffled feathers and wooing new partners. (Source: PTI)
Therefore, the BJP is systematically stitching up alliances by soothing wounds and wooing new partners. Congressmen are cockily strutting around, as if victory is already in their bag, turning down overtures from 'Aam and Yechury', if not all and sundry.
This may be as per plan.
The Congress can hope to lead the government if together with its confirmed allies like the Dravida Munnetra Kazhagam (DMK), Telugu Desam Party (TDP) and Janata Dal (Secular), they are way ahead of the combined Third Front. To get there, it has to maximise gains in the Hindi belt — other than Uttar Pradesh, where it can, at best, hope to touch double digits from the previous tally of two.
Therefore, it probably makes sense for Congress to reserve its gun powder for the north and the heartland, which are likely to offer best returns on investment.
It can be argued that going alone in states like Bengal and Odisha can help divide the anti-incumbency vote against the ruling dispensations — namely, the Trinamool Congress (TMC) and the Biju Janata Dal (BJD). But chances of such a strategy backfiring are equally high. Besides, how well this would go down with a sensitive leader like Mamata Banerjee is difficult to say, unless it is all part of a larger opposition understanding.
She won't be pleased: Mamata Banerjee may not like the Congress' bid to divide votes in the state of Bengal. (Source: PTI)
Professional punters believe after 'satta' bazaar quotes, the next reliable indicator of election trends is the number and direction of defections — on both these counts, the BJP and National Democratic Alliance (NDA) are scoring better. Much of this positive tilt towards the BJP is lazily attributed to the after-effects of Balakot. But the Indian voter is not so impressionable. So, let us not believe that they would make up their minds on the basis of a solitary surgical strike or the latest Twitter trend.
It is more likely that the narrative has started slowly shifting in favour of the BJP.
While Rahul Gandhi has been fixated on Rafale and an alleged Rs 30,000 crore to the junior Ambani, the BJP has succeeded in quietly turning back the conversation to other real and relevant pointers that are so comprehensively captured in its #MainBhiChowkidar video.
Concerned well-wishers of the Congress, from journalists to senior party leaders, have been calling for a return to more substantive issues, like jobs. But Rahul Gandhi is far too invested in flying machines to turn back in a hurry. Meanwhile, the BJP is consolidating its narrative through consistent 360-degree messaging.
There is a bigger disconnect when it comes to the script being followed by the other Opposition parties and the Congress.
Rafale hardly features in the Third Front's campaign list or for that matter, the United Progressive Alliance (UPA) allies. All of them have a song of their own. They are different regional remixes but secularism is also no longer the dominant theme as everybody is vying for the Hindu vote. Interestingly, the tune of the state leaders is not quite in sync with that of their supreme leader. They are a bit lost between multiple strands of caste, Hindutva, farmers' woes and singing praises for the dynasty.
Priyanka Gandhi Vadra's entry has added another layer. She went emotional in Gandhinagar after her maiden visit to the Sabarmati Ashram. This week, she has started her 100 km temple-hopping boat ride from Allahabad to Varanasi. Besides turning on a charm offensive, it is not clear so far what she stands for in these elections.
As of now, into this election, it is not quite clear what Priyanka Gandhi really stands for. (Source: PTI)
On the other side, there is no confusion.
Whether one likes it or not, it is all about Modi — and the BJP is not in the least apologetic about it.
Thus, when Modi changes his Twitter name, prefixing it with 'Chowkidar', so does every single BJP functionary on social media. If there is any discomfort within certain quarters of the party or the Sangh about the 'Modi' cult, this is not the time to bring it up. There will be enough time to revisit the leadership issue if Modi fails to deliver a victory. That does not worry a party that has literally risen from the ashes like a phoenix after its Lok Sabha tally had gone down to two. Between the old guard and the Sangh, they have enough staying power for the long haul.
However, for the Congress and many Opposition leaders, this is a do-or-die election. Therefore, one is intrigued by the apparent lack of a coherent and coordinated game plan. Unless this temporary lull is a decoy for a massive quake in store, Rahul Gandhi and the Opposition seem to be floundering at this juncture.
Meanwhile, the situation in Odisha has begun to unravel after Baijayant Panda officially joined the BJP. The cracks in the BJD are becoming difficult to hold with Scotch tape. Whether this will push Naveen Patnaik towards the Third Front or, as usual, whether he would like to keep his options open will depend on whether the defections remain a trickle — or turn into a tide in the coming days.
Baijayant Panda was officially inducted in the BJP by party president Amit Shah. (Source: PTI)
In West Bengal, the TMC still reigns supreme in and Mamata Banerjee's grip on the state remains as strong as ever — the seven-phase poll schedule has caused some consternation in the party ranks. Not one to take any chances, she has been remarkably pragmatic in her choice of candidates. The BJP's biggest problem in the state is the dearth of good candidates. While its vote share might show a leap, it may not show a commensurate spurt in the number of seats. But BJP president Amit Shah may succeed in keeping Didi busy in the state, leaving her with little time to play catalyst in the Opposition camp.
Chandrababu Naidu has his task cut out for himself with Jagan Reddy and K Chandrashekar Rao breathing down from across the border. The Congress-JDS alliance of convenience had shown some initial traction. But following the distribution of seats with JDS' own inner cross-currents and Congress' infighting, the BJP looks all set to be the front-runner once again.
There are serious doubts about how far the Congress will be able to encash on the advantage of the just won states of Madhya Pradesh, Rajasthan and Chhattisgarh. As per reports, it is finding it difficult to deliver on its promise of farm loan waivers, both due to shortage of funds and loopholes in the scheme that is causing major dissonance among those who voted for the party in the Assembly elections. In comparison, Modi's PM Kisan Samman Nidhi Yojana may yield better dividends for the BJP.
What few have commented on, or perhaps even noted, in recent weeks is the diplomatic support that India was able to rally first around Balakot and then, on the listing of Jaish-e-Mohammed (JeM) chief Masood Azhar as a global terrorist by the UN Security Council (UNSC). Fourteen out of 15 UNSC members voted in favour of the resolution that was co-sponsored by seven members along with India. This was followed by a sheepish statement by the Chinese ambassador to India Luo Zhaohui that the matter was only on a "technical hold" and "optimistic" that it will be "resolved".
The significance of this both in the domestic and international context cannot be missed.
Rahul Gandhi's barbs at the Modi government for having released Masood Azhar after the IC 814 hijack and later taking an allegedly reconciliatory stand at Wuhan fell flat with the domestic audience. But, more importantly, this sequence of events shows the confidence the international community places in Modi's leadership, which is also a tacit acknowledgement of their expecting him to continue after May 2019.
Since cab and auto-rickshaw drivers have become wiser now and do not part with their poll predictions for gratis, a safer place to pick up electoral trends are the city watering holes. Sitting incognito, like a fly on the wall, at a South Bombay club bar on the weekend, I could sense a distinct change in mood. The same set that was far more critical of Modi and the BJP just a few months ago sounded much more amenable on voting for him again.
Let's have another round? The change in the mood of voters is becoming increasingly perceptible. (Source: Reuters)
There is a realisation that Modi may not have brought the promised 'acche din' — but it has not been 'burey din' either. Sure, mistakes have been made and everything did not go as per expectation. But there is also an acknowledgement that a lot has been achieved — and the building blocks laid for the next lap. There are clear signs of momentum picking up and it would be counter-intuitive to derail it just when it is about to take off.
Businessmen are a prudent lot.
They would not like to throw the baby out with the bathwater — just because of Goods and Services Tax and demonetisation.
Also read: How the Opposition is helping Modi win a second term as Prime Minister
The views and opinions expressed in this article are those of the authors and do not necessarily reflect the official policy or position of DailyO.in or the India Today Group. The writers are solely responsible for any claims arising out of the contents of this article.