Before the 2014 general elections, some had expressed doubt about the suitability of Narendra Modi as the prime minister of a secular India. His RSS background and perceived role in 2002 pogrom in Gujarat were repeatedly raised to question his credibility to rise above majoritarian interests.
Reservations were expressed over the credibility about the success of his "Gujarat Model". Some subdued voices questioned his personal credibility for obscuring information about his legal wife and academic degrees, and also the "Snoopgate".
Large number of public intellectuals helped create the "Modi phenomenon".
Despite critical voices in public discourse over the suitability of Modi as prime minister for the 'idea' of India, many Indians appeared to believe Modi would be good for the country's economy. It is not because many media and business houses bought into the "Modi Myth" but also a large number of public intellectuals helped to create a "Modi phenomenon".
His go-getting free marketer persona enthused the likes of Shekhar Gupta, Tavleen Singh, and even Shahid Siddiqui and MJ Akbar to join the saffron media brigade of Swapan Dasgupta, Chandan Mitra and Arun Shourie as fans of Modinomics.
The so-called business friendly philosophy of Modi also moved free-economy propagators like Jagdish Bhagwati and his sidekick Arvind Panagariya, Meghnad Desai, Surjit S Bhalla, Arvind Virmani, Gurcharan Das and Vivek Dehejia to start comparing Modi with the likes of Reagan or Thatcher, or even Deng Xiaoping.
Modi sceptics in business establishments like Deepak Parekh and Narayana Murthy also went with the wave and endorsed Modi before the election.
Surprisingly, some sharp and highly voluble observers of Indian politics like Ashutosh Varshney and Pratap Bhanu Mehta also committed the mistake of believing in Modi's development mirage in pre-election weeks while ignoring and even downplaying his hardline Hindutva ideology.
Their projection of Modi as a moderate and progressive mascot for a new India was a serious blow for Modi critics who were struggling to highlight the dangers of Modi as prime minister of a country like India.
Besides a few names like Amartya Sen and Ramachandra Guha, most of the Indian public intellectuals were somehow backing Modi before the general elections in 2014, either overplaying his economic success stories or downplaying his rabid political philosophy.
India Foundation and Vivekananda International Foundation, two right-wing propaganda machines under the guise of "think tanks", were extremely efficient in churning out stories glorifying Modi without much opposition from left-leaning or liberal institutions.
Sensing public mood against the indecisiveness of tainted UPA regime, many of the brightest minds of India went along or kept silent. Public intellectuals in India conveniently forgot that they are not to pander to public opinion but to create one.
Hindutva agenda has completely taken over the governance space.
Several of these Indian intellectuals are having second thoughts over Modi and his development "mukhota". But unfortunately they are late in realising the extent of implications for India with Modi being at the helm. They have started to see now what was straightforward to foresee from the Hindutva icon's track record.
After the 2014 election, a series of disgusting incidents fuelled by communal hatred have rattled the country. Modi's pre-election development hyperbole has taken a back seat and the minority bashing Hindutva agenda has completely taken over the governance space. To conceal the caste-rupture in Hindu vote bank, a serious project is in the making to create a phony binary of "national" and "anti-national".
Indian intellectuals cannot anymore hide behind blaming the fringe as Modi has been continuously exposing his "Hindutva" fangs. He left no stone unturned to communalise the Bihar election. He does not hesitate to push the country into a violent ideological struggle over farcical issues like "pseudo-nationalism" and "Bharat Mata ki jai" to enthuse his vote bank.
Though, some intellectuals have started waving the red flag, they still refuse to openly express the seriousness of the threat which Modi as prime minister poses to the country. The usual refrain is that Indian democracy has the strength to withstand the divisive agenda of Modi and his RSS mentors as it was able to survive the dark days of Emergency.
However, they fail to see that the Emergency was an assault on political freedom and individual rights, but was not posing any threat to the rights of minorities. The secular character of the country was never in danger then.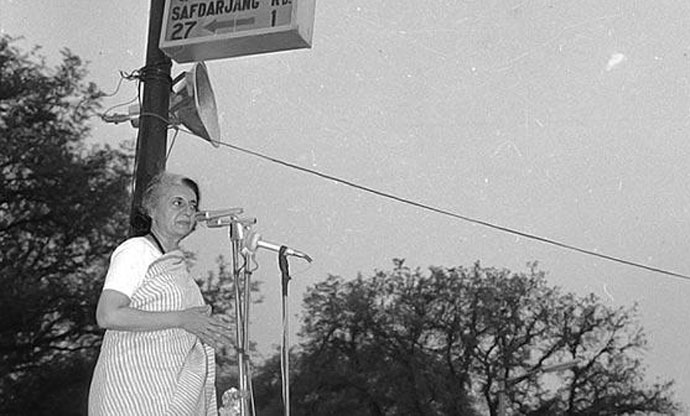 Emergency was an assault on political freedom. (Picture of: Indira Gandhi)
For an ethnically segmented country to have political rights is important but minority rights are an absolute necessity. Indian intellectuals have often taken the East Asian examples in their attempt in separating the political from economic while espousing the suitability of Modi's candidature as India's prime minister.
They should not have travelled that far before looking within South Asia itself. Countries in India's neighborhood have survived years of authoritarian dictatorship, but when the sizeable minority groups have been particularly targeted, the results have been quite devastating. East Pakistan became Bangladesh in 1971 and the sword of "Tamil Elam" still hangs over Sri Lanka.
Selig S Harrison, an American journalist and scholar, had raised doubts about the survival of Indian state way back in 1957. Indian project, with its secular democratic character, has managed to defy these prophecies for long.
However, Modi's majoritarian adventurism has revived the danger again. Minority demography might help to avert any attempt at disintegration of the country, but the distinct possibility of a violent civil war cannot be ruled out.
India's public intellectuals need to soon come out strongly in articulating these real dangers to the country under prime minister Modi. As Noam Chomsky says, "It is the responsibility of intellectuals to speak the truth." No matter how bitter the truth is.