No Indian prime minister since Indira Gandhi has attracted as much adulation — or as much revulsion — as Narendra Modi.
So, what stands out as Modi's legacy in his first term?
Indira Gandhi's first term, from 1966 to 1971, by way of comparison, was a mixed bag. She nationalised banks, abolished princely privy purses, raised the maximum income-tax rate to over 97%, battled crippling food shortages, and presided over a socialist rate of economic growth that averaged three per cent a year.
Within eight months of winning a second term in March 1971, Mrs Gandhi would be hailed as a Durga, liberating East Pakistan in a decisive war in December 1971 to create a new nation — Bangladesh.
Shades of Grey: Indira Gandhi's first term as Prime Minister, from 1966 to 1971, was a mixed bag. (Source: IndiaToday.in)
The euphoria, however, didn't last.
By 1974, civil unrest, fuelled by Jayaprakash Narayan's Sarvodaya movement, had spread across India. The Allahabad High Court's verdict, invalidating Mrs Gandhi's victory over Raj Narain in the 1971 Lok Sabha poll and barring her from contesting elections for six years, led to her declaring the draconian Emergency in June 1975. She lost power in the March 1977 General Election but regained it in January 1980.
In Indian politics, it's never over till it's over.
Since Modi's leadership has been closely compared to Indira Gandhi's, what lessons can he learn from her rise, fall and rise?
And how does his five-year report card read?
Modi rode to power in May 2014 on a wave India had witnessed only twice before — first, in March 1977, when the Congress was swept out of power in the Lok Sabha election, following the revocation of the Emergency, and second, after the assassination of Indira Gandhi in October 1984, which lifted Rajiv Gandhi two months later to the biggest electoral landslide in the history of independent India. The Congress won more seats (over 400) in December 1984 than it had ever won under Jawaharlal Nehru and Indira Gandhi.
But those two electoral waves followed unusual events — one, the Emergency, the other, a Prime Minister's assassination.
The wave that took Modi to victory in 2014 was preceded by an anti-corruption movement against the scam-tainted Congress-led UPA government — but it was not on the scale of the epochal events of 1977 and 1984.
Agent of Change: A scam-tainted Congress-led UPA govt paved the path for Modi's landslide victory in 2014. (Source: Reuters)
By winning the first single-party majority since Rajiv Gandhi's triumph in 1984, expectations from the Modi government were high.
Has it lived up to them?

The answer: Yes and no.
Modi has done well on several fronts — but poorly on many others. Consider here the disappointments since his achievements have been well documented.
On the economy, Modi has proved to be a statist rather than a reformer. He has been excellent in executing big-ticket schemes. These include health insurance for 500 million Indians, digitised delivery of subsidies to the poor, financial inclusion and civic infrastructure.
But on structural economic reforms, his record is mixed. The land acquisition bill remains in limbo. Several projects are moving at a snail's pace because laws around acquiring land are opaque and complex.
The Insolvency and Bankruptcy Code (IBC) is meanwhile in danger of being blindsided by India's somnolent judicial system. Unless the IBC is suitably amended, it will go the way of previous debt structuring schemes. Promoters who are willful defaulters can be heard heaving a sigh of relief.
Among the biggest disappointments of Modi's five years in office is the lack of urgency shown on public sector divestment.
PSUs have simply bought each others' shares to fulfil budget divestment targets — there has been no serious attempt to privatise loss-making government-owned companies like Air India, MTNL and several others. As in Gujarat, Modi has placed his faith in the public sector and the bureaucracy.
Still Not Seeing the Money: Arun Jaitley has tinkered with tax slabs — but not established a new tax paradigm. (Source: Reuters)
Finance Minister Arun Jaitley's six Union Budgets (including the interim Budget in July 2014) have been uninspiring. He has tinkered with tax slabs — but not established a new tax paradigm, such as the direct tax code (DTC) that previous Congress finance ministers attempted. The constant tampering with import duties has taken India several steps back into an earlier era.
Modi has spent significant political capital on foreign policy. Early initiatives with Pakistan have not paid off. With China and the United States, on the other hand, the record is mixed. Greater success has been achieved in the Middle East, East Asia and Africa.
Most disappointing though has been Modi's failure to live up to the promise of minimum government and maximum governance. In fact, the government's tentacles have grown: Tax forms are more complicated, compliance requirements for companies have become onerous, and paperwork has increased.
Meanwhile, the governance of institutions has wobbled — SEBI, RBI and TRAI are three specific examples. SEBI has stalled several market-friendly measures. RBI has issued circulars on bank loan recognition that are dilatory and contradictory. The Supreme Court recently struck down an RBI diktat, forcing the central bank to rethink its position. And TRAI's changes in broadcasting rules have complicated rather than simplified viewers' choices.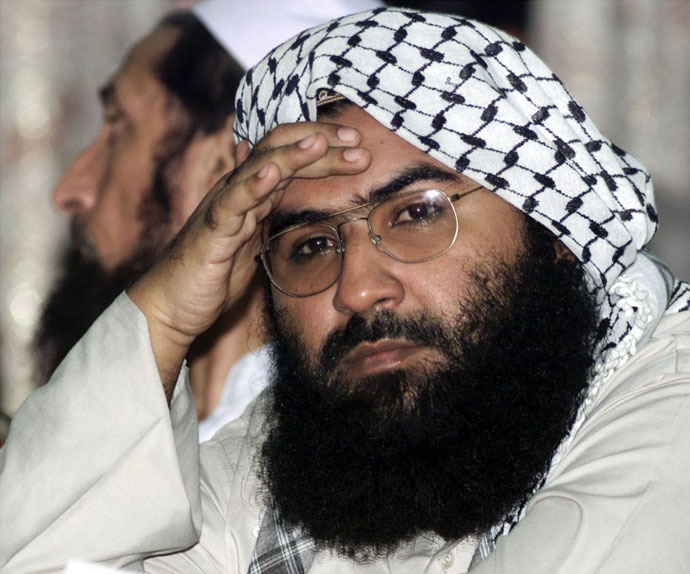 The listing of Jaish-e-Mohammed chief, Masood Azhar, as a global terrorist is part of the Modi govt's successful diplomacy. (Source: Reuters)
Modi's focus on national security has paid off though. It has allowed him to campaign — as Indira Gandhi did, after the Bangladesh war — on the plank of nationalism. The listing of Jaish-e-Mohammed chief Masood Azhar as a global terrorist by the United Nations Security Council (UNSC) is a reflection of the Modi government's successful diplomacy.
Few associate Mrs Gandhi with nationalism — but she was India's first nationalistic leader. She called a spade a spade as the historical record of her testy exchanges with US President Richard Nixon and Secretary of State Henry Kissinger reveals.
Like Modi, Indira too ran a largely faceless cabinet — it was only in her third stint as prime minister in 1980-84 that cabinet ministers like Pranab Mukherjee and PV Narasimha Rao asserted themselves.
In Modi's cabinet, ill-health has ruled out Arun Jaitley and Sushma Swaraj from future elevation. Rajnath Singh is unambitious. Nitin Gadkari is the only minister who, like Pranab Mukherjee in Indira Gandhi's cabinet, has acquired traction.
If Modi wins a second term on May 23, Gadkari will emerge as the most important member of the Union Cabinet. As history has shown, that may not necessarily spell good news for him.