In the entire political history of Bengal, this has never happened before — that Bengal has shown such love and organic support for a non-Bengali political leader.
Bengal has always loved Bengalis. It's only Bengalis who have replaced Bengalis in political pop culture. Bengal changes its political leaders only when it is looking to snap out of a current predicament. Most of the political icons in Bengal rode in on a massive popularity wave of "change" on their way to the chief minister's seat.
The first modern Bengali political icon was Dr Bidhan Chandra Roy, Bengal's first chief minister. Even now, he is spoken of with great respect among all the political leaders of Bengal. Though there was a tragic famine during the time of Dr Roy, the people of Bengal remember him as an able administrator and someone who started the trend of setting up of small manufacturing units, which gave a boost to the famed Bengal cottage industries.
A massive political turmoil in Bengal followed after Dr Roy — and then, there was Jyoti Basu who rode in espousing "change" to become the new chief minister of Bengal.
Saying it with sweets: But Bengal has seen bitter political times. Is the yearning for change going to herald a new era now? (Photo: Reuters)
Mr Basu — one of the ablest political minds India has ever seen — virtually ruled Bengal for 23 years. The CPM started slipping on its narrative ever since Jyoti babu stepped aside from politics. By the time Mamata Banerjee started the agitation against the Tata Nano factory in Singur, the political narrative had shifted in her favour — of course, the Trinamool political narrative again was "change".
But there are enough reasons in the Trinamool camp to press the panic button today.
This time, and for the first time in a Lok Sabha election, all the love and attention is directed towards a political leader who can neither speak Bengali, nor has any Bengali roots.
The massive popularity of Narendra Modi in Bengal is unprecedented.
Bengal has never shown this kind of love for anyone who's parachuted into the political scenario from another state.
This is the reason why the change in Bengal is most significant — and definitely, to my mind, heralds a new era in its political landscape.
The narrative seems to be quietly shifting in favour of Prime Minister Narendra Modi. Seeing the massive outpouring of popular support for him, veteran journalists who were actively covering Jyoti Basu and the CPM during its heyday have recounted how PM Modi's popularity can only, in fact, be compared to Jyoti Basu, the most iconic political leader Bengal has seen so far.
For example, this is what a veteran journalist remarked on Twitter after witnessing Narendra Modi's last rally Bengal's Ranaghat —  a traditional "Red" mufassil town of Bengal.
The crowd at Ranaghat was so large that it could not be even captured by drone cameras. No matter how high the camera was taken, there was still a part of the crowd that was left out.
Ranaghat: The sea of supporters for the saffron party, in a Red bastion, is unprecedented in Bengal. (Photo: Writer)
If Ranaghat was huge, then the previous rally in Kolkata was massive. Here's images of the crowd which attended the rally in Kolkata, lying at the very heart of West Bengal politics.
It is, therefore, no surprise that this love reminds press veterans of Jyoti Basu who, even after retiring as chief minister, used to commandeer massive crowds whenever he would attend a political rally.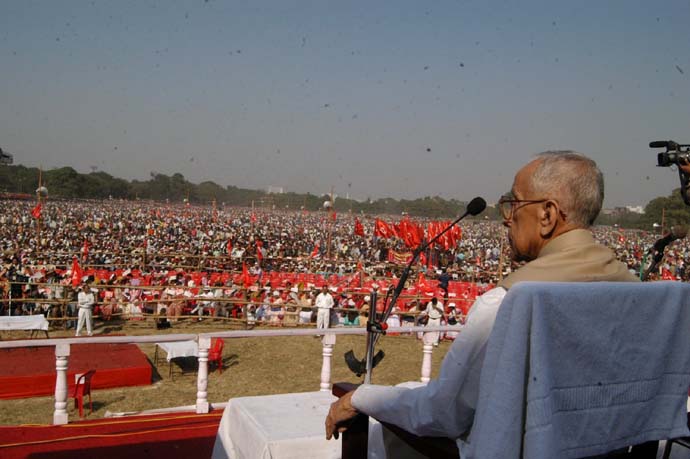 Is Narendra Modi able to match up to Jyoti Basu's iconic charisma? (Photo: www.jyotibabu.blogspot.com)
This paradigm shift is significant, given the fact that Narendra Modi is not a Bengali —  and he isn't addressing any of these political meetings in Bangla. This is doubly significant because Narendra Modi is not a son of the soil, but has a tremendous narir taan (a popular Bengali term which roughly translates into 'a connection of the heart') with the people of Bengal.
Bengal — through its chequered history — has always held out against Delhi and showed an indomitable will of not bowing the head down before diktats from Delhi.
Here is a comprehensive report about how Bengal has not only held out against Delhi (symbolic of a Central power) and has done things its own way. Bengalis have never warmed up to a Delhi leader (or a ruler) in defiance to one of their own. Bengalis have always chosen one of their own than welcome a "distant" ruler from Delhi.
This sudden change of public behaviour now has visibly perturbed Trinamool leader Mamata Banerjee — whose jibes against Narendra Modi have only turned more acerbic and vitriolic.
In my opinion, this radical paradigm shift in the allegiance of the Bengalis is indicative of the fact that the political DNA of Bengal is going through a mutation. A permanent mutation that is — for the first time — making them warm to a political leader who is not only from Delhi but who symbolises Delhi (as in Central authority).
Say what you will, but to me, the only way you can explain this phenomenon is that Bengal is looking for a radical change.
History stands witness that all political turmoil in Bengal has come when people were fed up with the way things were running — and they wished for overnight change.
The Left Front came to power when the people of Bengal reportedly developed a soft corner towards communism after the Naxalbari movement was brutally exterminated by Congress chief minister Siddhartha Shankar Ray. Bengal at that point of time was looking for a change. And "change" was also the political slogan of the Left Front when Bengal went to the polls.
Mamata Banerjee came to power with the promise of change when the controversial land acquisitions by the Left Front government were at its peak. Then too, Bengal overwhelmingly voted for Mamata because she represented a quick shift, an overnight transformation.
In my opinion, the unprecedented popularity of a non-Bengali leader now clearly shows that Bengal is again rooting for a change. A change which can free itself from the rising political violence in the state — which has turned toxic.
Bengal is responding to Modi because they haven't found any alternative within the state and among them.
Yes, accepted that this is the Lok Sabha elections and not the Bidhan Sabha elections — these elections will only determine a central government and not determine the fate of Bengal, per se.
But, according to me, this paradigm shift in the Bengali mindset is indicative of bigger things to come.
If the BJP wins anywhere near 20 seats in Bengal after this Lok Sabha elections (they are contesting in 28 seats only in Bengal), then the ruling Trinamool Congress should read that result as an ominous sign of the BJP on the verge of taking power away from them.
Narendra Modi has already made a grand entry into Bengal.
Is it just a matter of time before he and his party make a grand entry into Writer's Building as well?