It is quite amusing to see all manner of reports coming out on who Prime Minister Narendra Modi will nominate as the next president of India when Pranab Mukherjee's term ends in 2017.
One report was floating around some time back that it could be respected industrialist Ratan Tata. There is currently some talk that Modi is thinking of Bollywood superstar Amitabh Bachchan. So far the mainstream media has found it very difficult to read Modi's mind and it may be no different in the case of the presidential candidate.
A lot of people cite the example of how BJP PM AB Vajpayee pulled a rabbit out of the hat and zeroed in on top scientist and bureaucrat APJ Abdul Kalam who probably proved to be the most refreshing Indian president ever.
However, everyone misses a crucial point. Vajpayee didn't pick Kalam because he wanted someone different. He picked Kalam because the BJP was weak in the electoral college. For the initiated, the electoral college elects the president of India and consists of the Lok Sabha, the Rajya Sabha and all the state legislative Assemblies.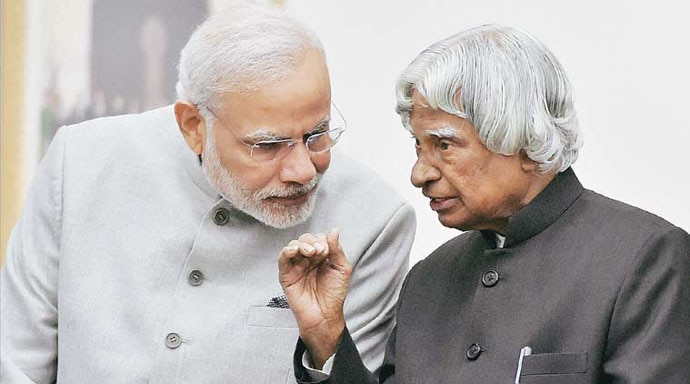 Narendra Modi with the late former president APJ Abdul Kalam. 
When the BJP think tank went through all the permutations and combinations in 2002, there was a statistical dead heat between the Congress and BJP. Vajpayee was desperate and went in for a neutral and non-controversial candidate. That he was Muslim didn't do harm to the attitude of the so called secular parties of India.
That's another reason why Kalam wasn't re-elected in 2007 despite his spectacular success. By that time it was the Congress which was on the ascendant and they managed to push an absolutely colourless Congressi like Pratibha Patil who proved to be quite lacklustre in the end.
But the tables have turned yet again. A really downplayed story of Modi's term is how this is the first time ever that the BJP has more MLAs than the Congress. Throughout NDA-I from 1998-2004, Congress had the most MLAs despite being out of power at the Centre.
The BJP has currently 1083 MLAs and MLCs as against 972 from the Congress. That lead may widen further as it appears that in the upcoming elections in West Bengal, Kerala, Assam and Tamil Nadu, the Congress will lose MLAs and the BJP will definitely gain them, no matter how marginal.
To make matters even more in the BJP's favour, it will emerge as the single-largest party in the Rajya Sabha by 2016 end. This hat-trick (LS + RS + MLAs) means that the BJP will have a stranglehold over the electoral college in 2017.
With a bit of sops, some threats, a few carrots and sticks along with deft manoeuvers and negotiations, Modi will be able to get most of the regional parties on board and totally isolate the Congress.
With that established, you could still argue why Modi will not choose someone different going along with his development and governance image and not touch a hardliner from the Sangh Parivar.
Again, it's the politics stupid!
Narendra Modi with President Pranab Mukherjee.
Right now partisan politics has hit a new low in India and Congress is on the warpath. Parliament is being stalled and many important bills like the Land Bill and GST have got totally stuck.
Modi is under severe attack from the intellectuals of India, the seculars and the mainstream media (with good support from the foreign media). Whether it is #ChristianityUnderAttack or #Intolerance or #AwardWapsi, or the #JNU episode, one issue keeps coming after another to show him in bad light.
Modi is desperate to get a move on. And having his own president will allow him to do so. A BJP president will be totally open to signing all manner of ordinances, dismissing state governments and holding joint sessions of both houses whenever a crucial bill has to be pushed.
Modi will then be able to do what the Congress has being doing since 1947.
Modi will not want an Amitabh or a Tata even as vice-president because that post heads the Rajya Sabha where maximum inaction is currently happening. Modi will want his man in the chairs of both president and VP to push forward all his plans and dreams in toto.
Modi may have moulded his image as a statesman in the last couple of years, but at heart he is an out and out Sangh hardliner. All BJP leaders whether Vajpayee or Advani have to wear a sort of mukhauta (mask) when they reach the top.
Modi is 65 and has been associated with the RSS since the age of eight and he will definitely push someone who shares his political worldview. Plus, here's a huge thing: This is the first time India has a chance to elect a BJP background president of India. Why in heaven's name will Modi let go of such a golden opportunity?
Modi would even be comfortable with picking the BJP equivalent of Pratibha Patel over Tata and Amitabh.
It is doubtful he will go in for stalwarts like LK Advani and Murli Manohar Joshi with the way they have been attacking him off late. He might consider cabinet ministers like Arun Jaitley and Sushma Swaraj if he is cent per cent sure that they will toe his line.
It is possible that he will choose a senior leader in the next level: someone who is relatively neutral and non-controversial. There is a chance that Modi too will pull out a rabbit from the hat.
But it will be a Sangh Parivar hat!