Nawaz Sharif, Maryam to be arrested: Before polls, a coup creeps up in Pakistan
Developments ahead of the election suggest Pakistan's new government will be little more than a puppet.
It's a season of euphemisms in Pakistan. From khalai makhlooq (aliens) to farishtay (angels), weird celestial references dominate the political discourse, both on mainstream and social media. One would be left scratching one's head over these terms, if not aware of Pakistan's current political landscape.
These terms represent the unknown, the unseen, the mysterious — which, in this case, is Pakistan's powerful intelligence agencies.
Not without a fight: Nawaz Sharif and daughter Maryam have decided to return to Pakistan and face a jail term. (Photo: Reuters/File)
These aliens and angels, previously unknown and unseen, have made it a point to become known, seen, and felt in Pakistan over the last few months. As it heads to an important poll in two weeks, Pakistan is, arguably, at its worst in the last two decades.
While many celebrated the successful completion of term by two successive democratically elected governments — the first ever in the country's 70-year history — many warned of looming instability ahead. Not much heed was paid. Until the covert became overt.
First, it was the disqualification.
Nawaz Sharif, ushered into power by millions of Pakistanis, was disqualified from holding office as a member of Pakistan's parliament, and in effect, the office of prime minister. The grounds on which Sharif was disqualified were legally questionable, shady even — at least for some. The decision was hailed by many. It was a whole new world for accountability in the corruption-ridden country, they said.
Then came Sharif's disqualification from heading his own party — the one that has his name in the title.
Finally, last week, Sharif was found guilty of having assets beyond means, and was sentenced to jail for 10 years. His daughter, who has been a vocal critic of the "celestial activities" in the country, was also sentenced to seven years in jail. Both of them were in London to take care of Sharif's wife, who is fighting cancer. Amid rumours of a deal with the celestial beings, they decided to come back and face the jail term. They land in Pakistan on July 13 and will be arrested from the airport, and ironically, transferred to a jail in Rawalpindi.
The caretaker government in Punjab has enforced Section 144, which forbids public gatherings, in Lahore ahead of the Sharifs' arrival, fearing massive turnout for their welcome. Scores of PMLN activists have already been arrested from Lahore, say party sources, and many more are expected to be detained.
Disregarding their voice? Sharif, voted to power by millions of Pakistanis, was booted out on grounds many have called flimsy. (Photo: Reuters/file)
The celestial beings, people say, have been caught completely off-guard.
It was not expected of the politically passive Sharif to go the tough way.
The wise and intelligent ones had predicted otherwise: after disqualification last year, Sharif would learn a lesson and keep quiet. After all, it was his insistence to influence, if not completely revamp, Pakistan's defence and foreign policies that had lost him the favour of the khalai makhlooq.
Instead, he started rallying people around himself, demanding their vote be respected.
After his conviction, they predicted he would stay in London while the PMLN disintegrates in Pakistan, paving way for the ladla — or the loved one (of the establishment) — Imran Khan to finally realise his dream of donning the prime minister's sherwani.
But, sometime, somewhere, that calculation went horribly wrong.
Sharif, as it seems, has decided it's now or never. Speaking at a heavily censored press conference only two days before his return, he finally put a face to the aliens he had been accusing of manufacturing his downfall. Naming a senior ISI general, Sharif claimed his party's election candidates were being pressurised by the powerful agency to quit the race or change affiliation. Similar accusations were made by several members of the Pakistan People's Party (PPP) as well.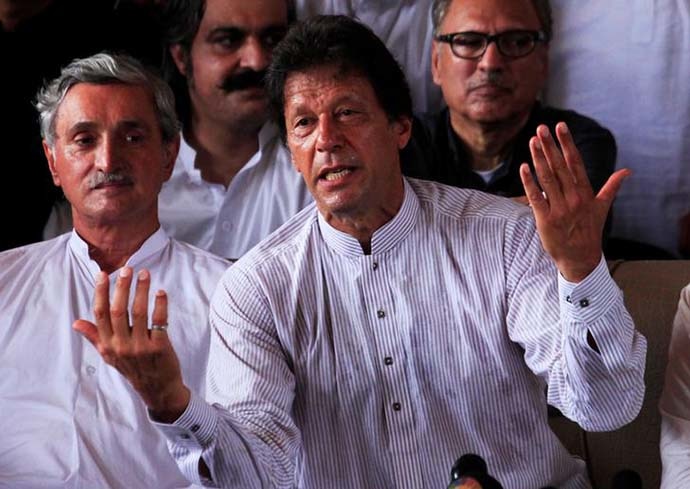 The Chosen One? With the Sharifs out of the way, the road is likely to get easier for the establishment's ladla, Imran Khan. (Photo: Reuters/file)
Quite expectedly, neither print, nor broadcast media in Pakistan gave appropriate coverage to these unprecedented allegations.
But who could blame them?
Dawn, Pakistan's newspaper of record — the one founded by Jinnah himself — is scrambling to fight the growing tentacles of censorship. Its CEO, Hameed Haroon, lamented recently in a Washington Post op-ed about the suffocating environment for the press in Pakistan.
Jang media group, Pakistan's biggest, was also taken off air at several places across the country until a deal was reportedly struck a few weeks ago to not provide positive coverage to Nawaz Sharif and his party in return of a seamless run.
Now, the stage is all but set for a government that will exist only in name.
The elections, in the current environment, seem nothing but hogwash — an attempt to veil the creeping coup in the country. Not that the previous government was ideal, but it did show some resistance.
For example, the media leaks about the civilian government's reprimand of the military high command over inaction against certain terror groups had demonstrated Sharif's willingness to bring a shift to the existing, decades-old paradigm — the consequences of which shall be clearer in the days to come.
Also read: Imran Khan is a symbol of Pakistani nationalism, like Amitabh Bachchan, Sachin Tendulkar, Mohandas Gandhi in India
The views and opinions expressed in this article are those of the authors and do not necessarily reflect the official policy or position of DailyO.in or the India Today Group. The writers are solely responsible for any claims arising out of the contents of this article.