Musings from afar
Will Pakistan military ever allow PM Imran Khan to become his own man?
Imran Khan said new Pakistan requires new 'soch'. Is Pakistan military listening?

Harsh V Pant
Imran Khan's maiden speech to Pakistan as the nation's Prime Minister has been well received in the country with many suggesting that he hit all the right notes. His 70-minute long address was essentially a recapitulation of his campaign promises in which he promised to root out corruption and outlined his vision for a "new Pakistan." He talked of his ambition to introduce an Islamic welfare system, reducing poverty and of the need for an austerity drive to reduce high debt levels.
Peace talks
He did some plainspeaking when he argued that "we have formed a bad habit of living on loans and aid from other countries," underlining that "a country must stand on its own feet."
Blaming the previous PML-N government for the economic crisis facing Pakistan, he charged that "never in Pakistan's history have we faced such difficult economic circumstances. Our debt burden is Rs 28 trillion. We haven't been as indebted in our entire history as we have been in the last ten years."
Batting for peace, Imran said, "We want peace, because Pakistan cannot prosper until the peace is restored."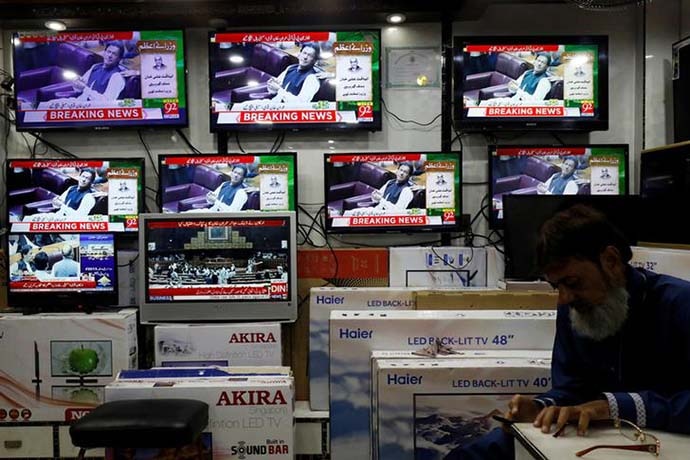 Imran Khan hit all the right notes in his 70-minute address (Photo: Reuters)
Khan is promising to focus on improving Pakistan's relationship with neighbouring countries and as well as the security situation in restive Balochistan Province and the tribal areas along the border with Afghanistan.
According to Imran, Pakistan is ready to improve its ties with India and his government would like the leaders of the two sides to resolve all disputes, including the "core issue" of Kashmir, through talks.
"If they take one step towards us, we will take two, but at least (we) need a start," he has suggested.
Prime Minister Narendra Modi in a congratulatory letter to Imran Khan also suggested that India remains committed to peaceful neighbourly ties with Pakistan. Though the letter by Modi did not talk about any new dialogue with Pakistan, he underlined that India was looking for constructive and meaningful engagement with Pakistan even as he underscored the need to work for a terror-free South Asia.
But the challenges in the India-Pakistan dialogue were brought to the fore by the response of Pakistan's new foreign minister Shah Mahmood Qureshi to this letter who while taking of the need for "a continued uninterrupted dialogue" suggested "whether we wish or not, Kashmir is an issue and both countries have recognised it." Between India's focus on terrorism and Pakistan's insistence on Kashmir, the dialogue seems to have a bleak future.
Domestic issues
Imran as the new Prime Minister of Pakistan has touched upon a whole host of primarily domestic issues which are key for bringing back from the brink. He seems well-intentioned in his desire to root out corruption and to bring the focus back on the socially and economically deprived sections of the Pakistani society.
But it is not readily evident if he the ability and/or inclination to touch the military-industrial complex which in many ways is at the heart of most of Pakistan's problems. Imran's government has taken over an economy on the brink of a balance of payments crisis.
Its ballooning trade deficit and declining foreign reserves leave few good options for the new government. Pakistan is getting ready to seek a massive $12 billion bailout package from the IMF. The US has already warned the IMF that loans to Pakistan could not be given only to service Chinese debt.
Who will pay for CPEC? For Imran Khan, it will be a difficult task to navigate ties with China (Map: Reuters)
China ties
China, Pakistan's 'all-weather' friend, has tried to help but in a more measured way. Beijing is reportedly pumping in $2 billion to help Islamabad meet its immediate foreign currency requirements. The CPEC (China-Pakistan Economic Corridor) was aimed at rebooting the flailing Pakistani economy by building railways, roads and ports as part of the ambitious Belt and Road Initiative (BRI) and more than 20 projects worth over $27 billion are presently operational in Pakistan.
As China gets a push back on its BRI projects from countries such as Myanmar and Malaysia who want to avoid the debt trap, its need for Pakistan will only increase.
Naya Pakistan requires 'naya soch': Is the military of the country ready to embrace new thoughts?
For Imran Khan, it will be a difficult task to navigate ties with China so as to ensure that the CPEC projects do not end up becoming white elephants to be borne by Pakistani tax payers.
In the ultimate analysis, Imran Khan will remain a very insecure Prime Minister. He has been brought to his chair by Pakistan's military industrial complex and it will be ready to pull the plug on him at the slightest sign of him becoming his own man.
The military has been source of most of Pakistan's problems and it has given no indication that it has learnt any lessons from its past mistakes.
So, there is unlikely to be any change in the way Pakistani military operates with a skewed sense of its priorities. Imran Khan has argued that "Naya Pakistan also requires a new soch".
There is no indication yet that any "new soch" is impacting the most of powerful of his nation's institutions. It is a moot point if a 'naya Pakistan' can emerge in its absence.
(Courtesy of Mail Today)
Also read: Why Imran Khan didn't deliver a swearing-in address, he talked to the nation
The views and opinions expressed in this article are those of the authors and do not necessarily reflect the official policy or position of DailyO.in or the India Today Group. The writers are solely responsible for any claims arising out of the contents of this article.