Nepal's Prime Minister KP Sharma Oli is arriving in New Delhi on Friday on a three-day state visit where a grand welcome awaits him, as India strives to repair damaged ties with the Himalayan nation. This will be Oli's first visit abroad since taking office in February 15.
Considering the close economic and cultural ties between the two neighbours, New Delhi has always been the first stop for Nepal PMs. But this time around, India has already realised Oli is on a politically strong wicket and has to be handled with kid gloves. Having won the national elections with an overwhelming majority, Oli is brimming with confidence and is committed to ensure that Nepal stands its ground on all bilateral matters.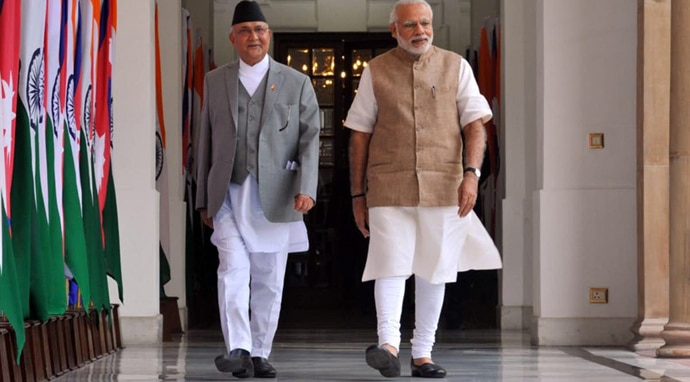 The Communists believe that the election mandate is to ensure that tiny Nepal, sandwiched between Asian giants India and China, is not dictated by either side. A confident Nepal now feels that foreign powers, big or small, should not interfere in its domestic affairs.
It is not just India which is seen as poking its nose into Nepal's internal issues, but western diplomats too have been cautioned against constantly raising internal issues. "We do not want animosity with any country. But we want to tell the world that we are capable of sorting out our own domestic issues, and all we want from them is goodwill and support,'' Nepal's articulate foreign minister Pradeep Gyawali said in an interview to Kathmandu's English weekly Nepali Times.
During Oli's first term as prime minister, India-Nepal ties had reached its lowest point with New Delhi batting for the Indian-origin Madhesis who it said had been given short shrift in the new Republican Constitution, and imposed a blockcade to put pressure on Oli. New Delhi, however, denies it, saying truckers refused to ply because of the Madhesi protests. Whatever India may say now, the fact is that it did not help the cause of the Madhesis. It was a foolish move that made people angry. "The blockade instilled confidence in us that we can overcome any challenge," the foreign minister said in the same interview.
The economic blockade led to untold sufferings for the people of Nepal both in the hills and the Terai region. Anti-India sentiments were high and when Oli turned to China for help, the nation backed him. Oli played the China card and signed a landmark trade and transit agreement in an attempt to dilute its dependence on India. The terrain between China and Nepal is tough and building road and railtracks there is not easy. Although China has the expertise to do build both road and rail links connecting western parts of Tibet to Kathmandu, not much has moved.
"It was mainly symbolic," Swarnim Wagle, vice-chairman of Nepal's planning commission, said recently. He is a member of the pro-India Nepali Congress. However, those projects will now again be taken up with renewed vigour by the Oli government. Nepal has also joined President Xi Jinping's ambitious Belt and Road Initiative and is expected to formalise projects under the scheme in the coming months. Apart from rail tracks, hydel projects and transmission lines are also on the agenda for Nepal.
Soon after the economic blockade, Oli was replaced as the prime minister. Here too the people of Nepal suspected India's hand. But during the elections, India kept a lowprofile, having realised that Nepalese sentiments were turning against India in what people perceived as high-handed interference by New Delhi.
Now, however, the equation seems to be gradually changing. The Modi government has realised its mistake and is pushing back against China's growing clout in Nepal. Soon after the elections results were out, Prime Minister Modi spoke to Oli twice on phone. The invitation to visit India was made by the PM during a phone conversation.
External affairs minister Sushma Swaraj travelled to Nepal in the beginning of February and met not just Oli, but Prachanda and other leaders as well. All this happened much before Oli took office.
During Oli's visit, not many agreements are likely to be signed according to the foreign minister, but India is expected to announce a handsome financial package for Nepal. Ongoing projects like earthquake reconstruction, which was part of the development assistance to Nepal, will be reviewed and possibly expanded.
Reconvening of the SAARC Summit is also likely to be raised by Oli. Pakistan's Prime Minister Shahid Khaqan Abbasi, who was in Kathmandu in March, had asked Nepal to convince New Delhi not to allow bilateral differences to hold up the summit. This was the first bilateral visit of a Pakistani prime minister to Kathmandu in over two decades.The 2016 SAARC meet was scrapped following India's decision to boycott the event following the terror attacks in Uri and Pathankot airforce station.
Pakistan is trying to persuade SAARC member states to get New Delhi to relent. When Sri Lanka's President Maithripala Sirisena was in Islamabad, he was also asked by Abbasi to take up the matter with Prime Minister Modi.
Much will depend on how India-Pakistan bilateral ties pan out. It is time for Prime Minister Modi to re-focus on his neighbourhood policy, especially when China is clearly spreading its wings in India's neighbourhod. Pakistan, China's close friend is also activating its neighbourhood diplomacy. Prime Minister Abbasi was in Nepal while his army chief General Qamar Javed Bajwa was in Male recently, emphasising friendship between the two brotherly Muslim neighbouring nations.
India needs to reclaim lost ground in the neighbourhood and PM Oli's visit may prove to be the perfect start to that.