A freshly declassified ministry of external affairs record shows that Netaji's daughter, Dr Anita Pfaff, was not in favour of getting his presumptive remains examined by DNA experts. The disclosure renders Anita's recent public posturing for such a test as a flip-flop.
In January 2015, a day before the Narendra Modi government started the process of declassifying the Netaji files, Anita was approached by the media for her reaction.
In a nutshell, this is what it was:
Source: Hindustan Times.
Speaking to India Today a few days later, she commented that such a DNA test "would put the case to rest" for "at least the rational people".
However, according to a declassified memo signed by then foreign secretary Salman Haidar, Anita opposed such a DNA test in 1995 when the government discussed its feasibility for the first time.
[National Archives, Delhi]
According to another declassified top secret note, the ministry of external affairs in 1996 studied the proposal to run Netaji's so-called remains kept in a Buddhist temple in Tokyo through DNA experts, but decided against it, fearing "considerable public debate" on the Netaji disappearance matter.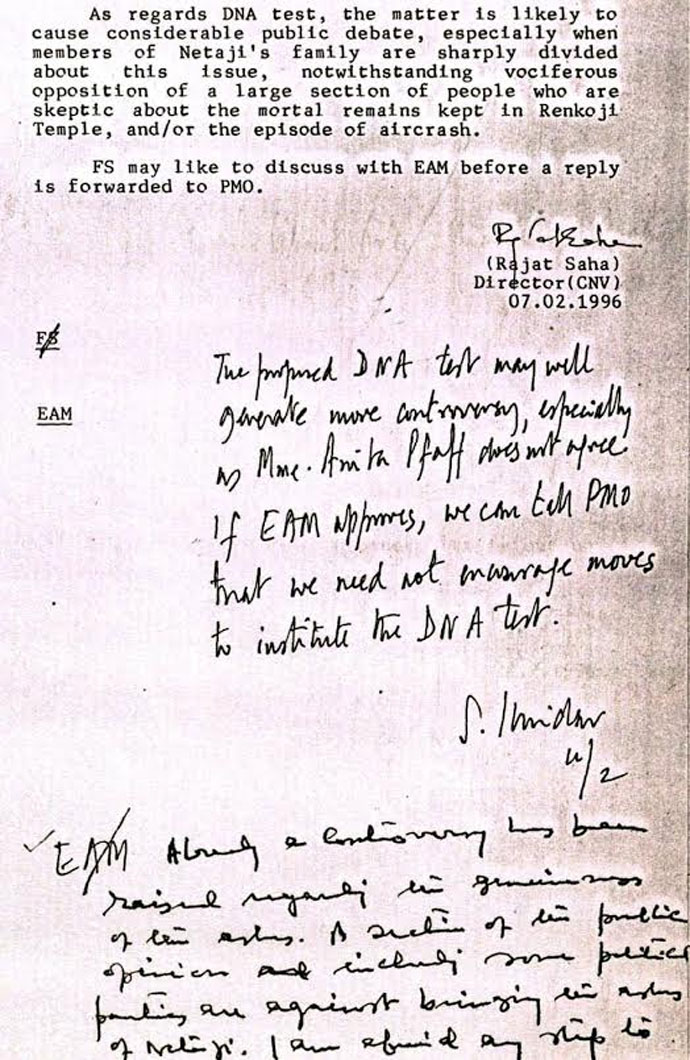 [National Archives, Delhi]
The specific reason, in the words of then external affairs minister Pranab Mukherjee, was:
"Already a controversy has been raised regarding the genuineness of the ashes. A section of the public opinion, including some political parties, are against bringing the ashes of Netaji. I am afraid any step to conduct DNA test may precipitate controversy which may not be desirable (?). On the other hand, ex INA members like Dhillon, Lakshmi Saigal are in favour of bringing the ashes. In view of that we suggest that this matter may rest where it is now. However, a view is to be taken about the request of Japanese government to bring back the ashes. A detailed note may be prepared for consideration of the Cabinet. This may be undertaken immediately."
The disclosure that Anita wasn't keen on a DNA test could be viewed in the context of her playing no role whatsoever in the declassification movement started by pressure group Mission Netaji, and majority of the members of Netaji's family.
She paid no heed to her relatives' request that she should support the movement. This was rather strange. Her recent statements in favour of declassification came only after it had become apparent that the files were going to be declassified.
Prior to that, a small but more influential section of her family who backed her on the Netaji death issue were dead set against declassification. That section, interestingly, includes Harvard historian-turned-politician Sugata Bose.
Intriguingly enough, Anita's mother Emilie Schenkl, who passed away in 1996, never believed the air crash theory as she had received information that Bose was in USSR after his reported death. The daughter, for some reasons, became a vociferous supporter of the air crash theory, along with her late cousin and Congress leader, Dr Sisir Bose.
The man who evidently influenced Anita's thinking in the Netaji disappearance matter from the mid-1990s is Pranab Mukherjee.
A newspaper clipping from 1995 that was kept on file. [Source: National Archives, Delhi]
Declassified papers also show how Mukherjee ensured Emilie Schenkl's firm opinion that the Renkoji remains weren't Netaji's was not brought on record.