Lights, camera, action! The Rafale row has taken centre-stage in Parliament. It has become one of the most difficult political conundrums and no one knows the correct answers to it. Well, it is not even about answering the difficult questions anymore, neither is it about who wins or loses this battle.
The face-off is getting murkier and it is about the survival of the fittest. 
So, who do you think wins this bout? We still don't know, but what we do know is that we have a new 'angry woman' in our political life. Defence Minister Nirmala Sitharaman is bold, firm, thrives on courage and can take on anyone. So when she landed in the House all guns blazing, her detractors were left biting dust. Her speech in Parliament left even Rahul Gandhi gasping for breath. He winked twice this time too — but the confidence that he carried last time round was missing. 
So what exactly did Sitharaman say? She took up the questions raised by Rahul Gandhi in Parliament on Thursday and hit back strongly. She accused the Congress of not completing the Rafale deal in their tenure. She alleged that the Congress was only shedding crocodile tears.
Nirmala Sitharaman's speech in Parliament left Rahul Gandhi gasping for breath. (Photo: DailyO)
Her exact words: "You stopped the deal, forgetting Air Force was suffering. You didn't conclude the deal, because it didn't suit you. The deal didn't get you money." She took aim at Rahul Gandhi and ensured that the arrows were targeted well. "Have you apologised after winking an eye at PM, after hugging the PM? This is not the way a House should run" she roared. 
The defence minister's fiery speech did not miss any turn to humiliate even the 'khaandaan'. She said, "I don't have a khaandaan to boast of. The prime minister also comes from a poor background. He has come here from hard work. I have my honour intact. PM has his honour intact. We have all come from normal backgrounds."
In his defence, all Rahul Gandhi could say was, "You spoke for 2.5 hours but did not talk about how Anil Ambani got the offset contract." Well, we were waiting for something more. Clearly, Rahul wasn't prepared — or was spell-bound by the explosion of our very own 'angry woman'.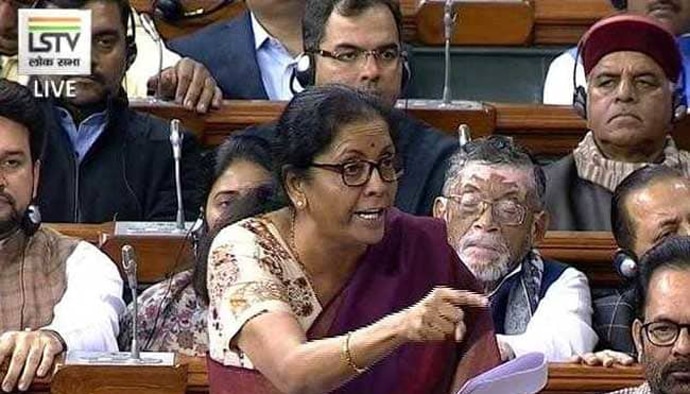 Defence Minister Nirmala Sitharaman is bold, firm, thrives on courage and can take on anyone. (Photo: Screengrab/ Lok Sabha TV)
This fiery speech was followed by profuse praises from her own colleagues. Even PM Modi tweeted, "Defence Minister @nsitharaman's speech in the Parliament demolishes the campaign of calumny on Rafale. Must watch! Her fan following must have grown leaps and bounds today."
Applauding her performance finance minister Arun Jaitley tweeted, "Well done! Nirmala Sitharaman ji, for an outstanding performance. You demolished the fake campaign. We are all proud of you."
There was nothing that wasn't within her gamut. She took on the challenge boldly and faced her detractors like a lioness. She advanced towards her prey and pounced on them at the right time, with the right degree of sharpness and energy. In a man's world, as they call it, she is truly the new 'angry woman'.
The Opposition will definitely think twice before taking her on again.