NRC final draft: How right-wing politics and left-liberal fear-mongering threaten to mar peace in Assam
So, even before the final NRC is published, some 'experts' have declared 40 lakh people as 'illegal immigrants' from Bangladesh.

Sanghamitra Baruah
There is something frighteningly unsettling at the heart of the debate around Assam's National Register of Citizens (NRC) — the unedifying spectacle made out of human beings who are now mere numbers, politicians for whom the NRC is nothing but an exercise in rhetoric and counter-rhetoric, an intelligentsia for whom the poor and their lives are the source of highbrow discussions within the walls of conference rooms and Twitter timelines, and finally a media for whom people, of course, are headlines first.
This is how indiscernible things appeared on Monday, July 30, following the publication of the second and final draft of the NRC.
3,29,91,384. Applied.
2,89,83,677. Found eligible.
40,007,707. Not in the final draft.
The above mentioned figures may look like numbers straight out of accounting books, but these are actually people we are talking about — living, breathing, talking human beings.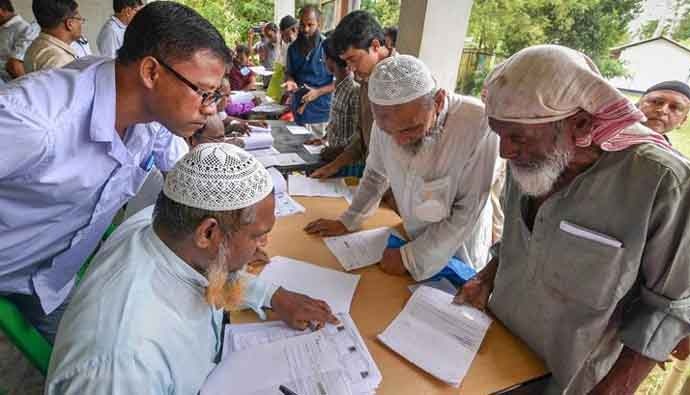 The first draft was published on December 31, 2017, and the names of 1.9 crore of the 3.29 crore applicants were incorporated. (Credit: PTI photo)
According to the second and final draft of the NRC, published on Monday, July 30, 29 million out of 32.9 million applicants have been listed as citizens while 40 lakh others didn't find a mention in the list. This, however, is just the complete draft, and not the final NRC.
As expected, politicians, media and the intelligentsia started doing what they do best — adding fuel to the fire.
After three decades of dilly dallying, the NRC register is finally updated. World's biggest citizenship test found 40 lakh illegal migrants, mostly from Bangladesh, settled in Assam. https://t.co/DN74VenwUE

— Rajat Sethi (@RajatSethi86) July 30, 2018
Barely eight minutes after the NRC final draft was published at 10 AM, BJP strategist and advisor to Manipur CM, Rajat Sethi, felt responsible enough to declare that the world's biggest citizenship test has "found 40 lakh illegal migrants, mostly from Bangladesh, settled in Assam".
This, despite the BJP government in the state as well as at the Centre urging people to refrain from any inflammatory or communal remark, and that "this is only a final draft and not the final list".
According to the registrar general of India, Shailesh, and the NRC state coordinator Prateek Hajela, the remaining 40,007,707 or 40 lakh applicants, whose names didn't figure in the list will be given "ample opportunity" through a process of claims and objections till September 28. Their citizenship status will not be questioned till the final, error-free draft is prepared on an unspecified date.
So, essentially, even before the final NRC is published, Sethi declared these 40,007,707 people as illegal immigrants from Bangladesh. Some wondered, why did we need such a mammoth exercise in the first place if the gentleman in question knew it all along?
And it's not just right-wing rhetoric that is spreading such misinformation.
West Bengal CM Mamata Banerjee accused the ruling BJP of trying to isolate people who don't vote for the party. "They are turning Indian people into refugees in their own country," Banerjee said at a press meet she called in Kolkata before leaving for Delhi.
"This is divide-and-rule policy. People are being isolated... this will destroy humanity," she said.
While Banerjee is right about a divide-and-rule policy, she failed to realise that it's people like her and Sethi who are the ones also fuelling this divide in the hope of ruling (read garnering votes). Banerjee and Sethi are two sides of the same coin that is gaining more and more currency in today's India through their anger-fuelled rhetoric — the predictable political voices who know how to keeping the fire of hate burning. It's 'empowered' Indians like them and their whimsical takes on highly sensitive issues that encourage people like Maulana Syed Arshad Madani.
Jamiat Ulama-E-Hind president Maulana Syed Arshad Madani threatening of violence against Hindus if names of Muslims not included in updated National Register of Citizens NRCSupreme Court,Assam govt listening as deciding citizenship?#NRCAssam #Assam #NRCpic.twitter.com/40eJA7gYON

— Geetika Swami (@SwamiGeetika) July 30, 2018
Interestingly, Madani had said this last year, but the old video resurfaced on Twitter on Monday as some people felt it necessary to strengthen their argument that — "Muslims are threatening of violence against Hindus if names of Muslims not included in updated National Register of Citizens NRC".
The entire debate surrounding the NRC has become so bizarre that there is no end to such assertions from both sides.
From groups based out of the US to self-proclaimed custodians of Assamese pride, secular intellectuals, Twitter eulogists, there is a motley group of people belonging to all schools of thought and political hues who feel they understand the problem quite well. Some are even crying about an impending 'genocide' in Assam, which perhaps cannot be ignored now only because of the toxicity spread by such ignited minds.
A day before the final NRC draft was released, an organisation representing indigenous Assamese Muslims alleged that an "international fundamentalist force" was trying to incite them to join their campaign against the "historic exercise" aimed at resolving Assam's foreigner problem.
According to a report in The Telegraph: "The Sadou Asom Garia Maria Deshi Jati Parishad, which claims to represent 42 lakh indigenous Muslims in the state, said although update of the NRC 1951 was possible because of an over 30-year-long fight by the indigenous people, a fundamental force, aided by international fundamentalist agencies, was trying to derail it by conducting 'misinformation campaign' that updating the register is anti-Muslim."
The report quoted an adviser to the organisation and veteran lawyer Nekibur Zaman: "I get calls from several organisations, asking me to join their campaign. Since I am a Muslim, I was asked to join them as they consider NRC as an exercise against the Muslims. I was added in a WhatsApp group by a Muslim organisation spearheading a similar campaign a few months ago without my permission. I lodged an FIR with police, seeking action but the police submitted the final report of the case in a court without solving the issue. The government has not fulfilled our demand of safeguarding our identity as indigenous Assamese Muslims."
It is precisely such unsolicited exorbitant enthusiasm that further complicated the process of updating the NRC. A lot has been written about the process, the events that led to the demand for updating the NRC, the years of delay and the politicisation of the issue of illegal immigration — which has been a sensitive and emotional subject for the indigenous Assamese population — but there is absolutely no clarity on what lies ahead for people who will eventually be identified as illegal immigrants.
Last year, Assam's finance minister Himanta Biswa Sarma had said that the state government "would move the Centre to take up the issue of illegal immigrants with Bangladesh after the NRC is updated." This was a promise similar to what he had done ahead of the Assembly election, or Narendra Modi had promised the voters ahead of the General Elections in 2014, that he would "send these Bangladeshis beyond the border with their bag and baggage".
However, political observers on both sides of the India-Bangladesh border feel deportation of alleged illegal immigrants looks impossible.
While politicians have been promising "detection, detention and deportation" of illegal immigrants for decades now, it is also true that India would not like to lose a friend (Bangladesh) by raising the issue of deportation at bilateral level. Even the "friendly" Hasina government in Dhaka will be unwilling to upset her people back home in an election year.
After Monday's final draft, Sarma told NDTV: "Once we get the final NRC and a number would come in front of us, we will definitely talk to the government of Bangladesh and if they don't take their people back, we have to decide about their future in accordance with India's tradition, culture and history. However, you cannot force somebody on the people of Assam and you have to ensure a balance between the two — the aspirations of the indigenous people of Assam and the humanitarian consideration."
Many in Assam, who initially campaigned for the detection, detention and deportation of "illegal immigrants", are now offering a solution with a "global context" — of creating an "organised labour force" since "deportation of those found to be non-citizens is no more an option". But detection should be done nevertheless, they feel. And then, their names should be struck off the voters' list. They suggest, since there is a huge demand for "low-skilled labour and domestic workers" in Assam and elsewhere in India, this organised labour force could be utilised (How thoughtful of them, indeed).
The usual suspects are more than confident that they already have a solution, to give alleged "illegal immigrants" the status of "stateless" people and deny them certain state benefits.
My take on the legal ramifications of #NRCAssam which has rendered 40 lakh people stateless. Deportation might be tough, but other options like disenfranchisement and/or temp work permits could be explored. Pls share your feedback in comments https://t.co/R6I343p0uW

— Rajat Sethi (@RajatSethi86) July 30, 2018
If only governments were run on Twitter and the poor could expect justice from kangaroo courts.
Also read: Why National Register of Citizens is likely to turn Assam into a tinderbox
The views and opinions expressed in this article are those of the authors and do not necessarily reflect the official policy or position of DailyO.in or the India Today Group. The writers are solely responsible for any claims arising out of the contents of this article.