In politics, as it is often said, there are no permanent enemies and no permanent friends. But for some political players in Jammu and Kashmir, there are no permanent loyalties and ideologies either.
From being pro-separatist or pro-Pakistan to being a 'true nationalist' Indian, it's mainly their state of power which decides their loyalty and ideology.
Take the case of Kashmir's oldest political party — the National Conference (NC), headed by the Abdullah family since its inception.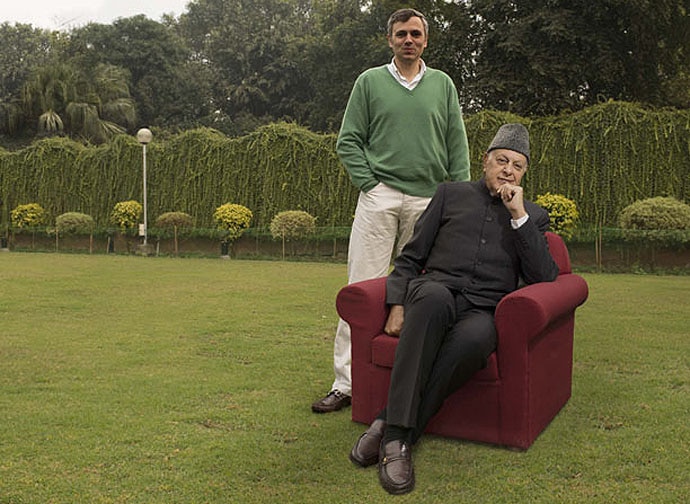 Not sitting pretty? The Abdullahs seem very concerned about the rise of new political parties in Kashmir. (Source: India Today)
Amid election season, which is actually the time to seek votes, the NC is apparently trying to appease separatist sentiment more than New Delhi.
While the NC's candidate for Baramulla Lok Sabha constituency, Muhammad Akbar Lone, publicly chants 'Pakistan zindabad', in the latest episode, he has reportedly asked 'militant brothers' not to harass his party workers unless they want Narendra Modi's BJP or 'anti-Kashmir' forces to win the elections.
Veteran NC leader Ali Muhammad Sagar, who enjoys unusual public respect, reportedly said recently that the workers of his party were the "real mujahideen (warriors)".
Well, from a political perspective, the term 'mujahideen' reminds one of war-torn Afghanistan and its Taliban founder, Mullah Mohammed Omar.
But here, you also have Omar Abdullah.
Being the NC's working president and the Abdullah family scion, he is apparently supposed to be seen, following this very school of logic, as the commander of his so-called 'mujahideen'.
Interestingly, NC's Omar thus evokes somewhat, to my mind, Mullah Omar, at least for his irrational urge to have a political monopoly held on the homeland.
If Mullah Omar aspired for a complete monopoly to rule over Afghanistan, Omar Abdullah seems to have similar aspirations for his party of thus proclaimed 'mujahideen'.
On March 29, Omar said the emergence of new political parties in Kashmir was aimed at dividing the people in the Valley.
"I am no one to stop their entry into politics, but why only in Kashmir? Why aren't new parties coming up in Jammu and Ladakh? They are only dividing the votes of Kashmiris," he said while addressing a party rally.
Though he did not name anyone, it was a veiled attack on former IAS officer Shah Faesal's newly formed Jammu and Kashmir People's Movement and the strong re-emergence of the People's Conference led by Sajad Lone.
Then, exactly a day after Omar's remarks, his father and former chief minister Farooq Abdullah joined the chorus adding a religious touch.
Abdullah hit out at New Delhi for "creating leaders in every part of Kashmir to divide and weaken voice of Muslims".
"They are producing leaders in every village and every mohalla in Kashmir to divide and weaken us," Abdullah told party workers at the NC headquarters reportedly in Omar's presence.
But in a democracy, why should the emergence of new parties or leaders be seen as a threat when it can actually offer people more choices — or has the fear of losing three generations of power unnerved the Abdullahs?
Well the rise of the Abdullahs has often been seen by their critics as a classic story of rags to riches.
As popularly recounted history goes, NC founder Sheikh Muhammad Abdullah initially owned only a bicycle — but his grandson Omar is often said to own swanky sedans, mansions and what not. Where did the fortunes come from, many ask? The question remains mysteriously unanswered.
Amid electioneering, Omar is now mainly playing the anti-Hindutva card in the Muslim majority state — but unmindful of his party's legacy on this front.
In the 1999 General Elections, when the BJP formed the government with alliance partners, it was for the second time that the Congress had lost consecutive polls. That time, Farooq Abdullah switched loyalty to the BJP to carry forward his political legacy for son Omar, who had won the parliamentary seat from Kashmir, and was elevated as junior minister in the Atal Bihari Vajpayee government.
The first leader from the homeland to have joined the BJP government, Omar now looks at the right wing and Narendra Modi as 'anti-Muslim'.
Omar Abdullah, who was a minister in the Atal Bihari Vajpayee government, now finds the BJP 'anti-Muslim'. (Source: Reuters)
In 2008, subsequently, the same NC allied with the Congress to form a government with Omar as the chief minister.
Two years later, Kashmir witnessed a summer of bloody unrest that left around 120 civilians dead in street protests. It was the time when not New Delhi but Omar's government introduced controversial pellet guns for use on protesters in Kashmir.
But out of power, Omar sounds like a changed man, to many, the Amir of his NC 'Mujahideen'.
After boycotting urban local body polls in 2018 to 'safeguard' Article 370 and 35 A, Omar has made a U-turn, saying Parliament elections were significant as these will decide the future course of action on the same twin laws of the Indian Constitution.
Changing loyalties or ideologies may be greed for power, but such forgetfulness of an entire legacy does suggest hypocrisy.
At any rate, it shows tremendous dexterity of political navigation, where the U-Turn is possibly your favourite move.