Pakistan opens air space but here's what it cost New Delhi and Islamabad
Pakistan buckled under international pressure. But will Islamabad do more to prove it is interested in peace.
Pakistan opened its airspace on July 16, after over four months of closure following the punitive air strikes by Indian Air Force (IAF) on Jaish-e-Mohammad (JeM) terror training camp deep inside Balakot on February 26 to avenge the Pulwama terror attack.
Pakistan had said that they will not open their airspace unless India removes its jets from forward bases. (Photo: India Today)
Pakistan Aviation secretary, Shahrukh Nusrat, had earlier informed a parliamentary panel that Pakistan would not remove the ban until India removed its jets from forward bases. India did not agree to Pakistan's demand. Interestingly, India had not imposed a full closure of airspace except restrictions for a short duration on February 26-27, and thereafter too only in the northern sector. IAF had announced on May 31 that even the temporary restrictions had been removed. Of course, the Indian airspace was closed to Pakistani flights as a reciprocal measure. Pakistan had earlier opened in March two out of the 11 routes, both of them passing through the southern region, but did not allow Indian flights to fly over its airspace.
Normal air traffic operations between India and Pakistan have now resumed for all civilian flights. Following Pakistan's announcement, India also issued a 'revised NOTAM', announcing that normal air traffic operations have resumed between the two countries. The action brings relief to the airlines in terms of fuel and time savings. All West bound flights had to be routed south of Gujarat to avoid Pakistani airspace. From Delhi it meant additional 3-4 hours extra flying time which meant extra fuel consumed, additional stops in case of long distance flights and also lower aircraft utilisation. Most airlines had to change schedules.
Most airlines had to merge or suspend a few west-bound flights. Some of the Mediterranean destinations which had direct flights now required a stopover. Longer flights also brought the need for crew rotation. For passengers it meant more flying hours and fatigue. In many cases it meant rescheduling connecting flights which passengers had been booked well in advance.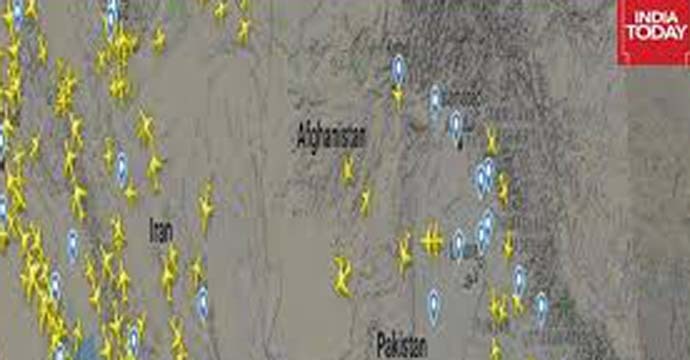 Closure of Pakistani airspace meant that flyers from India who were going to the West had to travel three to four hours more. (Photo: India Today)
The summer vacations is one of the peak time for holidays and for airline bookings. Most airlines suffered losses due to the closure. Air India alone suffered a financial loss of around Rs 491 crore, as stated by the Civil Aviation Minister Hardeep Puri in Rajya Sabha. Losses for SpiceJet, Indigo, and GoAir were Rs 30.73 crore, Rs 25.1 crore and Rs 2.1 crore, respectively.
Pakistan today is in an economic mess and has just escaped being put on the Financial Action Task Force (FATF) blacklist. A World Bank arbitration court has imposed a penalty of over five billion dollars on Pakistan for unlawful denial of a mining lease to a company for the Reko Diq project in 2011.The closure of the airspace had affected nearly 400 flights a day and resulted in nearly a loss of $100 million for Islamabad. Several foreign airlines had suspended or curtailed flights in the region.
The losses included those to the Pakistan Civil Aviation Authority from route navigation and airport charges that are levied on aircraft flying over or landing in Pakistan. These charges depend on the category of aircraft and the distance covered within the Pakistani airspace. The state-run Pakistan International Airlines also suffered losses of around $460,000 a day due to suspension of flights to international destinations such as Kuala Lumpur, Bangkok and Delhi. Pakistani Aircraft had to fly much longer routes due to the closure.
Pakistan International Airlines suffered a loss of $460,000 a day due to suspension of flights over its airspace. (Photo: India Today)
The airspace closure had clearly indicated Pakistan's military and political under-confidence and insecurity. Indian military pressure had forced the Pakistani armed forces into forward deployment and consequent financial implications. The rising tension between the US and Iran, and flight restrictions/risks in Tehran Flight Information Region (FIR) due to heightened military activities had also additional dynamics.
Other than Indian and international pressure and financial losses Pakistan perhaps also made a U-turn to open the airspace because of Pakistan Prime Minister's forthcoming visit to USA. Pakistan also arrested Hafiz Saeed ahead of Imran's US visit. Authorities had earlier registered cases under the Anti-Terrorism Act against leaders of banned outfits like the Jamaat ud Dawa (JuD), LeT) and FIF.
Opening of Pakistan's airspace also comes in view of Pakistani Prime Minister Imran Khan's visit to the US. (Photo: India Today)
Pakistan has a deadline of October this year to prove that it has improved its efforts to counter terror financing failing which the country would be facing sanctions. For India, the real Pakistan test would be the reduction in terror activities from across the border. India has shown the resolve to hit terror and take punitive action.
Ball is in Pakistan's court, hope they will ensure no more trigger incidents.
Also read: Pakistan fully opens its airspace: Why India must remain cautious
The views and opinions expressed in this article are those of the authors and do not necessarily reflect the official policy or position of DailyO.in or the India Today Group. The writers are solely responsible for any claims arising out of the contents of this article.