Historians will tell you that an explosion of creativity occurs the moment the world starts complaining that there is nothing left to invent or that the search for solutions to complex problems has come to an end.
This explosion is fate's way of reminding us that there is always something just over the horizon of knowledge. Social entrepreneurs are now using their talent to bring lasting solutions to several entrenched social problems at a time when the world has never needed them more.
One of the most challenging problems of our times is homelessness. A 2013 report Housing Microfinance in India: Benchmarking the Status by ACCESS-ASSIST found that in India, the total housing shortage is 42.69 million units in rural areas.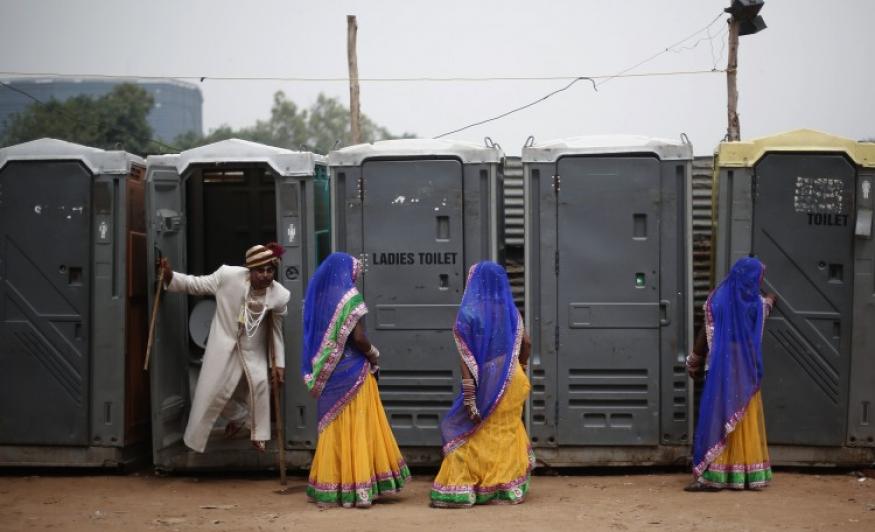 While many villagers own their homes, which they likely built themselves, they rarely own the piece of land which holds their dwelling. Photo: Reuters
The same report pointed out that out of the total number of people in India without adequate housing, more than 90 per cent of live below the poverty line.
While we have been able to fight poverty relentlessly and continue to record improvements, homelessness remains a big challenge.
The key constraint in providing shelter is that people do not have proof of being owners of the piece of land on which they live.
This keeps them deprived of so many basic amenities. Once titled, they could obtain access to several government benefits. Even a small plot can lift a family out of extreme poverty.
The United Nations estimates that more than 70 percent of the world's population lives without any formal acknowledgement of ownership of their land. That is both a human and an economic problem. When people have secure land, they invest in improvement projects, work more hours without the fear of land theft, and are more likely to take out loans using their new property as security.
Little else is as critical to a family's quality of life as a healthy, safe living space. A decent habitat and shelter environment for the poorer sections of the society can not only contribute towards their well being and real asset creation, but also catalyse overall economic growth.
Priority for housing is higher than education and health. Sustainable and inclusive housing solutions, indeed, could bolster large economic growth quickly and efficiently.Hernando de Soto's 2000 book, The Mystery of Capital makes a startling revelation. "The hour of capitalism's greatest triumph" declares the famed Peruvian economist "is in the eyes of four-fifths of humanity, its hour of crisis".
De Soto explains that for many people in the developing world, the land on which they live is their only asset. If that property is not publicly recognised as belonging to them, they lose out - missing out on some of their highly deserved social benefits.
India's rural housing space - particularly the lower tier in the economic pyramid - has remained largely unaddressed as many had tried and most found it a hard ground. The most elusive issue in housing finance is that of legal title.
While many villagers own their homes, which they likely built themselves, they rarely own the piece of land which holds their dwelling.
This is a major obstacle as many families may not have had documentation for generations and the process of obtaining and putting it in place is an impossible mission to accomplish without a nimble titling, mortgaging and financing system.
However, one such social entrepreneur, A Ramesh Kumar, who had successfully championed new approaches for addressing the problems of low income households in his earlier innings as a banker, decided to solve the puzzle the same way he recontoured the microfinance programme in central India.
Maharashtra had proved an infertile territory for self help groups and ranked low in terms of visibility on the microfinance map before Kumar became the new shepherd of self help groups. Swarna Pragati is essentially an extension of Kumar's journey towards the larger goal of empowerment of low-income population, particularly the women among them.
In 2004, Kumar introduced several revolutionary ideas in the microfinance space of banks which had self help groups as their primary units. State Bank of India, whose western operations he headed, achieved 970 per cent growth in self help groups in Maharashtra, which became the new Mecca of microfinance.
His innovations had a very long term impact. Today, according to the data of MFIN, the main self regulating body of microfinance , Maharashtra has the largest number of microfinance institutions(MFIs).
In 2005, the National Bank of Agriculture and Rural Development (NABARD) invited Kumar to be chairman on the National Committee of Habitat whose focus was to address the deficiencies in the rural housing finance. He contributed to the development of a report resulted in the National Rural Habitat Policy for India.
After seeing how many good ideas, including many recommendations from the National Rural Habitat Policy for India, did not come into play, it made Kumar think about his own approach. In 2009, Kumar started Swarna Pragati to address the market gap he was consistently seeing around access to housing finance in rural communities.
Kumar's DNA has the twin strands that are essential for any social revolution: ideas and entrepreneurship. As the saying goes: "Ideas are worthless until you get them out of your head."
Many people have great ideas, but they are afraid to fail, so they don't try. Kumar trusted his instincts. And that made all the difference.
In 1993, the Panchayat Raj Act endowed the local village panchayats with functions of local governance. A number of visionary entrepreneurs spotted in these institutions the building blocks for innovations In India. Although the Panchayat Raj Act was driven by a vision of a new enterprising and grassroots driven rural India, scepticism prevailed on whether these institutions could be trusted for designing their own policies and programmes.
Policy makers have their own cognitive biases, which will induce them to design imperfect interventions even if they mean well. Even as social, political and legal scientists sparred on competence of these panchayats. But a Supreme Court judgment gave a new identity to them. Kumar was already grappling with a various possibilities for addressing the issue of mortgages for housing finance and the judicial verdict gave a powerful nudge that Kumar needed to refine his model.
Typically, in rural India, villagers are granted land from the government or live on land passed down to them by ancestors. These are known as "para-legal titles".
Many of them may not have a full land title but possess a documentary right to ownership, such as tax receipts and a legal protection from eviction.
Several state governments in India have provided a degree of tenure security to poor households, which grant residents of unauthorised settlement specific period licences to their land or an official assurance that the user will not be forced to vacate the property and evidence that usual and customary local practices support this assurance. This security amounts to "presumed ownership".
Kumar build linkages between self help groups (SHGs), gram panchayats and local councils to design a simple but effective and strong ecosystem for housing finance for the least fortunate part of the population.
The Swarna Pragati's process of titling, mortgaging and financing through gram panchayat has now become a widely recognised and accepted practice with grassroots bureaucracy et al.
The key grid is the gram sabha (village assembly). The gram sabha is an assembly of village adults. It is akin to a parliament and has legislative powers for the local village. A gram sabha is convened specifically for Swrana Pragati's processes or a regular gram sabha has it as one of the agendas.
The company's list of potential borrowers with the copies of the extracts of the land records evidencing ownership of the land /house property is put up to the Gram Sabha for validation. The document emanating from the proceedings of the gram sabha becomes an important instrument of ownership. This process amounts to a "gradualist" approach of progressive tenure security and amounts to "intermediate ownership".
Thus, while clear legal titles have to be the ultimate goal, one could look at interim regularisation with much less time and administrative effort. Swarna Pragati's community titling is a powerful and progressive way of building tenure documents that carry legitimacy and weight with several basic service providers.
Kumar is working to get the buy-in of regulators for this alternate titling and mortgaging system. His model is in a way enabling gram panchayats to become vibrant units in financial, legal and social democracy.
The model has also demonstrated what these grassroots institutions can do if their potential is creatively unleashed to address some of the toughest challenges - housing is certainly the topmost on the list. The revenues of gram panchayats which partner with Swarna Pragati receive an automatic boost because the villagers have to pay all the taxies due to them in order to qualify for the company's housing finance.
"The best way to predict the future is to create it," says Kumar. He has always sought to remake the world around him instead of becoming part of the blame game brigade.
"We have to replace signs and protests with individual actions" Kumar asserts. Kumar's model has a strong gender window. It is in keeping with his personal philosophy that gender perspective needs to be woven into any social as well as business intervention if want to have a wider and deeper impact.
The loans are mostly to women and so they legal entities in the mortgage process which gives them an implied share in the ownership of the house. This has motivated several households to register their plots jointly with their wives.
Kumar has introduced multiple innovations in the model which mitigate problems both for the financiers and the clients.
First, the model practices modular or incremental housing with both construction and the finance broken into numerous components namely, roof, flooring, kitchen, toilet, well, work shed et al, and financing is done for one or more modules at a time keeping in view the psychology of seeking short term loans with affordable repayment instalments.
Second, the focus is on habitat and hence work-sheds, wells for water supply, toilets and renewable energy sources. Third, self help groups (SHGs) and joint liability groups are used as the delivery models because they save costs and risks for the financiers.
Swarna Pragati has a specialised finance product for sanitation solutions that helps to save time, improve health, and provide safety, privacy and dignity to women. Kumar's ground team is also creating the cultural shift that will ensure that once the toilets are built, they are used by everyone,
Two days back, the Pradhan Mantri Awas Yojana got off to a very ambitious start in Maharashtra. Sunita Shelke, a resident of Parsoda village in Arni tehsil of Yavatmal district, became the first beneficiary. She received the official letter from the head of the rural administration of the district.
Incidentally, it was in Yavatmal district that Kumar first put his ideas into practice. Several of Sunita's acquaintances have houses which they build with finance from Swarna Pragati. Sunita couldn't afford a loan, but she too is now in happy company.
The prime minister's scheme addresses the same segment of the economic pyramid which is Kumar's predominant client base and the planners of the new programme can use the lessons of Swarna Pragati as helpful markers.
More than two decades after the panchayats became realities and with mountains of data and research studies piling up, there is still lingering scepticism about the efficacy and potential of these panchayats.
There should be no reason for it, but if there is, the Swarna Pragati titling and financing mechanism and the vision of its architect, Ramesh Kumar are enough proof of the potential creativity and wisdom that our early leaders saw in these institutions. Swarna Pragati model is just one of the many creative ways panchayats can become harbingers of a larger revolution.
Kumar is now a shaper of the entire ecosystem for rural housing finance. And he knows his model will light up the path for many others.
History tells us that a lot of good programmes got their start when one individual looked at a familiar landscape in a fresh way. These creative and passionate individuals saw possibilities where others saw only hopelessness, and imagined a way forward when others saw none. What they did was just to change the fundamental approach to solving problems.
One inspiring step has a tendency to raise the sense of possibility in others. Passion is the secret ingredient of all great accomplishments. Better still it is a beautiful contagion that passes through individuals.
We increasingly have the tools; but we need to summon the will the way game changers like Kumar are doing.
People like him have shown there are solutions if we think out of the box. And don't accept limits to how the world works.