While addressing soldiers of the Indian Army in Ladakh, Prime Minister Narendra Modi sent a message to our northern neighbour: "The age of expansionism is over". In a surprise visit to Ladakh, he sought to raise the morale of the troops, and take firsthand briefing from commanders in the region. His actions display India's resolve to maintain the sanctity of its borders. But why was this necessary? And why have these disputes arisen as a Chinese-origin global pandemic unfolds around the world?
The answer lies in understanding China, and how it views its position in the world. For every territorial claim, China uses historical facts to its convenience. Whether it is the historical presence or territorial occupation, the Chinese rely on these to justify their claim. With the rise of Xi Jinping as the supreme leader, China has hardened its views. In 2018, the President proclaimed that "China cannot lose an inch of the territory left behind by our predecessors". Xi's words resonate with China's current actions. China is transforming from an assertive to an 'aggressive power'.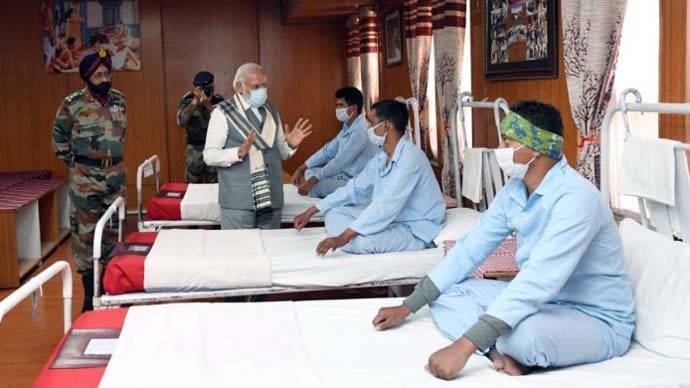 In a surprise visit to Ladakh, Prime Minister Narendra Modi sought to raise the morale of the troops, and take firsthand briefing from commanders in the region. (Photo: ANI)
In reclaiming large areas in the maritime domains, Beijing ignores international law and postures aggressively against other stakeholders such as Vietnam, Philippines, Malaysia, Indonesia, Brunei, Japan and Taiwan to serve its strategic, economic, and political interests. Most strikingly, China's aggressive actions, backed by a build-up of its forces, against India in Eastern Ladakh have confirmed China's intentions. In all these instances, China's strategy has been predominantly aimed at capturing its territory by 'coercion and intimidation', but without 'firing a round'. India must see through this and change its strategy.
Disregarding the 'Wuhan Spirit', in May 2020, the People's Liberation Army transgressed across the Line of Actual Control (LAC) on multiple points over a wide front in Eastern Ladakh. Defying the disengagement process, by the high-level military commanders through talks at Moldo on June 6, the deceitful action of PLA forces led to the casualty of 20 Indian soldiers. The Chinese faced severe injuries and fatal casualties during the hand to hand combat. Curiously, China has yet not acknowledged these, given the fear of loss of face internationally for an aspiring superpower, and reprisal from its own population.
What explains China's intention behind the movement of a large force in Eastern Ladakh? There are two plausible reasons. One, China's actions of occupying select heights are strategically motivated to dominate India's newly built strategic road that runs through Darbuk-Shyok-Daulat Beg Oldi (DSDBO) in Eastern Ladakh. China's insecurity also rises as Eastern Ladakh acts as a sharp wedge between Gilgit-Baltistan (Pakistan Occupied Kashmir) and Aksai Chin, and proximity of sensitive areas and strategic highways to the north of Karakoram Pass.
Undoubtedly, Beijing is also under tremendous pressure-both within and outside of China. Covid-19 has pushed Chinese anxiety. On one end is the mounting global pressure for an independent investigation into the source of the virus given the origin in 'Wuhan'. On the other end, the Chinese government's domestic challenges emanate from a decline in China's economic growth trajectory, rise in the rate of unemployment, unrest in Hong Kong against the introduction of the National Security Law and an uncompromising, USA-backed Taiwan. Hence, the rationale behind China's actions is symbolic and significant; intended to send a message to the global community that it is not deterred by multiple challenges it faces today.
Relations between India and China are impacted by border disputes, resulting in periodic border standoffs. Despite agreements between the two, it is clear China is not keen to settle the disputed boundary issue, as it suits it to keep India embroiled in boundary disputes with Pakistan and China to prevent India from focussing on the battleground of the coming decades: the Indian Ocean. India needs to overhaul its diplomatic, military, and economic approach towards China.
India must also invest in deterrence by displaying 'capability' and the 'resolve'. In the long-term, India must remain focused to develop its comprehensive national power (CNP); its economic growth; strengthen its technology-enabled military capabilities and infrastructure on the borders and Indian Ocean Region, and develop strategic partnerships with select countries to maintain peace in the region.
As an immediate pivot in the policy along the LAC and LoC, given that Indian troops are battle-hardened and highly proficient in mountain warfare, any military actions against India must be responded to by the most appropriate military action immediately. If China does not restore the status quo ante, India should be prepared to maintain a strong posture for a prolonged period, and, when required, create a criticality (s) across land and sea for the Chinese to also react. This would help in negotiations at the opportune moment.
Just as China launched an information warfare campaign by every mean to demonstrate its build-up and combat strength, along with false narratives, India too must formulate a media strategy to counter such initiatives. An often-quoted statistic is that Indian military is no match for China's as the latter's GDP is five times that of India. Research into history will suggest outcomes of military conflicts are not dependent on GDP differentials, so long as a country stands militarily strong, which India is. India must forge ahead with the motto, 'National Outlook for National Security.'