Sasikala Natarajan is the latest entrant to the long list of veteran and wannabe politicians seeking to establish a familial or symbiotic relationship with people in general and admirers and supporters in particular.
Until now, Sasikala was known as only the housekeeper and confidante of AIADMK leader and Tamil Nadu chief minister J Jayalalithaa who was hailed as Amma (mother) - an epithet that she deeply ingrained in the public mind with the series of Amma projects, including Amma canteens, salts, pharmacies, babycare kits et al.
But after her death on December 5, the AIADMK leadership, including chief minister O Panneerselvan, has started referring to Sasikala as Chinnamma (junior Amma or junior mother).
This trend of showering major/popular leaders with such emotive sobriquets is not new in politics. There are enough examples, both in pre and post-Independence India, of leaders being invested with nomenclatures drawn from the Indian family structure or its societal make up.
Mohandas Karamchand Gandhi is Mahatma (great soul) and Bapu (father) to everyone in the country. Jawaharlal Nehru was Chacha (uncle) to India's children and his birth anniversary is celebrated as Children's Day. Chaudhary Devi Lal, who was India's deputy PM from 1989 to 1991, was Tau (elder uncle) to his admirers and critics.
Former West Bengal chief minister and CPM leader Jyoti Basu was always called Jyoti Babu (babu being a term of respect for the charismatic leader). AIADMK leader and former Tamil Nadu chief minister MG Ramachandran was called Anna (elder brother) while his counterpart in Andhra Pradesh NT Rama Rao was cherished as Telugu bidda (son of the soil of Andhra Pradesh) much before former PM PV Narasimha Rao got it against his name.
Chandrashekhar, who became India's PM in 1990, was addressed as adhyakshji (chief/president) by his supporters and even guruji (master/expert/guide) by some of his political colleagues.
Take a look at the current crop of leaders. SP chieftain Mulayam Singh Yadav goes by the sobriquet  Netaji (leader). Like Jyoti Basu, Odisha CM Naveen Patnaik is Naveen babu and JD-U and Bihar chief (minister) Nitish Kumar is Nitish babu, shorn of its elitist connotation.
Trinamool Congress supremo and West Bengal chief minister is didi (elder sister) to one and all. PDP leader and J&K chief minister Mehbooba Mufti is often called baji (sister). BSP supremo Mayawati is everyone's behenji (sister) and even bua (father's sister) to UP chief minister Akhilesh Yadav.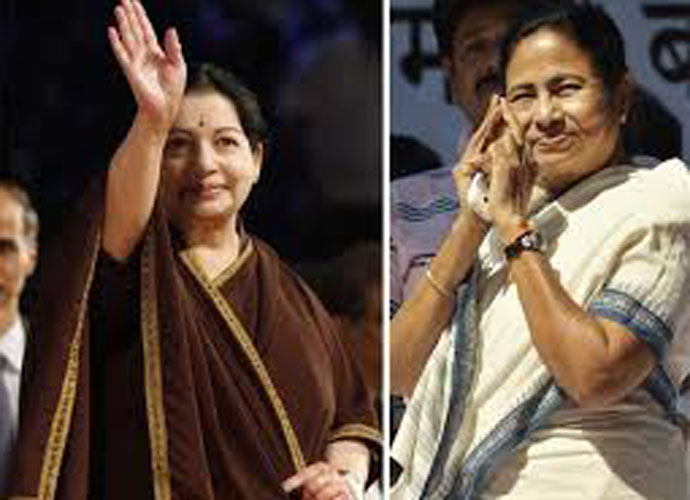 The Amma and Didi of politics. (Photo: India Today)
Congress vice-president Rahul Gandhi, ridiculed by his rivals and critics as pappu (dumb kid) or shehzada (prince), is bhaiya (brother) to his supporters, just like Akhilesh is to his workers. His sister Priyanka is bitiya (daughter) to the people of Amethi and Rae Bareli, which she handles for her brother and mother Sonia Gandhi.
The big question is why do leaders or their supporters seek such relationships? What do they hope to achieve? Is there a method to it?
While the trend is not new, it has gained added traction in the last few decades with the rise of identity-based politic and the emergence of regional leaders, regional outfits and region-based parties catering to this brand of politics.
Unlike the national parties, which have been working for years for an all-India presence, the new cluster looks for rapid growth and a dedicated constituency and a faster identification with this constituency. 
Signalling a familial relationship between the leader and supporters is one such way though it is not the only one. Investing a leader with a family/society title of amma or chacha or chaudhary, for instance, strikes an immediate chord and creates a sense of belonging and familiarity that cultivates a leader-worker-people linkage.
It helps nurture empathy, establish a rapport and build an emotional bond with supporters and masses while going for the long haul.
At the same time, it feeds on the "we-them'' syndrome that hems in the supporters and creates a dedicated vote base for the protagonist. So, if Muyalam is Netaji of the SP, he is also the Netaji of the Yadav community on which the SP's identity politics is based.
Likewise, "Mayawati" perhaps may not evoke the same emotive bonding that Behen Mayawati does with the scheduled caste voters: it spells an acceptance by her supporters that she is part of their family, their elder sister who they not only have to look up to but also protect and fight for.
This in turn helps her keep hold over them and set out a laxman rekha that her supporters should not cross nor her opponents try to breach.
This holds true for Didi as well in so far as her supporters among the middle classes, the farmers, the poor, the youth or the anti-Left sections are concerned. So is generally the case with the other leaders vis-a-vis their respective constituencies/states.
In a way, the personal becomes the political, the leader acquires a larger-than-life persona that subsumes the party and there is no second line of leadership, with the party chief choosing to depend on relatives and friends who are expected to reinforce the leader's image and identity and not turn challengers which could unravel the party. The feud in the Yadav family in UP almost brought the SP to a breaking point.
In the case of leaders like Mayawati, Mamata or Jayalalithaa,  nomenclatures  like Behenji, Didi or Amma "de-sexes" them and provides them with a mental and psychological shield in a male-dominated society with a patriarchal mindset.
It sets them apart and above their supporters - and even aloof from them - while, at the same time, enhancing their acceptability.
As the elder in the relationship, the leader becomes the giver, the benefactor and the dispenser of largesse when in power; when out of it, the fighter for the rights of the people.
Is Chinnamma now joining this tribe?