Western Uttar Pradesh and southern Uttarakhand: Muslim majority by 2061?
This article has been co-authored by Shanmukh, Dikgaj and Saswati Sarkar.
Introduction
Many areas in India are witnessing major religious demographic changes. One of the regions where the demographic changes are rapid is western Uttar Pradesh. Specifically, we refer to the regions of the Upper Doab (the districts of old Saharanpur, old Muzaffarnagar and old Meerut) and northern Rohilkhand (the districts of Bijnor, old Moradabad, Rampur and Bareilly).
Today, these districts include Hardwar, Saharanpur, Shamli, Muzaffarnagar, Meerut, Baghpat, Ghaziabad, Bijnor, Jyoriba Phule Nagar, Moradabad, Sambhal, Rampur and Bareilly districts. The population of these districts together is roughly 35 million. To put it in perspective, this cumulative population is more than the entire population of Assam.
For the sake of historically accurate comparisons, we have grouped Saharanpur and Hardwar as old Saharanpur, Shamli and Muzaffarnagar as old Muzaffarnagar, Baghpat, Ghaziabad and Meerut as old Meerut, and Sambhal, Jyotiba Phule Nagar and Moradabad as old Moradabad, since the other districts mentioned were carved out of these original districts at various times for administrative convenience and we compare populations of the old districts across various time points.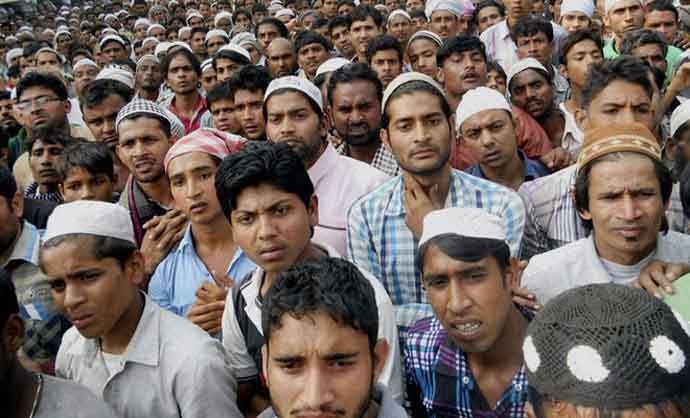 Muzaffarnagar.
In this article, we predict the future religious demographics of the region using multiple techniques.
It is vital to realise that, in this article, when we talk of Saharanpur, it is Saharanpur + Hardwar, Muzaffarnagar is Muzaffarngar + Shamli, Meerut is Meerut + Ghaziabad + Baghpat. Similarly, Moradabad is Moradabad + Jyotiba Phule Nagar + Sambhal.
In this article, we have graphically illustrated the percentage of Hindus + Sikhs and Muslims in the various districts. The reason why we have chosen to club the Hindus and the Sikhs together is because statistics we have were for the two combined, and not the two separately. Consequently, we have estimated them together. Further, Sikhs constitute The various means by which we predict the populations are explained below.
We first summarise the important conclusions from our predictions and explain the details of the predictions in the subsequent sections.
From the above tables, it can be seen that by 2061, three districts (Muzaffarnagar, Moradabad and Rampur) are certain to be Muslim majority by 2061. In fact, Rampur is already Muslim majority. Two more, Bijnor and Saharanpur, are either going to be Muslim majority or else, will be very close to Muslim majority. Only two districts, Bareilly and Meerut are likely to be Hindu majority in 2061 and have been shown so by all models. It is worthwhile remembering that both districts were more than 70 per cent Hindu in 1951.
It is important to emphasise that all the models that we have used are conservative. The change of religious demographics is likely to be much faster, when other more realistic models are used.
Constant growth model
In the constant growth model, we have obtained the average decadal growth across 2 decades (1991-2001 & 2001-2011) and, consider the growth used the average growth as a means of projecting the future growth across decades. For the Hindus+Sikhs, average decadal growth between 1991 and 2011 was found to be 1.19 for the Upper Doab and 1.22 for Rohilkhand, while for Muslims, the average decadal growth was found to be 1.33 for the Upper Doab and 1.29 for Rohilkhand.
1a) Bareilly
2a) Bijnor
3a) Moradabad
4a) Rampur
The above four graphs show the projected variation of the religious demographics in the four districts of Rohilkhand. In three of the four districts (Bijnor, Moradabad, and Rampur), the population of Hindus+Sikhs is set to fall below the 50 per cent. Only in Bareilly, is the population of the Hindus+Sikhs set to remain at around 60 per cent in 2061. The entire region is also projected to have a near equal population (26.2 million Hindus+Sikhs to 25.9 million Muslims) in 2061. It must be mentioned that the districts carved out of Moradabad (Jyotiba Phule Nagar and Sambhal) are set to share the same fate as Moradabad.
5a) Meerut
6a) Muzaffarnagar
7a) Saharanpur
The above projections for the Upper Doab show that two (Muzaffarnagar and Saharanpur) of the three districts are going to be Muslim majority, with only old Meerut being the exception in the situation. Meerut still remains Hindu majority only because of the high Hindu population of Ghaziabad, which is heavily urban and has attracted Hindu population from many areas.
Muzaffarnagar is an interesting study. It was 71 per cent Hindu in 1981. In less than 60 years, it will have become Muslim majority. Saharanpur's fate is rather similar. From nearly 65 per cent in 1981, it will have fallen to less than 50 per cent Hindu in 2061. Of course, we are speaking of the composite district of Saharanpur and Hardwar here. New Saharanpur is likely to become Hindu minority much earlier. Further, the entire Upper Doab and Hardwar will have Hindus and Sikhs and Muslims at par in the region (28.6 million Hindus+Sikhs and 27.8 million Muslims). Finally, the entire region (northern Rohilkhand and Upper Doab) will have both Hindus and Sikhs nearly at par with the Muslims by 2061.
Curve Fitting Models
In the curve fitting models, we employ a cubic polynomial to predict the future populations. In this model, a cubic polynomial that has the least square error with the existing data points is chosen. Using this polynomial, we predict the future populations of the districts.
In the case of the four districts of Rohilkhand, we have the following predictions.
1b) Bareilly
2b) Bijnor
3b) Moradabad
4b) Rampur
From the graphs seen above, it may be observed that of the four districts, Rampur and Moradabad are set to become Muslim majority, with Bijnor hovering just above the 50 per cent mark for the Hindus. Only Bareilly remains clearly Hindu, in this model too, but even Bareilly is going to be around 45 per cent Muslim. The entire region will be also nearly at par demographically with 18.8 million Hindus and Sikhs and 17.7 million Muslims.
Upper Doab
The three districts of the Upper Doab are an interesting study. Using the same model as above, we have projected the population percentages in these three districts too. We get the following estimates.
5b) Meerut
6b) Muzaffarnagar
7b) Saharanpur
As may be seen from the above graphs, both Muzaffarnagar and Saharanpur are set to have clear Muslim majorities, with as much as 68 per cent Muslims in Muzaffarnagar. Saharanpur is also set to have a clear Muslim majority and this translates into a Muslim majority in Hardwar too.
Muzaffarnagar presents an intersting study in this model too, with the population of the Hindus falling from 71 per cent in 1981 to less than 32 per cent in 2061. Similarly, Saharanpur-Hardwar also falls from 65 per cent in 1981 to less than 42 per cent in 2061. Only Meerut will have a clear Hindu majority, and that only because of the huge immigrant Hindu population of Ghaziabad. The entire region is also projected to have a Muslim majority with 17.6 million Hindus and Sikhs and 18.9 million Muslims. The entire region of Uttar Pradesh we have considered will also have a small Muslim majority.
Logistic model
Finally, we have projected the populations until using a logistic (sigmoid) curve. The logistic curve may be seen as a lower bound on the faster growing populations, i.e., the lowest percentages that the faster growing populations may have. We show the graphs obtained for all the districts.
Rohilkhand
For the case of Rohilkhand, we have the following estimates that may be seen in the graphs. It is clear that the districts of Moradabad and Rampur turn clearly Muslim majority, while the district of Bijnor is barely below the majority mark for Muslims. Only Bareilly remains clearly Hindu.The entire region is also nearly at par with 22 million Hindus and 22.2 million Muslims in this model.
1c) Bareilly
2c) Bijnor
3c) Moradabad
4c) Rampur
Upper Doab
Similarly, in the Upper Doab, we obtain projections of the populations using the logistic curve. It can be clearly seen that Muzaffarnagar is clearly Muslim majority, whlle Saharanpur will be close to parity. Meerut alone remains clearly Hindu. The region as a whole is nearly at par with 22.2 million Hindus and 19.6 million Muslims.
5c) Meerut
6c) Muzaffarnagar
7c) Saharanpur
The entire population of the region will have a small Hindu Sikh majority in 2061 in this model.
Conclusion
In this article, we have shown the various projections of the populations of Western Uttar Pradesh. It shows that the region is going to be close to, if not actually, Muslim majority by 2061. All the models used here are conservative and do not take into account the age-based religious demographics and/or the rising disparity in fertility rates between Hindus and Muslims. For instance, the 75-79 age group has 70 per cent Hindus and 30 per cent Muslims in Saharanpur, while the 0-4 age group has only 50.5 per cent Hindus, and 49.5 per cent Muslims. The statistics for other districts are similar. The coming decades are likely to see faster change in religious demographics.
Evolution of religious demographics influence various important socio-political aspects of the corresponding regions. Electoral politics is one such essential component. Evolution of religious demography is likely to influence voting patterns and electoral alliances between various parties which need to be investigated by social scientists and psepologists. We hope that our conclusions stimulate intensive discussions and investigations on that front.
References
[1]All relevant data are taken from"Religious Demographics of India'' by AP Joshi, MD Srinivas and JK Bajaj, and the respective census statistics.
The views and opinions expressed in this article are those of the authors and do not necessarily reflect the official policy or position of DailyO.in or the India Today Group. The writers are solely responsible for any claims arising out of the contents of this article.