Jaish-e-Mohammed in Pulwama, 2019, killing over 40 soldiers.  
Jaish-e-Mohammed, in Uri, September 2016, killing 19 soldiers.
Jaish-e-Mohammed, in Pathankot, September 2016, killing seven soliders.
Jaish-e-Mohammed, on our Parliament, December 2001, killing nine people.
Pulwama is not the first time Maulana Masood Azhar's Jaish-e-Mohammed has wounded India. (Photo: PTI)
Jaish-e-Mohammed (JeM) was formed in March 2000 with the express aim of 'freeing Kashmir from India'. Its founder — the Pakistan-born Maulana Masood Azhar — had been released from prison just three months ago by India, after the Kandahar hijacking episode.
The 'What ifs' over the hijacking of IC-814 in December 1999 will perhaps never cease. Had India not released Masood Azhar in that winter of 1999, would the situation today have been different?
Azhar announced the establishment of the JeM in February 2000 in Karachi. This was just after he was released by India. (Photo: Reuters)
With the lives of 178 passengers along with the crew at stake, and the hijacked plane on foreign soil — it went from Pakistan to Dubai to Kandahar in Afghanistan — how many options did the government have?
Here's what happened over those seven days in December 1999.
On December 24, 1999, IC-814 was flying to Delhi from Kathmandu. Within half an hour of take-off, it was taken over by five Pakistani hijackers, who asked the pilot, Captain Devi Sharan, to fly to Lahore. Pakistan denied the plane permission to land.
The captain managed to persuade the hijackers to let him land in Amritsar, saying the plane was critically low on fuel — with the hijacked flight in Indian territory, this should have been the best opportunity for us to take back control of the situation.
However, the response was abysmal.
Conflicting accounts exist of what happened over those few critical hours in Amritsar.
Then-foreign minister Jaswant Singh at the New Delhi airport, on his way to Afghanistan to release the demanded terrorists. (Photo: Reuters)
An NSG team dispatched from Delhi could not reach Amritsar in time — reasons given vary from 'they could not find a chopper to fly them' to 'they were stuck in traffic'.
Punjab police and airport authorities say the only instruction they got was to delay fuel to the plane till New Delhi worked things out, which they did — till the time they started 'hearing screams from inside the plane'.
Finally, a fuel truck was asked to drive towards the plane, in a way as to block its flight. However, the truck driver apparently stopped abruptly, making the hijackers suspicious. They forced the captain to fly off without refueling, narrowly missing colliding with the truck during take-off.
Once the plane flew out of India, chances of saving the situation became grim.
India desperately requested Pakistan to allow the plane to land — low of fuel, it could crash any time — and to try and prevent its exit. Pakistan let the plane land and refuel — but made no attempts to stop it.
The plane next landed in Dubai, where 27 passengers, and the body of Rupen Katyal, whom the hijackers had stabbed, were off-loaded. Rupen, 25 years old, had been married three weeks ago and was returning with his 20-year-old wife from their honeymoon in Nepal.
At this point, India requested the UAE, and even the US to help, asking them to hold the plane at the airport till a team of Indian commandos could reach there.
But no help was forthcoming.
Hijacked by all: Taliban soldiers moved to surround the IC-814 in Kandahar, Afghanistan. (Photo: Reuters)
The plane finally landed at Kandahar. Afghanistan was then under the control of the Taliban. India initially thought the Taliban was willing to help us, but soon realised the huge mistake. Taliban fighters surrounded the plane, apparently in a bid to 'protect passengers'. But what they were doing was to make sure Indian commandos could not storm the flight.
According to reports, the hijackers wanted the release of 36 militants as well as a huge amount of cash. A team of negotiators flew to Kandahar.
Meanwhile, at home, pressure was mounting, with the relatives of the flight passengers staging protests. According to reports, Deputy PM LK Advani was not in favour of giving in to their demands. Even Kashmir CM Farooq Abdullah was violently opposed to this. The media was flooded with reports of the family members' distress and the mood was rapidly darkening.
AS Dulat, then the head of R&AW, wrote in his book that Abdullah apparently called then-foreign minister Jaswant Singh and gave him "an earful: "Aap jo bhi kar rahe hain, galat kar rahe hain." He called up others in Delhi. He kept banging the phone down… "I will not let this Kashmiri fellow (Zargar) go, he's a killer. He will not be released."
However, finally, concern for the safety of the passengers and crew members overtook everything else.
India agreed to release Masood Azhar, Ahmed Omar Saeed Sheikh (who in 2002 was behind the killing of journalist Daniel Pearl) and Mushtaq Zargar.
To calm the public mood, Jaswant Singh personally flew to Kandahar to ensure the handover of the terrorists — a move that was later much criticised.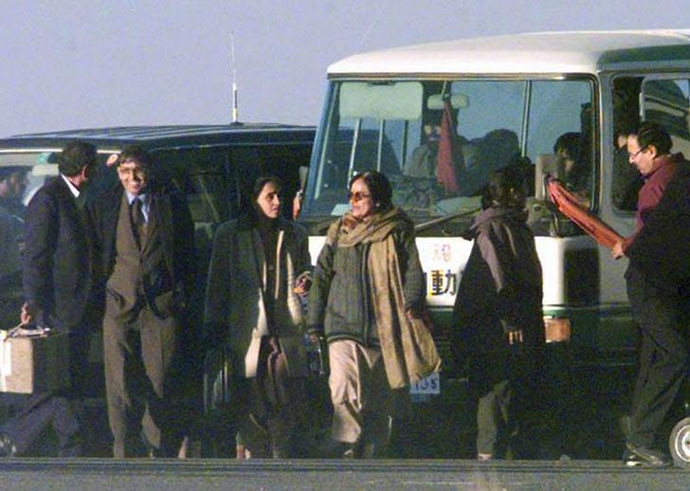 Freed passengers at Kandahar airport on December 31, 1999. The Indian govt had faced intense pressure to ensure their safety. (Photo: Reuters)
None of the five hijackers — one of whom was Maulana Masood Azhar's brother — was ever caught. In 2017, three people, Abdul Latif Adam Momin alias Abdul Rehman alias Patel, Yusuf Nepali and Dalip Bhujail, were convicted for arranging passports, tickets and arms for the hijackers.
Nepali was later acquitted. The acquittal has been challenged. Momin's appeal against his life imprisonment is in the Supreme Court.
Azhar, meanwhile, is safe in Pakistan.
India has tried to get him listed as a "global terrorist" at the United Nations Security Council (UNSC) — but so far, China has ensured that does not happen.