As politics breaks out over Pulwama, time for us, Kashmiris included, to ask hard questions
We need to ask and answer why we are turning against each other, and exactly whom that is helping.
So, everything can be politicised — martyrdoms and terror attacks included.
After a week of studied distance, the Congress has come out with a sharp attack on the government over the Pulwama terror strike.
So far, the ruling party, by dint of its position, had been using the terror attack to mobilise opinion against terrorism. That is absolutely acceptable. Tactical considerations may postpone a possible military response for a more appropriate time, but there is nothing wrong with mobilising public opinion against a rogue state.
The Congress has asked some hard questions, but also made some frivolous accusations. (Photo: PTI)
Similarly, Congress president Rahul Gandhi's diktat to party leaders to deal with martyrs' families in a sensitive manner was a breath of fresh air in a country where politicians usually line up to electorally encash every issue.
That these self-imposed restraints were practised with the big electoral showdown looming should earn plaudits for our politicos.

However, good things have a bad habit of not lasting too long.
We saw that on the morning of February 21, when the Congress opened political fire on the Prime Minister and the BJP over Pulwama.
The Congress asked some sharp questions — uncomfortable queries that pointed out gaps in intelligence and muddled decision-making on available intel inputs. But then, it also asked some politically loaded questions, pointing at the government's 'policy failure' in dealing with an irritating neighbour.
Soon, below the belt accusations followed.
Such as the question as to why national mourning was not declared after the martyrdom of more than 40 bravehearts. It is an entirely different thing that the then-ruling Congress never thought about announcing national mourning when more than 75 of our bravehearts laid down their lives in Dantewada in 2010.
Newsrooms rang out with accusations and sharp counters, with star anchors finding out that refereeing a verbal political slugfest can be as difficult a contest to control as any.
But as politics gained an upper hand, the martyrdom of our jawans seemed to recede for the netas.
When the country is seething with rage on the cowardly terror attack, playing politics is the last thing that should have been on the mind of our politicians. However, it was probably coming. With a close electoral race on the horizon, could the parties let go of such a big issue? That is what it is — just another 'issue'.
It took about a week for martyrdom to be reduced to an 'issue'.
What is this political bickering achieving?
The rage in the country is rising — indeed, it is boiling over, as seen in the heckling of vulnerable Kashmiri students in various parts of the country.
In a polarised 'them vs us' atmosphere, innocents are being wrongly targeted and many have reportedly fled back to the Valley. In some instances, institutions have acted against their pupils for 'sympathising' with the terrorists.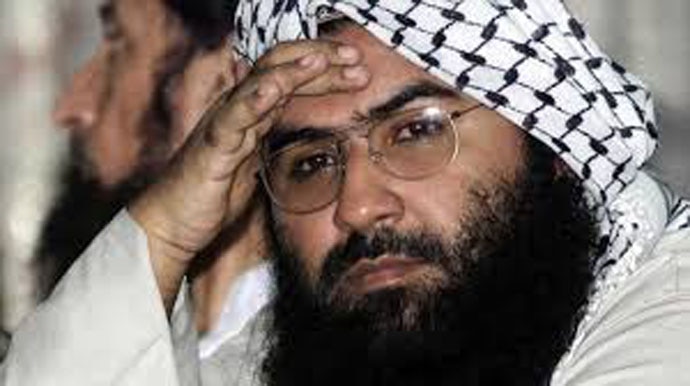 If we turn on each other, we will be playing into the hands of people like Maulana Masood Azhar. (Photo: Reuters)
If left unchecked, this has all the masala to turn into a mass-scale communal strife. Jaish and Azhar Masood will be happy. What a 300-kg car bomb could not do, mutual political sniping would succeed in achieving — to divide the consolidated response to threats to our country.
While the Armed Forces and other agencies will look long and hard into the circumstances leading up to the attack, the time has also come for the common people of the Valley to do some introspection. Who are these commoners? The 72-lakh odd residents of that cursed 'heaven on earth'. I am sure most of the population has no interest in militancy — something that blights every effort at a prosperous future for them. There are fewer jobs, the tourism and hospitality industry has taken a major hit, jobs in the unorganised sector have also vanished because of terrorism.
How long in the name of azaadi will some sections of the Kashmiri population continue to act as postmen for Pakistan, delivering terror into their own country? How long will they keep on hurting themselves? Isn't it time to look for an answer?
Also read: Pulwama and 2019 General Elections: Wait for the surprise
The views and opinions expressed in this article are those of the authors and do not necessarily reflect the official policy or position of DailyO.in or the India Today Group. The writers are solely responsible for any claims arising out of the contents of this article.