When 'hate' trumps empathy for India in Pakistan
Pakistanis started by expressing sorrow over the lives lost at Pulwama. But very quickly, as social media was filled with anger and hate, the empathy receded and counter-accusations began.
ISLAMABAD: The Pulwama terror attack — the suicide blast that claimed the lives of 40 security personnel in Kashmir — has turned into an all-out war of strain between India and Pakistan, as both governments are up in diplomatic arms, gearing up for a global offensive against each other.
While there is persistent anger across India, with heated demands of 'avenging' the incident, the word on the streets of Pakistan has seen a 180-degree change — that's courtesy the constant cross-border accusations.
The day the Pulwama terror attack occurred — February 14, 2019 — the immediate sentiments and voices from Pakistani locals at large were inclined towards sorrow, empathy, unhappiness and condemnation.
"When I heard the news about the suicide attack in Kashmir, I felt so bad and sad. These young soldiers were doing their duty as assigned. They were someone's sons... Even though I have strong reservations on their presence in Kashmir… families have lost their loved ones and it is really unfortunate," said a local resident in the capital Islamabad.
Hate tweets by both Indians and Pakistanis are taking away from the gravity of the Pulwama attack. (Source: Reuters)
But while these sentiments were the first genuine response, they stayed as such for a very short span of time — because of two trigger points that turned views into a counter-offensive narrative.
Social media went ballistic with anger and hate tweets from Indians against Pakistan — and vice versa. Followed by the media uproar and government-level accusations, together it all turned these sentiments into anger and offence.
The longstanding Kashmir dispute immediately replaced the softer sentiments and empathetic views of Pakistanis who were tilting towards a different approach.
The longstanding Kashmir dispute hijacks every conversation, every emotion — including empathy. (Source: Reuters)
"It has been decades that the Kashmiris have been fighting against the Indian forces. How many families have been killed? The struggle would only worsen as more and more youngsters would become rebellious," said a local university student.
"India points fingers at Pakistan. They have blamed Pakistan for a suicide attack and a group (JeM) that operates from Jammu & Kashmir itself. For just too long, India shut its eyes towards the Kashmiri struggle. Maybe this might open their eyes and minds to what is happening," said another youngster.
This ongoing counter-offensive of words, accusations, narratives and diatribes between India and Pakistan is plainly visible on social media platforms, where both sides are ready to take an instant upper hand with abuses, poor language and disgusting conversations — an act that clearly and blatantly goes against those who have tragically lost their lives in the Pulwama attack, and those who have thus lost their loved ones forever.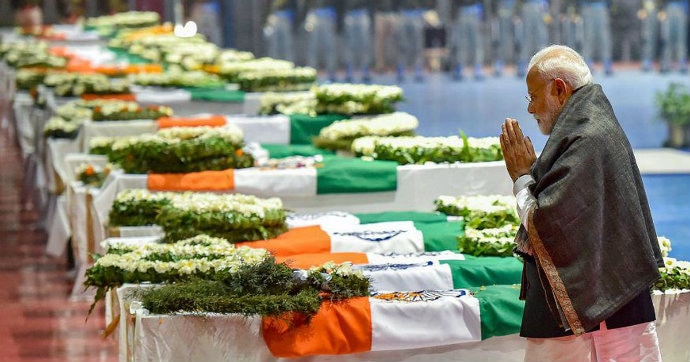 Let's not forget the vital fact: February 14, 2019, 40 CRPF personnel were killed in a terror attack. (Source: Reuters)
Unfortunately, both sides keep reminding each other of the number of casualties both have suffered at the hands of terrorists and terror attacks.
As temperatures rise and India mourns, the angry reactions shared through unethical and irrational, abuse-filled arguments on social media are much higher in number compared to a rare comment of condemnation in Pakistan.
And that pretty much establishes that 'hate' between India and Pakistan is still a much more profitable business than empathy or love.
Also read: In the wake of Pulwama, why India must watch out for the rabble-rousers
The views and opinions expressed in this article are those of the authors and do not necessarily reflect the official policy or position of DailyO.in or the India Today Group. The writers are solely responsible for any claims arising out of the contents of this article.