Elections in Punjab have never been so interesting in a long time!
As the poll results are set to be announced on March 11, the excitement is only increasing.
The Aam Aadmi Party (AAP) has not only emerged as a strong third contender, but has also made all the 117 contests a triangular fight.
Everybody knows the Malwa belt with 69 seats holds the key to the Punjab Assembly, but the algorithm here is very complicated. It is easy to say that the party which manages to clinch maximum seats from this belt will form a government.
However, it's not that simple.
The Malwa belt has been a traditional bastion of the ruling Shiromani Akali Dal. But the Akali Dal lost its stronghold after the 2014 General Elections. The AAP is believed to have made inroads into this belt by winning four Lok Sabha seats in 2014 and grabbing 24.40 per cent vote share.
The AAP has made a strong inroads into the South Malwa belt, which has been the epicentre of the anger against the ruling SAD-BJP government.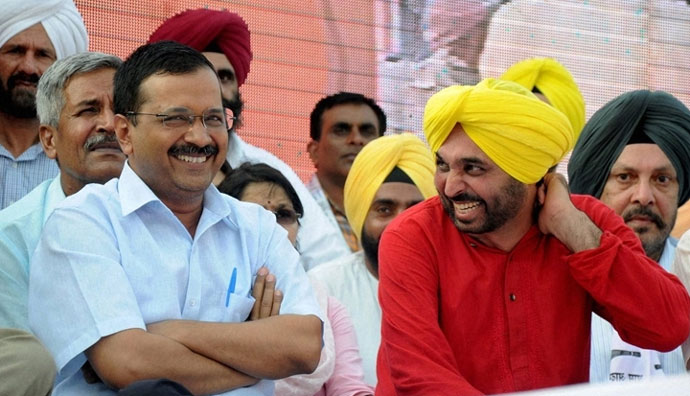 The AAP has made a strong inroads into the South Malwa belt.
Most of the farmer suicides took place here as they lost their cotton crop. The Congress, on the other hand, faced a rebellion in this belt in more than a dozen seats.
Interestingly, the two key constituencies — Lambi and Jalalabad — are also a part of the Malwa belt, where the Badals showered most of the funds.
Be it government jobs, social security pensions or the popular Aata-Dal scheme (subsidised ration), these constituencies were given a priority.
Political observers believe the AAP can also be a spoiler in Doaba and Majha, which comprise the remaining 48 assembly seats. The Congress is believed to have a stronghold in both these regions.
The Doaba region is dominated by the Dalit voters who are considered a traditional Congress vote bank.
If it manages to win the requisite seats in Malwa, the Congress may emerge as the single-largest party in Punjab.
However, it will be foolish to underestimate the Akali Dal, especially Sukhbir Singh Badal's social engineering.
While the three leading parties — Congress, AAP and Akali Dal — have been claiming to sweep the polls, whether any one of them will get a clear mandate will only be clear on Saturday, when the results are announced.
Till then, everyone's waiting with bated breath.