Something unusual is happening in the run-up to Gujarat Assembly elections, and it's more than just "there is a spring in Rahul Gandhi's steps".
The Congress vice-president seems to have finally found his swag: He is serenading on Twitter with "manipulated couplets" and displaying a connect with voters. 
He is even taking a big decision in the middle of the crucial Gujarat election campaign to take up the Congress president's post - a crown of thorns in contemporary politics - and is doing so after a long and chronicled reluctance. All this signals a complete plunge in politics that the grand old party deserves from the "inheritor".
The move also sends out a nod to voters in Gujarat, but the transition from a situation where he was de facto boss and his mother Sonia Gandhi de jure chief is never going to sail without complexities.
Wade through the campaign material and drama, and the silence on the minority issue is loud enough to wake anyone up from slumber. 
Has anyone heard either the Congress or Rahul Gandhi mentioning the 2002 Gujarat riots this time around? "Muslims being treated as second-grade citizens" or "justice or compensation for those killed in the riots"? 
The Congress campaign is silent on what used to be the party's loudest rallying point in previous elections to win the votes of Muslims — almost 10 per cent of Gujarat's population. The Muslims are almost "absent" this time. (The first time I heard of them figuring in the campaign was when mysterious cross marks appeared on some of the houses in Ahmedabad.)
Compare that to the jarring "maut ke saudagar" barb hurled at Narendra Modi by Sonia Gandhi while leading the Congress campaign in 2007. Die-hard Congress supporters then had argued that calling a spade a spade was necessary to lift the morale of the dispirited cadre.  
The only party which has raked up the issue of 2002 riots this time is AAP. On October 3, the AAP, after a brief lull, returned to Gujarat with a road show in Ahmedabad. AAP leaders stopped at various places, including Naroda Patiya, where almost 100 people were killed by rioters in the worst massacre of the 2002 Gujarat riots - but that was 45 days ago.  
Now, the AAP's first list of candidates for Gujarat is out and it would be hasty to construe that Arvind Kejriwal's "slowdown" in Gujarat may have been an attempt to keep it a two-horse race to ensure that Muslim votes don't split and benefit the BJP. 
None of the vocal social workers, some celebrated and curated by the Congress during the UPA rule, have taken to the streets seeking justice for the victims of Gujarat riots. The "disappearance" of Muslims from the poll discourse includes prominent riot victims staying away from the temptation of usual press conferences or marches for justice. 
The change is perhaps a sign that Congress, which failed to learn any lessons from the 2007 "maut ke Saudagar" gaffe even in the 2012 polls, is now wiser. The party after several crushing blows in Gujarat has realised that in a two-horse race - involving the BJP - Muslims will anyway vote for it. They have no one else to choose from.  
So it has decided not to focus on the 10 per cent pro-minority votes, but to go for what has been the BJP's strength - the 90 per cent majority. The extent of calibration for this silence is deep.
Congress president Sonia Gandhi's adviser and the party's most powerful man for more than a decade, Ahmed Patel, recently managed to overcome BJP president Amit Shah's concerted bid to stop him from reaching the Rajya Sabha. Patel displayed he has deep reserves of support and political cunning. This time, even Patel seems to be staying in the background and top leaders say it's because he is busy being the backroom man letting a "new" Rahul Gandhi take the centre stage. But that's not the entire truth. "The Congress in Gujarat is determined not to let the Hindu majority versus Muslim minority tussle return. Ahmed bhai knows if he emerges during campaign, the BJP may get a chance to use the past and work the old fault line," a senior Congress leader told me. 
With the Congress tactically retracting on the community front, suddenly there is no large-scale polarised churning in Gujarat forcing the BJP to battle on conventional political turf. That's also, I'm told, frustrating the BJP. 
The benefit of a silent-on-Gujarat Muslims campaign from the Congress means caste fault lines have emerged as more dominating themes. Patidars, Dalits and backwards are jostling for attention as caste groups are not falling under a "Hindu umbrella".
The likes of Hardik Patel, Jignesh Mevani  and Alpesh Thakor are free to tilt the balance and Rahul Gandhi's Congress is providing strong hints that its campaign will not allow the BJP to build a Hindu monolith.
Things change in the Congress, but slowly, and this apparently was in the works for some time. An "image makeover" exercise had started right after the 2014 humiliation.
A report put together by senior Congress leader AK Antony in June 2014 cautioned that the perception of the party was that it is close only to minority communities. That this had led people to doubt its secular credentials. 
In a minor tweak, it was decided that the party would start celebrating festivals like Janmashtami and Ram Navami, besides holding functions to mark the anniversaries of social reformers at its pradesh committee offices. This was a shift - till then the only religious function the Congress hosted at its party offices were Iftar parties during Ramzan.
In March 2016, a senior Congress insider had told me to "wait for some time. The Congress under Rahul Gandhi will start shedding the pro-minority tag which is making it unattractive to the majority".
His words came true when Rahul Gandhi started his UP Assembly campaign temple-hopping. Rahul Gandhi was proving that his visit as a "Shiv bhakt" to Kedarnath Temple right after a post-flood restoration in 2013 wasn't a one-off affair.
His mother and Congress president, Sonia Gandhi, started playing the "soft Hindutva" card with a road show in PM Modi's constituency Varanasi, which was to end at "Kashi Vishwanath temple". She fell ill before reaching the temple. However, to Benarasis she sent out a message, "I will come back very soon, to visit the Kashi Vishwanath Temple." 
In 2016, Rahul Gandhi started his "Deoria to Delhi" Kisan Yatra before the UP Assembly polls with a dash of saffron. 
On September 7, 2016, the opening day of his yatra, he visited the Dugdheshwar Nath temple and addressed a khaat sabha on its campus. Then he visited Ayodhya's famous fort temple Hanuman Garhi, followed by a visit to Mathura's Dwarkadhish Temple, the vindhyachal temple in Mirzapur and Kamtanath Temple in Chitrakoot.
After forging an alliance with the Samajwadi Party, he and Akhilesh Yadav jointly visited the Kashi Vishwanath Temple in Varanasi. 
But then Mayawati, by fielding 104-odd Muslims, was threatening to take away minority votes. So, Rahul Gandhi was forced to create a balancing act. He tied up with Akhilesh Yadav and visited seminaries like Deoband in Saharanpur and Nadwa Madrasa in Lucknow, popular mosques like Jama Masjids in Moradabad and Allahabad, the Dargah-e-Ala Hazrat in Bareilly and the St Joseph's Cathedral in Lucknow.
And the BJP cashed in on the mixed signals by targeting the majority. 
Temple-hopping in Gujarat 
In Gujarat with no other claimant to Muslim votes, Rahul Gandhi has greater room for maneuverability. He doesn't need to do the mosque or church circuit. The minorities clearly have no other option. 
His temple hopping has become frequent in Gujarat. He has already visited 11 Hindu temples in the first 50 days of campaigning, including the Khotidyar Temple in Varana, Bahucharaji Temple in Mehsana and Vir Meghmaya Temple in Patan. 
Sources in Congress say "soft-Hindutva" or "don't-ignore-the-majority" mantra draws partly from a report prepared by Gujarati Rajya Sabha MP Madhusudan Mistry, who is much trusted by Rahul Gandhi. It is believed that Mistry's report recommended changing the "most-preferred religion" status of the Congress. 
Rahul Gandhi, of course, seems to have borrowed several pages from Modi's book. Apart from readily posing with teenagers for selfies, addressing business groups and youth, he had been visiting temples and ashrams eyeing the votes of their followers. This is reminiscent of PM's visit to the Gadwaghat Ashram in Varanasi which has almost a crore followers, before the last phase of UP polls. 
Gandhi has chosen the temples well, Akshardham has lots of Patidar followers, Banaskantha's Ambaji Temple was used as Gujarat poll launchpad by his grandmother Indira Gandhi and father Rajiv Gandhi. 
Temple visits are in vogue anyway. PM Modi started a leg of campaigning from the Dwarkadheesh temple in Dwarka. On November 2, he attended the silver jubilee function of Swaminarayan Akshardham temple, Gandhinagar.
Interestingly, Yogi Adityanath, the saffron-clad chief minister of UP, who is said to be one of the star campaigners in Gujarat for the BJP, visited the make-shift Ram temple at the disputed site in Ayodhya recently. This development is not devoid of political intentions as Gujarat will be voting at a historic moment.
The first phase of polling is on December 9 - that's three days after the 25th anniversary of Babri Masjid demolition and creation of a make-shift "Ram Lalla" temple on December 6, 1992. 
Rajneeti-religion khichdi is not new
The Congress was the first party in power to blend religion with politics. Nehru's politics, however, was stitched differently. He ensured that the Constitution of India guaranteed freedom to follow any faith. The first copy of the Constitution had images from Mahabharata, it featured lord Ram and the Buddha. He was instrumental in keeping the holy grail of Indian democracy largely free from influences of religion at a time when India was torn apart by a Partition dictated by faith. 
Indira Gandhi, Nehru's daughter did not initially mix religion with politics. But she didn't take long to do so. She went against the Nehruvian model of dams and steel plants as "temples of independent India".  
The war of 1970 with Pakistan for the liberation of Bangladesh sent a signal to the majority. The sobriquet she earned wasn't merely "liberator of Bangladesh", but Hindu goddess "Durga" who took Bangladesh away from Pakistan. 
When electorally things kept deteriorating, to arrest the party's as well as her personal slide, she imposed Emergency. The middle class - mostly Hindus - voted against her.
The failure of the first non-Congress government led by Morarji Desai brought her back. Weakened and shaken by setbacks, by then Indira had changed completely. Religion and politics started to coexist consistently on her strategy table. 
Even as the majority grew disenchanted, in June 1984, she ordered Operation Blue Star, a military effort to evict Jarnail Singh Bhindranwale and gain control of Harmandir Sahib complex in Amritsar. There was also a crackdown against Sikhs carrying "kirpans". Both moves were seen as a political drift away from another minority community. 
During her post-Emergency comeback campaign in 1979-80, Indira Gandhi took along Sonia Gandhi to Patan's Ambaji Temple In Gujarat. Rahul visited that very temple on November 11 this time.  
Indira had yoga guru Dhirendra Brahmachari as her adviser and she frequently visited Devraha Baba, a saint based in Vrindavan who used to live on a "machan" (12-foot-high wooden platform ) near the river, wore deer skin and blessed his devotees by touching their heads with his feet. 
Interestingly, Rajiv Gandhi and Sonia too visited Devraha Baba's ashram on the eve of the 1989 elections. 
After Indira Gandhi's assassination, Rajiv Gandhi led the Congress to a landslide win in 1984, courtesy a consolidation on communal lines - termed "sympathy wave". Rajiv Gandhi and his strategists felt Hindu consolidation was instant noodle-like recipe for poll win. 
In 1985, Rajiv Gandhi succumbed to pressure from the Muslim clergy and leaders in his party from the minority community.
When the Supreme Court judgment on the Shah Bano case came, the Rajiv Gandhi government passed the Muslim Women (Protection on Divorce Act), 1986. This overturned the verdict in the case.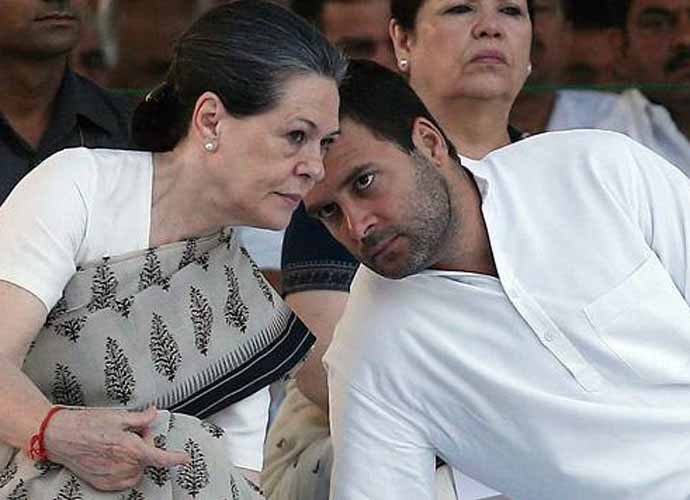 Saffron groups such as VHP made a hue and cry that Rajiv Gandhi bent over backwards to appease Muslims. A new war cry emerged: "Garv se kaho hum Hindu hain (say it with pride we are Hindu)." 
The Shah Bano case and the government's capitulation before Muslim fundamentalists provided a context. A beleaguered Gandhi tried to win over Hindus by playing the temple card at Ayodhya.
In a balancing act, Rajiv Gandhi ordered the opening of the locks  at the disputed site in Ayodhya and allowed prayers. 
Former president and veteran Congress leader Pranab Mukherjee, in his book, The Turbulent Years: 1980-96, says, "Rajiv's actions on the Shah Bano judgment and the Muslim Women (Protection of Rights on Divorce) Bill drew criticism and eroded his modern image. The opening of the Ram Janmabhoomi temple site on February 1, 1986, was perhaps another error of judgement."
The VHP grabbed the opportunity with glee. It organised shiladaan - "sacred stones" were carried from all over the country to lay the foundation of a Ram temple. With a signal from "the top", the central and state machineries allowed the VHP to carry out a ceremony at the disputed site in contravention of court orders. 
Later pushed against the wall by the potent Bofors scam, Rajiv Gandhi ended his speech with an invocation to establish "Ram Rajya".
The Congress, which till then had a mutually beneficial relationship with Muslims, lost its magnet, especially in crucial states like Uttar Pradesh. 
The BJP stole the blue print and magnified it with the Ram temple agitation to work out a Hindu majority assertion that altered politics. During PM Modi's tenure as the chief minister of Gujarat, the experiment got replicated.
The Godhra train burning of February 2002 that killed 59 "kar sevaks" became the turning point.
The riots altered the social equations as the Hindus discovered social aggression - something that politically helped the BJP win elections in 2002, 2007 and 2012.  RSS pracharak-turned-chief minister, Narendra Modi became a Hindutva mascot, who by 2013 dwarfed the original Hindutva poster boy, his mentor LK Advani. 
Rahul Gandhi is out to undo the damage. The template of shrine visits is, in a crude way, to "affirm his party's secular credentials".
It's a totally new definition of the term "secular", which the Congress government had got introduced in the Preamble of India's Constitution. Staying away from mosques, dargahs or not raising the concerns of Muslims is a strategy to shed a perception. 
The risk here is that if Rahul Gandhi eventually succumbs to pressure and "balances" his temple visits, the BJP will get into "the-charade-is-over" mode.   
The fallout of dropping the "pro-minority tag" for the Congress could well be a dip in Muslim representation. In a state where the community has been complaining of alienation,  Muslims may be 10 per cent of the state's population, but only two minority community members were elected to the 182-member Assembly in the 2012 elections.
While the community had enough muscle to influence election outcomes in at least 18 seats, the Congress with its attention divided among other groups - Patidars, Dalits and backwards Congress may not be able to field too many from the community. 
In 1990, only 11 Muslim got tickets and three of them won. In 2012 Assembly elections, only five Muslims were in the fray, two won. This in comparison to 10 per cent Muslims in Gujarat Assembly on 1980. Currently, there is no Muslim leader from Gujarat in Lok Sabha. 
Muslims may vote for the Congress, but insecurity within the community is certainly brewing. A few days ago, in Surat's Muslim-dominated areas like Chowk Bazaar in Nanpura, some anti-Congress posters mysteriously came up. The message on the posters was a threat to the Congress that a lack of Muslim representation will result in no votes from Muslims.
There are far more serious risks of temple hopping, mosque-shunning and redefining Congress secularism. 
India exists between nations either persecuting minorities or rendering them irrelevant. Hard and soft Hindutva are now being practiced more vigorously than the days of Ramjambhoomi temple movement. 
On the path of revival, the Congress is quietly altering - just like in the times of Indira Gandhi and Rajiv Gandhi - a few of its practises and core beliefs, but in the process it may end up ignoring a community. 
Muslims in Gujarat will be watching Rahul Gandhi. Muslims across the country, who comprise 14 per cent of India's population, too will be watching. Congress's soft Hindutva on Ram Mandir agitation and Babri Masjid demolition made the Muslims drift away from the party. 
By 2014, the Congress heading the UPA with secular players had a "pro-minority" tag hanging around its neck.
As a result, the BJP benefitted and managed to isolate the minority votes. From Jammu's border with Kashmir in north to Goa in south and Gujarat in the west and UP-Bihar border in the east, not a single Muslim candidate won a Lok Sabha seat. The Congress was reduced to 44 MPs. In the last UP polls, the BJP crafted a yet greater redundancy of Muslim votes. 
That's why Rahul Gandhi's options are limited. His party can remain silent on Muslims, but then he has to stitch up the best possible campaign and alliance in this Gujarat election and win it too.
And if that happens, his party can work towards ending the minority community's isolation. Otherwise the start of his term on a chair once occupied by the greats of Nehru-Gandhi pantheon will trigger a big "dharma-sankat".