Rajasthan government's ordinance to shield public servants, judges from probe may set a dangerous precedent
The legislation seeks to give six months to the regime to decide if a government official is worth investigating or not.
Rajasthan government has passed an ordinance – almost one and a half months back at that, on September 6, 2017 – that "immunes" a public servant, whether a bureaucrat, a minister, a judge, a police officer, among others, for six months before a probe can be made into allegations of corruption against him/her.
The Vasundhara Raje government has manufactured a template of inoculating her regime from criminal investigations and is a blasé mockery of Prime Minister Narendra Modi's anti-corruption plank.
Rajasthan government ordinance bars media reporting accusations involving judges and officers till the sanction is obtained. pic.twitter.com/KCuAUPAODK

— Iftikhar Gilani (@iftikhargilani) October 20, 2017
In addition, during the six-month embargo on the probe, if allowed to go ahead by the government, media too is barred from reporting on the issue or topic at hand. No electronic or print media, or other members of the press, can report on the accusations on judges and public servants till "sanction to proceed with the probe" obtained. If there is no decision on the sanction request post the stipulated time period, it will automatically mean that sanction has been granted.
Wake up India. While you've been chilling over the long Diwali weekend, Rajasthan's ordinance proclaims itself new Republic of North Korea

— Shekhar Gupta (@ShekharGupta) October 21, 2017
This ordinance – officially known as The Criminal Laws (Rajasthan Amendment) Ordinance, 2017, made and promulgated by the Governor of Rajasthan on September 6, 2017, and "published for general information" (though really accessed by the media no sooner than October 20, almost one and a half months later) on September 7, 2017 – is about satisfying the Governor of Rajasthan that "circumstances exist which render it necessary for him to take immediate action".
This is the definitely one of worst ordinance by govt of #Rajasthan @narendramodi @VasundharaBJP @arunjaitley pic.twitter.com/hGz2YbuUD4

— PARAS NATH SIDH (@pnsidh) October 19, 2017
The ordinance – the third in 2017 by the Rajasthan government – is an amendment of the Code of Criminal Procedure, 1973 and Indian Penal Code in application to the State of Rajasthan. The ordinance amends the Criminal Code of Procedure, 1973 and also seeks curb on publishing and printing or publicising, in any case, the name, address, photograph, family details of the public servants. Violating the clause would call for two years imprisonment.
The ordinance itself is now available in public domain, and its English version is reproduced below.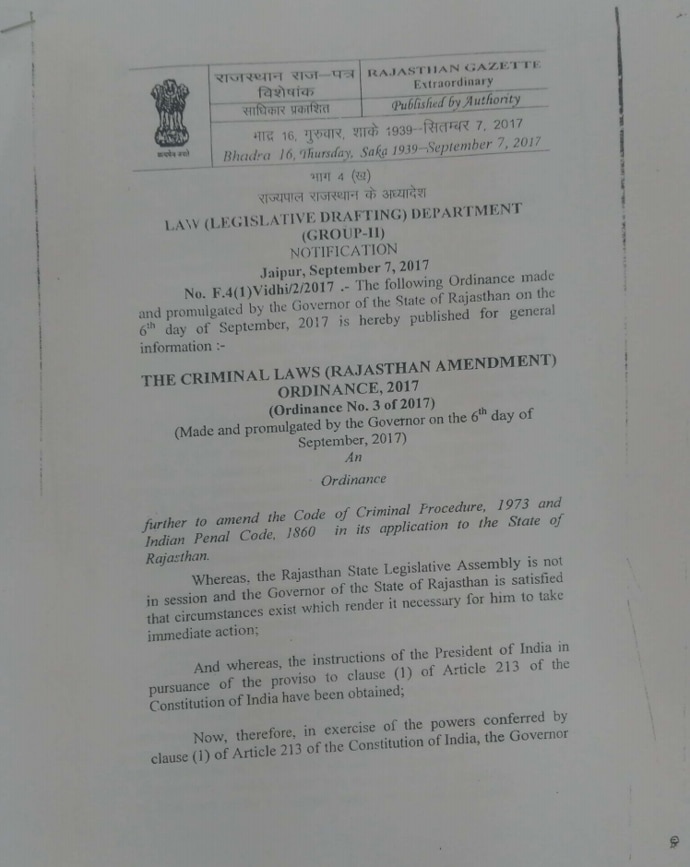 Here are the main implications of the ordinance:
Firstly, it seeks to give immunity to serving government officials as well as serving and retired judges, magistrates, among others, from being investigated for on-duty action without its prior sanction. This means that in case a serving or former government official, bureaucrat, or a judge has allegations against him/her, the state government would decide whether or not a probe is necessary.
In other words, Rajasthan government would become the arbiter of its own short-comings, wrong-doings, if any, and criminal negligence, if any. This is an attack on the basic structure of our Constitution, in which the government serves the people, and is completely accountable to the sovereign citizens, not the other way round.
Secondly, the media will be under embargo from reporting on the charges and allegations against the bureaucrats, judges, and magistrates, ministers until and unless the "sanction" is obtained that the probe would go on. This means that there would be no investigative reporting of any corruption allegation that's already there, or that surfaces in the course of time, against the Rajasthan government officers, until the regime itself thinks it can be investigated.
Effectively, this would put a lid on any real journalism within the state as also in the national media pertaining to the state, thereby killing off the free press, or whatever remains of it. This is a staggering assault on free speech and expression, not just of the journalists but also citizens, because quite easily even social media would be included in the exhaustive list of platforms with the publication embargo.
I thought Vasundhara would strike out for free media.Disappointing! https://t.co/475b9CNk7q

— Rajdeep Sardesai (@sardesairajdeep) October 20, 2017
Thirdly, this also curbs the power of magistrates and judges to order a probe into a pressing matter independently, taking suo motu cognizance of the issue.
#RajasthanOrdinance an attack on basic structure of Constitution -judicial review. Brute legislative power must be challenged in Raj HC.

— Shinoj KOSHY (@ShinojKoshy) October 21, 2017
Finally, if this ordinance is allowed to go unchallenged in Rajasthan, if there's no opposition from civil society, media, judiciary particularly the Supreme Court, then it wouldn't be long when other states too would come out with their own ordinances and immune themselves from any scrutiny whatsoever. In effect, this would make the government legally beyond any accountability and the arbiter of its own merits and demerits.
Also read: For one region in Uttarakhand, Diwali is still a month away