Why BJP must choose Rajinikanth as India's next President
There are uncanny similarities between APJ Abdul Kalam and the 'Amitabh Bachchan of the South'.
Will it be President Pranab Mukherjee again or not? Or, will it be "President Murli Manohar Joshi" instead, whose place currently is confined to BJP's hall of retirees - the Margdarshak Mandal. Forget both, would it actually be "President LK Advani", who has been critical of Prime Minister Narendra Modi and party president Amit Shah at times? Or, has Bollywood superstar Amitabh Bachchan completely lost the chance after his name found mention in the controversial Panama Papers?
Also read: Why Modi will choose to re-elect Pranab Mukherjee as president
And, thus, the speculation goes on, as to whom the ruling BJP would nominate as its presidential candidate in 2017 elections. But one name which the BJP should pick among the limited stock available is that of the Amitabh Bachchan of the South - Padma Vibhushan Rajinikanth.
The Atal Bihari Vajpayee government had nominated superman of missile science APJ Abdul Kalam in 2002, who was elected unopposed as the 11th President of India. There are uncanny similarities between Kalam and Rajinikanth. The Modi government should think out of the box like Vajpayee and choose Rajinikanth as the BJP's candidate for the 14th President, and these are the reasons why:
1. Non-political
Like Kalam, Rajinikanth is also largely non-political. Just on two exceptional occasions in several decades of his super stardom did he reveal his political proclivities. First, in 1996, when he said, "Even God cannot save Tamil Nadu if AIADMK returns to power." His outburst did have an impact and DMK won.
And, second, in 2004, when he said, "I will cast my vote for the Vajpayee-led BJP front in Tamil Nadu, but I will not force my fans or the public to vote for the same combine." It hardly had any impact and NDA could not garner much seats in the South.
Barring these two occasions, the Shahenshah of South has not just kept to himself his political affiliations but has also remained aloof from politics. And this suits the BJP. This brings us to the second point.
2. Extraordinary citizen
While Kalam was an acclaimed scientist, having been the backbone behind India's missile technology, Rajini has excelled in the field of cinema. Both have earned respect and became hugely popular in their respective fields. Movie lovers desperately await his latest film Kabali which is scheduled to release on July 15.
Their achievements also become extraordinary because of their humble origins and backgrounds. Writing for DailyO, senior journalist Javed M Ansari of India Today TV wrote, "President Kalam came from a very humble background; a boat man's son, he sold newspapers as a young kid growing up in Rameshwaram. He was a god-fearing, pious man, who never forgot to say his morning prayers. But unlike many others in public life, neither did he ever play up his humble origins, nor did he wear his religion on his sleeves."
The same holds true for Rajini, the carpenter-turned-coolie-turned-bus conductor-turned-actor. Born on December 12, 1950 in Karnataka, he was the fourth child to his parents Ramabai and Ramoji Rao Gaekwad. Originally, Shivaji Rao Gaekwad, he lost his mother at the age of five. He did his schooling from the Acharya Patasala in Bangalore and subsequently at the Vivekananda Balak Sangh, a unit of the Ramakrishna Mission.
Simplicity and originality are Rajini's hallmark.
A fan website www.rajinikanth.com describes Rajini's modesty. It states: "Ego and starry airs are unknown to Rajnikanth. During breaks he hardly ever rushes to his air-conditioned makeup room. Instead, he prefers to sleep on the sets, even without a pillow, merely covering his eyes with a wet cloth. He never comes to functions with a retinue behind him and even prefers to drive his own car."
Also read: No hope for Pranab. Who can Modi trust for President's post?
3. Showcasing India's soft power
With Kalam as President, India had showcased to the world its achievement in the field of nuclear science, scientific research and defence technology. His role as the chief project coordinator of the Pokhran-II nuclear tests in 1998 earned him the title of "Missile Man of India" and the country's highest civilian award, the Bharat Ratna.
Rajini is a recipient of Padma Vibhushan (2016) and Padma Bhushan (2000), the second and third-highest civilian awards respectively, for his contribution in the field of arts. After the military might, now it is time for the country to showcase its soft power. At a time when Bollywood has become a global brand and actors like Priyanka Chopra, Irrfan Khan, Anil Kapoor and others are sought after in Hollywood, it would be logical that India displays its softer side to the world.
4. Non-controversial
Kalam never courted any controversy, either before becoming a President, or during his entire tenure, or even after demitting office. Similarly, Rajini has remained untouched by any unwarranted fiasco - either concerning financial irregularities or behavourial aspect.
Also read: RSS wants MM Joshi as next President of India, poor Advani
5. Advantage BJP
The BJP will serve an ace by proposing the name of Rajini for the top job. The BJP-led NDA would never want a contest as it does not enjoy majority in the electoral college. Hence, it would be very difficult for either the principal opposition Congress or the regional parties, particularly of the South such as AIADMK, DMK, former prime minister HD Deve Gowda's JD(S) or K Chandrashekar Rao's ruling Telangana Rashtra Samithi, to oppose a suitable candidate like Rajini. Like Kalam, he will likely be elected unopposed.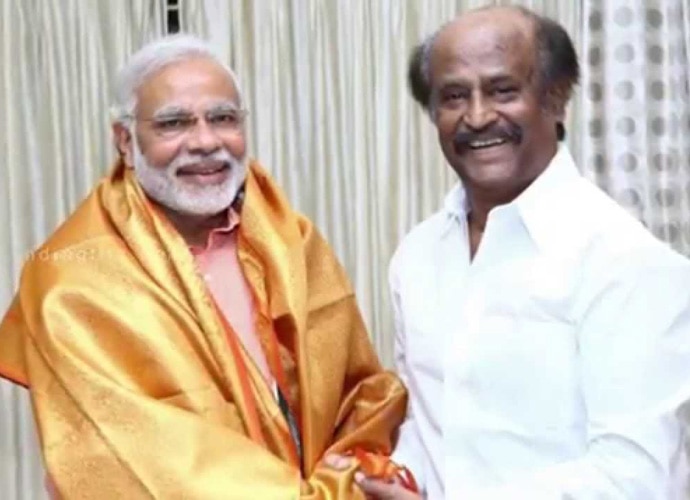 Shouldn't Rajini be Modi's natural choice?
6. Target 2019 Lok Sabha
Electorally, the BJP has already started making inroads into the South. It opened its account for the first time in Kerala and increased its vote share to above ten per cent. The NDA will earn credit for Rajini occupying the President's chair and may, therefore, stand to gain in the 2019 Lok Sabha elections. The BJP, though, had hoped to get the support of Muslims in the 2004 Lok Sabha elections after appointing Kalam in 2002 as President. But it lost power to the Congress-led UPA.
This should not discourage the BJP from nominating Rajini as the presidential candidate, because 2019 will not be 2002. Besides ensuring that the NDA's candidate won, a moderate Vajpayee had chosen Kalam also to assuage the hurt feelings of the Muslims.
However, far from forgiving the BJP for the Gujarat riots, they severely punished it by voting for the Congress. But this should not worry Modi. One, because the voters of the South have no axe to grind against him. And, two, the southern voters are not as homogenous as the Muslims and, hence, the BJP may finally get the support of splinter groups and fence-sitters in the 2019 Lok Sabha polls.
After Kalam, who was from the South, Pratibha Patil, who was from the West and incumbent President Pranab Mukherjee, who is from the East, it may unofficially be the turn of someone from the North to be appointed on the coveted chair. But a return to South after two terms may not be undesirable. Hence, hail Rajini!
The views and opinions expressed in this article are those of the authors and do not necessarily reflect the official policy or position of DailyO.in or the India Today Group. The writers are solely responsible for any claims arising out of the contents of this article.