Ranjan Gogoi's nomination is in keeping with Rajya Sabha's highest standards
The former Chief Justice of India has not been made a Rajya Sabha member on a party ticket, but has been nominated by the President.
Rajya Sabha is called the Upper House in the Indian Constitution. There is a representation of states in Rajya Sabha but Constitution framers also proposed that the President of India nominate 12 people to the Upper House for a six-year term based on their extraordinary contributions in various fields. All Presidents have been nominating people who have made contributions to arts, culture, sciences, academics, journalism and medicine. Traditionally, people from the legal fraternity too have been nominated to the Rajya Sabha.
The provision is not used as an exception but a way to use the expertise and talent that these people of achievement bring to the table in Parliament.
It is a standard tradition in Rajya Sabha to study the legislations that are passed by the Lok Sabha. Recently too, important legislations such as Surrogacy Bill, Enemy Property Bill, and OBC Commission Bill have been studied by select committees of the Rajya Sabha and returned to the Lok Sabha with amended suggestions for incorporation.
But a controversy has suddenly been created around Rajya Sabha appointments after former Chief Justice of India Ranjan Gogoi made it to the Parliament. The question that has arisen out of justice Gogoi's appointment is – how fair is it to appoint a former Chief Justice to the Rajya Sabha. The opposition's charges make it look like this is an unprecedented move.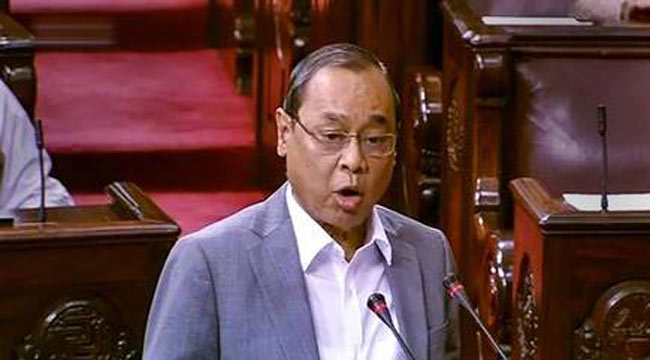 A controversy has been created around the nomination of Chief Justice of India Ranjan Gogoi to Rajya Sabha. (Photo: Screengrab Rajya Sabha TV)
The fact that people are not being told is that it is not for the first time that such a nomination has been made. Justice Ranganath Misra, who had served as the Chief Justice of India, was also nominated to the Rajya Sabha. In fact, Ranganath Misra wasn't nominated by the President. He entered the Upper House of Parliament on a Congress ticket. It is also wrong for the Congress to say that he was given a six-year cooling period. Misra, who retired as the CJI in 1990, was made the chairman of the National Human Rights Commission of India in 1993. He was brought to the Rajya Sabha in 1998. When his Rajya Sabha term ended in 2004, he was made the chairman of the National Commission for Religious and Linguistic Minorities.
The case of Justice Baharul Islam is also pertinent. Islam was Rajya Sabha member when the Congress made him resign and then appointed him as the judge of the then Assam and Nagaland High Court, in 1972.
In 1980, he was appointed the Chief Justice of Gauhati High Court and after his retirement from HC, Islam was appointed to the Supreme Court. He resigned from the apex court in 1983 and was elected to the Rajya Sabha, this again on a Rajya Sabha ticket.
Apart from these two cases, Justice Fazal Ali, Justice M Rama Jois, Justice M Fathima Beevi, Justice P Sathasivam were also given gubernatorial assignments without the six-year cooling off period.
And it wasn't just former judges that the Congress brought to Rajya Sabha, former Chief Election Commissioner (CEC) of India MS Gill too was twice given entry into Rajya Sabha. Another CEC, Ram Krishna Trivedi, was appointed Governor of Gujarat.
Former CEC TN Seshan, in fact, contested the election to the post of the President of India with the support of Congress. The Congress then also fielded him against LK Advani from Gandhinagar in the 1999 Lok Sabha elections.
As opposed to these examples, Ranjan Gogoi has not been made a Rajya Sabha member on a party ticket, but has been nominated by the President. It is absolutely wrong to question a CJI's judicial competence because he decided to enter politics and serve the country.
It is important to remember the example of Justice Krishna Iyer. Iyer was a noted judge who became a pioneer of judicial activism in India, however, in 1957, he was a minister in Kerala's Communist government. He lost the 1965 legislative elections and was appointed Kerala High Court judge in 1968. In 1973, he became a Supreme Court judge.
We also must not forget the case of Justice Kawdoor Sadananda Hegde.
Hegde was a Congress Rajya Sabha nominee in 1952. He then became the judge of Mysore High Court. In 1967, he became a Supreme Court judge. In 1977, he was elected to the sixth Lok Sabha on Janata Party ticket and became the Speaker in the Lower House.
It has always been desired that good, able and talented people enter politics. Before questions are raised over the appointment of any individual, we must first think about the person's abilities and talents. We must take into consideration people's contributions before raising questions over why they were given a certain position.
Renowned lawyers such as Fali Nariman, K Parasaran, Ram Jethmalani and Arun Jaitley have been members of Rajya Sabha, and Rajya Sabha has made immense contributions towards making important laws.
There is no doubt that with his vast experience gathered as the CJI, Justice Gogoi would also play an important role in keeping the highest standards of Rajya Sabha alive. It should be hoped that given that he has been nominated to the House by the President of India, Justice Gogoi will work with far greater seriousness and contribute with his legal expertise in drafting legislations. The needless political controversy that has been started over the nomination should be stopped.
Also read: Pakistan army must be tried for war crimes
The views and opinions expressed in this article are those of the authors and do not necessarily reflect the official policy or position of DailyO.in or the India Today Group. The writers are solely responsible for any claims arising out of the contents of this article.