Beyond Polished Words: Can BJP's fiery speaker Ravi Shankar Prasad win Patna Sahib for the party?
The advocate-plus-politician has long defended his party on TV, using logical arguments and occasionally, warm smiles. But will that help him wrest Patna Sahib from flamboyant MP Shatrughan Singh?

DailyBite
It is rare for politicians to start electoral politics at the age of 64 — and, in that context, BJP leader Ravi Shankar Prasad is indeed an exception.
The BJP's fiery speaker, Prasad, who has been a Rajya Sabha member four times, will now be seen going to the people asking for votes — not for his party or party men but himself.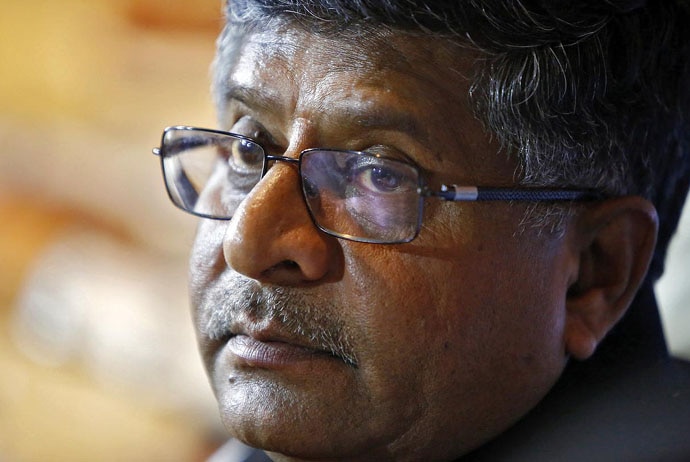 Up, Close and Personal: Ravi Shankar Prasad will contest Lok Sabha elections for the first time in his political career. (Source: Reuters)
In a surprise move, the BJP has given Prasad a ticket from Bihar's Patna Sahib — this will be the first time the advocate-plus-politician would be contesting a Lok Sabha election.
The question everyone is asking is — in an election which looks headed for a fight to the finish, why has the BJP decided to take the risk of fielding a candidate who has not fought a Lok Sabha election so far?
Quite clearly the BJP trusts Prasad, who has been ardently defending the party in television studios and press conferences, to win the crucial seat.
The announcement of Prasad's candidature was also a snub to the BJP's sitting MP from the seat, movie star Shatrughan Sinha, who has been using every platform at his disposal to embarrass the party and its leadership. While the BJP has not initiated any disciplinary action against Sinha, the party has been treating him as persona non grata.
Reports suggest Sinha would fight the election against Prasad possibly as the Mahagathbandhan candidate.
Will Prasad be able to wrest the seat from Shatrughan Sinha?
Freely Flamboyant: Shatrughan Sinha has declared he will contest from Patna Sahib, come what may. (Source: Reuters)
Well, Ravi Shankar Prasad may have been a Rajya Sabha member for the longest time — but his politics is rooted in ground-level work.
Prasad began his political career as a student leader in the 1970s, organising protests against Indira Gandhi's government. He spent time in jail too when the Congress declared Emergency in 1975. Prasad has had the experience of working with mass leader Jayaprakash Narayan as well.
He was associated with the Rashtriya Swayamsevak Sangh (RSS) and Akhil Bharatiya Vidyarthi Parishad (ABVP) for many years and held various posts in these two organisations.
While Prasad joined the BJP national executive committee in August 1995, he shot to fame while pleading cases against Lalu Prasad in the fodder scam in 1996. Prasad had started building a base for himself by participating in the anti-Emergency struggle. His fiery legal career only helped to solidify this.
Interestingly, Prasad was also Union minister during the Atal Bihari Vajpayee government and is considered a protégé of LK Advani. The generational change of guard in the BJP that happened with Narendra Modi and Amit Shah taking over doesn't seem to have impacted Prasad's position much.
The BJP's generational change doesn't seem to have impacted Ravi Shankar Prasad's position in the party. (Source: Wikimedia Commons)
He has batted for the BJP on some of the toughest pitches, defending the party and taking on tough questions. But as a party speaker, he has also known how to garnish his stand with facts and not just blazing fire. He is not known to lose his cool during the most heated debates, disarming his opponents with hard arguments — interspersed with occasional, warm smiles.
Prasad has defended the BJP before the media, but defending his own candidature in front of voters may not be that simple.
Sinha, his likely opponent, has almost the same credentials — the gift of the gab, they belong to the same caste (Kayastha) and both are natives of Patna.
Patna Sahib is sure headed for an interesting fight — one that will be keenly watched well beyond Patna.
Also read: Can Smriti Irani wrest Amethi from Rahul Gandhi?