Girls in groups, laughing soundlessly, with their hands covering their mouths to silence the sound that might escape, is too common an image. You see it everywhere. This is because traditionally, women are often told to wrap themselves tightly in metaphorical constraints that bind their personalities into a tiny, neat little bundle that don't occupy any extra space, physically as well as mentally. The moment a woman starts to push those mental and physical constraints in order to display a personhood, she opens herself to criticism. Mostly, this criticism comes from sexist agents of patriarchy.
Take, for instance, how Prime Minister Narendra Modi compared Renuka Chowdhury to Soorpnakha, the mythical demon-woman from Ramayana after she laughed in the Parliament. Chowdhury, who is a Congress MP laughed loudly after the PM claimed that the Aadhaar was an idea that was first suggested in 1998, by the then home minister LK Advani, in the form of a national identity card. After the prime minister's remark, vice-president Venkaiah Naidu asked Chowdhury to "go to a doctor please" and Union minister Kiren Rijiju later shared a Facebook clip mocking her laughter, which he later deleted after Chowdhury put up a breach of privilege against him.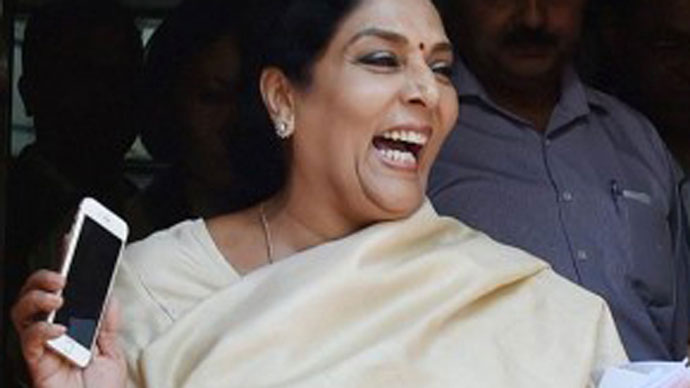 One cannot ignore that there are political connotations to Chowdhury's laughter. India goes to the polls next year. Photo: PTI
Chowdhury laughed in the middle of the prime minister's speech, while that might be considered rude, the backlash that followed has been gendered and sexist in its reproach. When was the last time a man was asked to see a doctor for laughing loudly? Or when was he compared to a Mahishasur? According to the Indian context and Hindu mythology, women's laughter has always incited this kind of reproach from men. Remember, it was Draupadi's laughter when he fell down that irked Duryodhan enough to start a war in Mahabharata or Mandakani who was banished by a god after she laughed at him.
Mythology aside, according to a report by the Inter Parliamentary Union, across the world, women members of parliaments face sexism, harassment and violence from male lawmakers and are increasingly targeted by online humiliation campaigns. Four out of five of the women reported having been subjected to hostile behaviour causing psychological harm or fear. Some 44.4 per cent said they had received threats of death, rape, beatings or abduction during their terms. "The respondents said that most of these acts were committed by their male colleagues — from opposing or their own parties."
Years ago, Margaret Atwood wrote that when she asked a male friend why men feel threatened by women, he replied, "They are afraid women will laugh at them." When she asked a group of men why they felt threatened by men, they said they were afraid "they are going to kill them". Quite simply, when women laugh at men or interrupt them with their laughter, they are taking away from their supposed authority, their sense of power and self-importance and there is nothing worse than that for those with a fragile ego. So it is natural for them to put the woman in question in her place by personally attacking her.
How dare women laugh loudly and take over public spaces when they are just supposed to whisper and be in the sidelines? They are supposed to be foils to the agents of patriarchy, not agent provocateurs.
When was the last time a man was asked to see a doctor for laughing loudly? Or when was he compared to a Mahishasur? Photo: Screengrab
Just last week, as a friend and I sat having coffee next to two really loud men who we tried to ignore, she made a joke that made both of us burst out in laughter. Not the keep-a-hand-over-your-mouth kind of a giggle but loud guffaws that had us in fits of mirth, we soon noticed the tut-tutting and disapproving glances from the men sitting beside us. Men who became uncomfortable and disapproving the moment we became rambunctious. In school, I was once punished by a teacher for "laughing like a hooligan"; my mother's grandmother would often stuff handkerchiefs into the girls' mouths when they were loud and mirthful.
There is something about women laughing that is generally considered outrageous by agents of patriarchy. It means that they are losing control, especially if a woman starts to display these traits in a public space. After all, there is always a set of invisible laws that govern a woman's life and everything comes with a set patriarchal rulebook and if you do end up transgressing that rulebook, get ready to be labelled the "bad girl", "the wicked witch" etc.
When the people propagating these personal attacks are the prime minister of a country, the vice-president and the Union minister, all belonging to the majoritarian ruling party in power, it is natural to assume the kind of mentality that generally permeates within it. Take, for instance, how the parliamentarians reacted after the PM's remark, by loudly thumping on desks and bursting out in laughter. If you noticed, women were absent from this merrymaking, even Uma Bharti managed to put a hand over her mouth in a display of faux horror.
Also, of course, one cannot ignore that there are political connotations to Chowdhury's laughter. The country goes to the polls next year. The BJP must try harder to woo the country and so must Narendra Modi. The last thing the party needs right now is a laughing dismissal of its star candidate. Therefore, everything must turn to war. But as Howard Jacobson said in The Dog's Last Walk, "So long as there are women laughing – laughing at men, sex, age, propriety, laughing at the very idea that they shouldn't be laughing – we are safe. From one sort of tyranny at least."