Mahesh Sharma is a billionaire. He heads a chain of hospitals. While his son is studying in an Ivy League college, he wants children of India to study in a shakha.
He also happens to be the minister for culture. A strange choice, if you ask me, if you consider the views he represents. He has a mindset that disgraced APJ Abdul Kalam, by adding the caveat - "despite being a Muslim" - while listing the former president's achievements, upon being rewarded with Kalam's bungalow by Prime Minister Narendra Modi.
This is the Sangh Parivar's "ecosystem". The mission is to stealthily or overtly take over the country's leading institutions and autonomous bodies. For instance to have someone like Ram Bahadur Rai head the Indira Gandhi National Centre for Arts (IGNCA). Rai, who was appointed to this position by Sharma, recently offered a gem when he said, "Ambedkar had nothing to do with the Constitution."
Why did Sharma appoint Rai?
It's actually simple, if you do some digging. Sharma wants to be the chief ministerial face of Uttar Pradesh. In order to do so, he is going out of his way to make appointments that the RSS wishes under his ministry. Sharma also wants to nominate Swapan Dasgupta to many committees in the ministry of culture.
Mahesh Sharma.
The human resource development ministry is not far behind in steering Sangh's outreach programme.
Smriti Irani has taken it upon herself to turn her HRD ministry into a RSS playground. Powerful RSS ideologue Krishna Gopal is overseeing all major appointments in top educational institutes, getting his men and women in place.
Gopal's wish, unfortunately, is Smriti's command. So much so that within the RSS and BJP, he's been nicknamed "Laddu Gopal" for the "appointment laddus" he's been busy doling out.
The Sangh's student body ABVP may have been reduced to a joke in campuses today, but Irani is ensuring that it is well-briefed and her officials have been informed to heed all its requests (from Rohith Vermula's suicide in Hyderabad University to arrest of students at JNU).
The RSS even has had a role to play in RBI governor Raghuram Rajan's exit.
The all-powerful Sangh ideologue S Gurumurthy is said to have to met Modi and Union finance minister Arun Jaitley and conveyed that the RSS felt that "Rajan spoke out of turn and deserved to go".
According to my sources, the decision was not Gurumurthy's alone, but that of senior leaders of the Sangh.
The next frontier for the Sangh is PSU bank director and government nominee appointments. My sources in the BJP tell me they are apprehensive that this will lead to further stress in the worsening bad loans situation.
Senior leaders, meanwhile, are growing increasingly worried about RSS' control and dominance over the BJP's "holy trinity" (Modi, Shah and Jaitley). They are of course too scared to go on record.
A senior BJP leader told me that "Modi has reduced the BJP to his echo chamber. He may talk about Congress-mukt Bharat, but he's only following Indira Gandhi's footsteps, by ensuring democracy-mukt BJP. All decisions are taken by three men and a woman. The Cabinet comprises ciphers. Modi is even putting his loyal people as chief ministers... Khattar, Fadvanis and Sonawal are all loyal to the RSS and Modi."
The new, "Modi-fied" BJP is falling at RSS' feet, something that the earlier BJP would not have even considered. Atal Behari Vajpayee was known to keep the RSS at more than an arm's length and was viscerally disliked by the Sangh for it.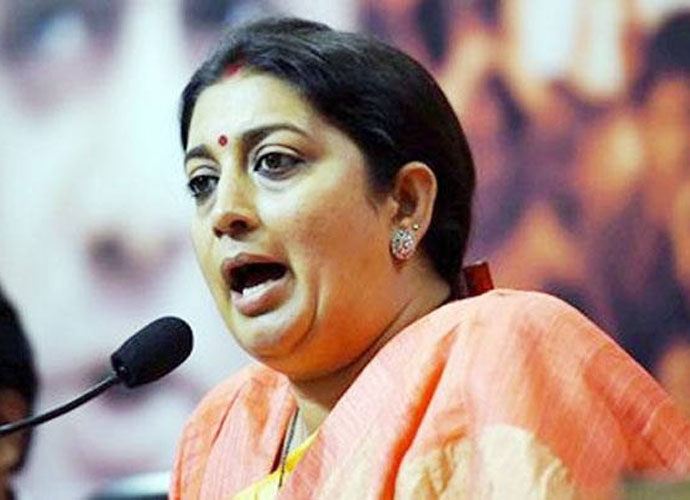 Smriti Irani.
Modi has no such qualms in hiding his affections for the RSS. He ensures his Cabinet gives progress reports to RSS chief Mohan Bhagwat regularly.
Even the ministry of external affairs, I'm told, is being pulled in different directions. It is being run by three different bosses: Sushma Swaraj as the nominal minister, Ajit Doval as the dotted line superior, and Ram Madhav, the RSS' import and BJP's powerful general-secretary, who fancies himself to be Modi's Henry Kissinger.
This is one of the major reasons our relations with Nepal, US, China and Pakistan are all over the place. A secretary in charge of a critical division told me: "I get three different instructions on every issue from three different people. And, they are all people who must be obeyed."
Take the case of a recent delegation which left as part of a cultural exchange programme with China. Forty-five of these delegates were associated with the ABVP and Bharatiya Janata Yuva Morcha, and the India Foundation led by Ram Madhav. The ministry of youth affairs is practically functioning as an RSS wing.
While even respected NGOs such as the Ford Foundation have suffered at the hands of the government, achhe din are only for the Doval family and its many foundations. The national security advisor's son Shaurya Doval, who earlier ran Saudi-funded Zeus Caps, now heads the country's most influential think-tank, India Foundation, with ministers and foreign dignitaries literally queuing up at his beck and call. The foundation has commerce minister Nirmala Sitharaman, minister of state for finance Jayant Sinha and railway minister Suresh Prabhu as directors.
The RSS has always had a long-term plan. Today it is in a position to influence the highest decision-making in the country.
In its worldview, it's now finally "twice born" after having been thrice banned.