Sometimes, history happens when no one is looking.
Sabarimala kept making headlines ever since the Supreme Court lifted the bar on women to worship at the hilly shrine on September 28.
And through months of protest, politics, bandhs, lathi-charge, violence, high drama and tense moments.
Then, suddenly, everything changed on February 6 — the hum, the buzz, the turbulence.
Kanaka Durga, one of the two women who first entered the temple on January 2, under police protection and in the guise of a transgender, got the right to go back home by court order. She was beaten up and thrown out by her family, hospitalised and put in a shelter home, all for her daring.
The same day, Travancore Devaswom Board (TDB), the autonomous body that runs Sabarimala and that opposed women's right to worship at the temple for so long, made an extraordinary volte-face at the Supreme Court — it was now in support of their entry.
Having entered Sabarimala, Kanak Durga has become a bit of a celebrity — but her intimate relationships have turned toxic. (Photo: India Today)
History-making is mostly a messy affair.
Kanaka Durga's life has turned upside-down. She has become a bit of a celebrity, yes, but her most intimate relationships have turned toxic — rejected by family members, branded "insane", called on to apologise publicly.
Her husband, Krishnanunni, an engineer, has made it clear that their home is actually "his home," as are presumably their children. The day the Mallapuram Nyayadhikari gave her the right to return home, her husband moved out, into a rented place, with their two children and his mother. "I want to live with them but they don't want to," she says.
One can only hope that the Facebookers of "Navothana Keralam Sabarimalayilekku (Renaissance Kerala marches to Sabarimala)," that inspired the 39-year-old state government officer to take up the dare, are with her through the trauma.
How do you take back what has happened? The Sabarimala temple was shut for "purification" after two women (Kanaka Durga and Bindu Ammini, a law teacher) entered the shrine.
The hereditary head priest (or Thantri) Kandararu Rajeevaru promptly decided that they had "defiled" the abode of Lord Ayyappan, the eternal celibate (naishtika brahmachari), closed the sanctum sanctorum and performed a "purification" rite (punyaham).
Going by the 500-year-old text, Thanthra Samuchayam, they propitiated gods and Brahmins, prayed, chanted, cleaned the place with water, removed all dust and debris, gave a feast for Brahmins, distributed their leftovers and so on.
No one, not even the Kerala courts, had ever questioned the supreme authority of the thantri in spiritual administration. The bigger temples of Kerala-Guruvayur, Sabarimala, Padamanabhaswamy, often engage in "purification" when non-Hindus or Dalits enter.
Not anymore — women's groups stridently condemned the ritual, calling it "demeaning"; the Kerala government deplored the action; lawyers' collectives filed contempt petitions for going against apex court directives.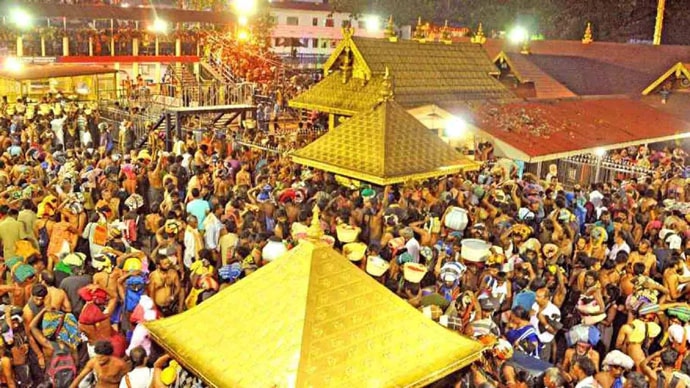 In 1991, the Kerala High Court restricted entry of women above the age 10 and below the age 50 from Sabarimala. (Photo: PTI)
Since then, about 51 women have entered the Sabarimala temple, as submitted by the Kerala government to the Supreme Court. How many times will the priests "purify" the premises?
The doors have opened. And, along with this, the spotlight is following people who were once above it all — the supreme priests, or thantris, who get their posts via hereditary rights.
There are 26 thantri families in Kerala and the Thazhamon Madom, a Brahmin family has held that right for Sabarimala since 1902. It has two branches, the heads of which undertake the puja in alternate years, as per an internal arrangement. A male child is initiated from age five, taught the Vedas, mantras and other rituals, made to observe penance, given secret and sacred instruction, before he can join the temple at age 18.
What has come up for scrutiny is a 2006 case of a thantri who was accused of sex-racketeering allegedly. He, it was alleged, was involved in abduction, manhandling and blackmailing. Anyway, his photograph with a woman in a compromising position had a disastrous impact on his career, his family — as well as the community.
Questions are rising now on how the priests of a celibate god are not celibate themselves?
They get married and have children, although every step of their life — marriage to pregnancy — is mired in multiple customs, particularly around the women of their families.
Who does the temple belong to anyway?
Kerala's Mala Araya tribals are challenging this as well. They say their ancestors used to perform rituals in Sabarimala until they were forcibly removed in the 19th century by the Kerala royals of Pandalam.
Until this point, no one, not even Kerala courts, had ever questioned the supreme authority of the thantri in spiritual administration. (Photo: PTI)
There are many legends surrounding Ayyappan himself. That the god does not like young women worshipping at his temple because, as Hariharaputra, the son of Vishnu in female form, Mohini, and Shiva, he apparently arose out of male homosexual union (the temple continues to be popular with the transgender and male homosexual groups).
That women are not welcome in his temple because of their menstrual pollution. Yet, an affidavit filed in the Kerala High Court in 1990 shows that young women, newlyweds and young parents used to come to the temple in large numbers even in the mid-20th century. There are reports of women from the Pandalam royal family visiting the shrine. The discrimination against women was crystallised in 1991, when the Kerala High Court restricted entry of women above the age 10 and below the age 50.
En route the hilltop shrine, there is the Chengannur Mahadeva temple, a major halting point.
Here, for four days a year, a little-known festival takes place that is linked to menstruation.
Thousands of women, apart from priests and male devotees, celebrate what they call the Thriputharattu, or menstruation of goddess Parvathy.
Adjoining Sabarimala, an essential part of the journey includes a goddess shrine. Malikapurathamma, or the temple dedicated to Ayyappan's alleged unrequited lover — a compulsory visit.
No place for women? Think again.
The good news is — all this controversy has not taken away Ayyappan's popularity. The Hundi earning this season itself is apparently up from Rs 210 crore in 2017 to Rs 255 crore in this year.