Lok Sabha 2019: Salman Khan says he won't campaign for any party. But the signs are all there, everywhere!
Everyone needs bhai, but bhai needs none!
Just before Gautam Gambhir joined the BJP, sending a flutter across both the sports and the political fraternity, our own Salman bhai made his stand clear. He said he would not contest the upcoming elections on any party ticket — neither is he going to campaign for anyone in the run-up to this high-octane Lok Sabha Election 2019.
Contrary to the rumours I am not contesting elections nor campaigning for any political party..

— Salman Khan (@BeingSalmanKhan) March 21, 2019
But yes, he's urged people to come out and vote, like many others entrusted with this solemn national responsibility by our Prime Minister Narendra Modi.
We are a democracy and it is every Indian's right to vote. I urge every eligible Indian to exercise your right and participate in making the Government. https://t.co/WsTdJ3w84O

— Salman Khan (@BeingSalmanKhan) March 21, 2019
But what made people think that the political parties will be able to harness what apparently our courts can't?
Well, there were many tell-tale signs.
Narendra Modi and Salman Khan are not exactly chaddi-buddies. There is a considerable age gap between the duo. But they are kite-flying buddies, of course — we have proof of that.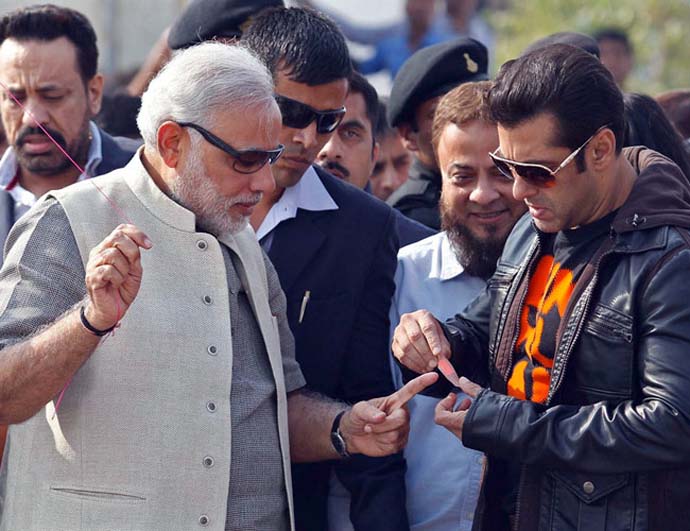 Our PM had bhai to nurse his wound. (Photo: Twitter)
Salman Khan has also strongly supported PM Modi's Swachh Bharat Abhiyaan as well — but any responsible, sensible citizen would do that. So, not counting this.
Recently, Nitin Gadkari met Salman Khan as he was meeting other Bollywood stars during his 'Sampark for Samarthan' drive.
But even more recently, Salman was photographed with a Congress delegation there in the Mumbai airport to receive Rahul Gandhi. Salman also arrived at the same time. Speculation was thus rife over whether Salman Khan and Rahul Gandhi — apparently, the most two good old 'most eligible bachelors of India' — met.
So, given the intensity of all the chatter, we presume, there must have been a tug-of-war for our bhai.
If we look into bhai's family history, we will find that his father, Salim Khan, shares a close and cordial relationship with Narendra Modi.
Even the Urdu website of Narendra Modi, the-then BJP PM candidate, was launched by Salim Khan at his Mumbai residence in 2014. It was all Salim Khan's idea apparently and he clearly said that the move was not aimed at Muslim votes.
But Salman, despite flying kites with Modi, never endorsed him or his party.
And now, he has happily agreed to become the ambassador of Madhya Pradesh where the CM is Congress's Kamal Nath. Apparently, they also share close ties.
So, what's happening? It's confusing us. Which side is our Bhai on??
In an old interview (the interview, unlike as reportedly claimed by the headline below, had nothing to do with the MP election) which resurfaced and went viral during last year's assembly elections, Salman Khan had said he always voted for Priya Dutt and Baba Siddique. Because they were his friends and were working well.
"I don't see the party. I see the leaders," he said, adding that he would vote for Kamal Nath, had he been from Chhindwara, for Rahul, had he been from Amethi.
Does he then, despite all those photo-ops, have a soft corner for the Congress?
Such tantalising confusion!
Good that we won't see Salman bhai in any political rally any time soon. Because, as we all know, ek baar jo woh committment kar lete hain, toh phir woh apni bhi nahin sunte!
Let some mystery prevail in life!
Also Read: How (not) to gatecrash shaadis in style!
The views and opinions expressed in this article are those of the authors and do not necessarily reflect the official policy or position of DailyO.in or the India Today Group. The writers are solely responsible for any claims arising out of the contents of this article.