The hotel Pride Plaza CCTV clip should make every working woman anxious. Girls battling patriarchy to make their way into the workforce should be nervous because that might just be the beginning of battles that lie ahead.
It's 2017. Almost four years after the Sexual Harassment of Women at Workplace (Prevention, Prohibition and Redressal) Act was passed, and the situation we have in front of us is this: A woman worker gets sexually harassed. By her senior. During her work hours. At her workplace. And is sacked for reporting the matter.
And this happened in India's capital.
The footage shows the hotel's security manager pulling the woman employee's sari. His body language exudes the confidence of someone with no fear of action or law. There is another man in the room, reportedly the victim's immediate supervisor. He is seen standing quite obediently near the accused. His body language showing no element of surprise or shock at what's unfolding in front of him.
This person does nothing to stop the assault, and later leaves the room.
What the CCTC doesn't tell
In her interview to NDTV, the 33-year-old woman, who worked in the guest relations department of the Delhi hotel, said that the executive also asked her to spend the night with him at a hotel. The third person in the frame, her immediate senior, did not report the incident to anyone; rather he supported the accused in doing what he did. The woman alleges that at the end of the shift, the executive also tried to pull her inside his car, that she informed the HR department about the incident but chose to file a police complaint after no action was taken.
Now the woman herself stands fired, along with a colleague who helped her gain access to the CCTV footage. She hasn't been given any reason for her sacking.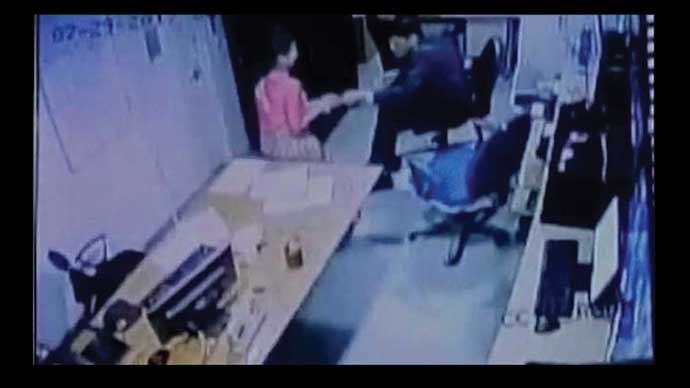 The footage shows the hotel's security manager pulling the woman employee's sari.
She is also heard saying that the third person, her immediate supervisor, wrote a report against her which might have led to her termination. Safety at workplace. What a joke!
This brazen molestation bid inside a workplace shows we are still far way away from assuring dignity for women in the workplace. It brings to the fore every point of concern regarding women safety in their work environment:
1. Workplaces still remain unsafe for women2. Predators still lurk around and they have ample support to help them thrive3. Sexual harassment by men in position of authority is a sad reality4. Many companies still have no plans in place to deal with them5. The larger message to women workers is very clear: Silence is the best way to keep your job safe  
Definitely, not a one off case Before this is dismissed as something that doesn't happen often, a look at what numbers say:
A 2015 FICCI report found an increase in sexual harassment complaints at workplaces. While 249 complaints were reported in 2013, they doubled to 526 in 2014.
NCRB data for 2015 also reveals some worrying figures:
Out of 8,685 cases filed under Section 509 of IPC (insult to modesty of women) 119 happened at workplaces and 714 at other places related to workplaces
557 women were raped by their employers or co-workers; of which 65 cases were reported in Delhi alone
These are only the cases in which victims have come forward to file complaints.
Despite the anti-sexual harassment act mandating constitution of an Internal Complaints Committee (ICC) in organisations, the fact that many women had to file police complaints shows that they might be getting little help from their workplaces in their fight.
Apathy shown by Pride Plaza with the victim shows exactly why implementation, and not the laws themselves, will make workplaces safe for women. This CCTV footage makes clear how low on priority it is for employers.