Nothing else matters when there is China. Yes, this is a China-Pakistan love story, a glimpse of which was released at the Shanghai Cooperation Organisation summit.
The video of Imran Khan sitting while everyone else was standing in honour to state leaders entering the conference hall has been doing the rounds. The cricketer-turned-politician is being accused as a serial diplomatic protocol-breaker. This particular video shows that he was seated when Vladimir Putin entered.
But do we actually think that he cares?
If he can break protocols with the king of Saudi Arabia, who is investing $20 billion in Pakistan, then believe Imran Khan to do the same with other SCO members also.
Yes, during a meeting with Saudi King Salman bin Abdulaziz, Khan just walked off before the king's interpreter could even fully translate his message. The king was left simply standing alone, looking startled.
Pakistan doesn't care. Why? Because it has China — and Imran Khan's speech at the SCO conference was just an unabashed admission of that.
Everything he spoke about ended at talisman China. How does he do it?
Well, it requires specific skills. If his speech can be presented in a question-answer format, it would look something like this:
Why is Pakistan important in the SCO?
Because it links the Middle East with China (and South Asia too, who cares!).
What is Pakistan doing to strengthen its ties with other SCO countries? 
Deepening its ties with China.
China-Pakistan Economic Corridor, Belt and Road Initiative, Gwadar port are other keywords that Imran Khan enunciated to praise 'President Xi's' farsightedness'. Then he also recounted his fond memories of his recent China visit.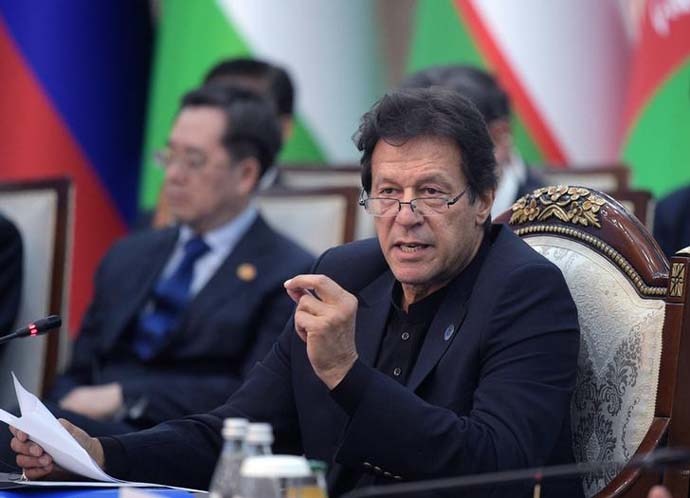 Imran Khan can afford to sit back and relax: China and IMF loan have cushioned him for now. (Photo: Reuters)
What are the threats of South Asia?
Terrorism, Narcotics, Climate change, Islamophobia. But poverty is the biggest common enemy. And one must learn from China how to alleviate poverty.
Yes, this is how he sang a paean to China and Xi Jinping in his speech. 
Later, he got clicked with Putin also.
Love blinds all. And Pakistan is no exception. The rest of what he said and did in the summit can be explained by this delusion.
Like, when he said that Pakistan has successfully turned the tide against terrorism; so it can actually share expertise and knowledge with the SCO in counter-terror, or, when he condemned terrorism 'in all forms and manifestations, including state terrorism', was he being for real?