What Shivraj Singh Chouhan did when Modi was talking social distancing
The Madhya Pradesh chief minister has killed irony several times over by asking people to not be a Covidiot.
On January 30, it became clear that the novel coronavirus had found its way into India when a Kerala-based student, who studies at Wuhan University in China, tested positive.
Perhaps, the first sign of how serious it was came for Indians when Prime Minister Narendra Modi announced he would not be participating in any Holi Milan programmes this year.
Holi fell on March 10, the Prime Minister's announcement came on March 4.
Experts across the world have advised to reduce mass gatherings to avoid the spread of COVID-19 Novel Coronavirus. Hence, this year I have decided not to participate in any Holi Milan programme.

— Narendra Modi (@narendramodi) March 4, 2020
On March 9, reports started trickling in that Jyotiraditya Scindia and about 22 Congress MLAs from Madhya Pradesh have gone 'missing'. They hadn't really gone missing; the Congress unit of the state had realised that its men were probably housed in some resort, whose bills were being footed by the BJP.
Soon after, Scindia emerged in Delhi. On March 10, as many people, who by then had realised the gravity of the coronavirus pandemic, stayed indoors ditching Holi celebrations, Madhya Pradesh went on with business as usual. The BJP unit of the state, in fact, spread its business as far as Karnataka. Rebel Congress MLAs were housed in the Ramada resort in Bengaluru. The Congress took its flock to Jaipur. When social distancing was the only survival strategy, BJP and Congress MLAs huddled together. When saving lives was paramount, the BJP decided to hunt down one more state.
Reports suggest Scindia had been in touch with the BJP for the past four-five months and that he had expressed a desire to join the party. What had waited for months could wait no more.
On March 11, Scindia joined the BJP. On March 21, BJP president Jagat Prakash Nadda was photographed inducting the rebel Congress MLAs into the party.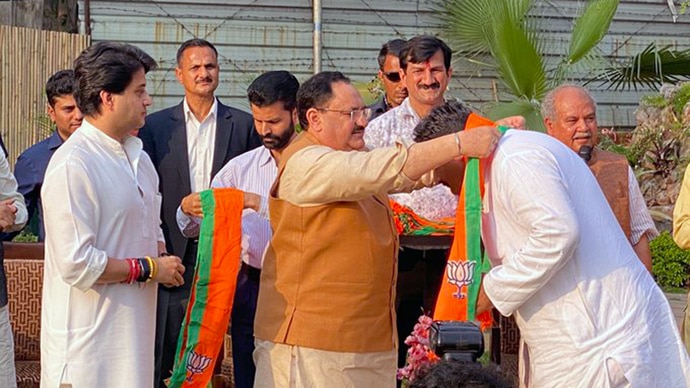 BJP president JP Nadda inducting rebel Congress MLAs in the party. (Photo: Twitter)
All these events unfolded in front of rooms packed with journalists.
On March 20, Kamal Nath resigned as Madhya Pradesh Chief Minister after a detailed speech in a room full of journalists at his residence. One of the journalists present at this event has tested positive for coronavirus. A Delhi-based journalist, who attended the press conference at which the resignation was announced, tweeted about how people showed zero care for the pandemic.
Amidst the #Coronavirus scare no sense of social distancing at the press conference called by CM Kamal Nath. When I asked the reporters to leave some space between the chairs they laughed and said: "Delhi waalo ko Corona ka bohat darr hai, Bhopal waalo ko Nahi" - IMAGINE!!!

— Neelam Pandey (@NPDay) March 20, 2020
On March 19, Modi had made a call for Janata Curfew and advised social distancing. The message did not reach his own partymen in Madhya Pradesh. The scenes from outside BJP's Madhya Pradesh office are telling of just how caught up BJP was in installing its own government in the state.
Chief Minister Shivraj Singh Chouhan was so exuberant, he announced he would be holding a dinner on March 20. Had it not been for singer Kanika Kapoor being detected positive, and the Covid-19 scare reaching Parliament through MP Dushyant Singh, who attended a party where the Bollywood singer was present, Chouhan would have actually gone ahead with the dinner.
#MadhyaPradesh: BJP leader Shivraj Singh Chouhan and other party leaders arrive at the party office in Bhopal. Kamal Nath has resigned as the Chief Minister of the state, ahead of the floor test which was to take place at the state Assembly today. pic.twitter.com/sXCSVr84IG

— ANI (@ANI) March 20, 2020
A cancelled dinner still did not mean Chouhan understood social distancing. Chouhan took oath of office on March 24 and then went ahead with hugging and holding hands.
But before taking the CM's chair, Chouhan on March 23, killed irony several times over by asking people to not be a Covidiot. Whatever people say about leading by example, sure went unheard, unread by Madhya Pradesh's new chief minister.
Don't be a #COVIDIOT!#StayHomeStaySafe India!Our doctors, policemen and others supporting teams are working round the clock to protect you!I strongly urge all wash your hands in regular intervals and strictly follow all the guidelines!#IndiaFightsCoronavirus pic.twitter.com/bhmCJVFgnq

— Shivraj Singh Chouhan (@ChouhanShivraj) March 23, 2020
In every state, the Covid-19 count starts from one. In Madhya Pradesh, it took off from four. On March 20, four cases were reported from Jabalpur.
If the BJP at the Centre understood the seriousness of what the country was faced with, how did it assume Madhya Pradesh would not be impacted?
The state was left literally ungoverned all this while and the BJP is squarely to blame for this. A power grab should have waited at a time like this. It is shocking how uninformed Chouhan has looked about the pandemic.
When he went about holding hands and sharing hugs, the message Chouhan sent out to the people of the state was – go about business as usual, since "Delhi waalo ko Corona ka bahut darr hai". His counterpart in Uttar Pradesh too stands guilty of the same.
As the UP Police have gone about beating people for violating the lockdown orders, Chief Minister Yogi Adityanath was seen participating in a pre-dawn religious ceremony on March 25. The chief minister, along with state officials and sants and mahants, was seen shifting the Ram idol to a temporary structure inside the Ram Janmabhoomi premises. Authorities say proper precautions were taken. Whatever the PM said about the only precaution against the virus being social distancing was lost to the sounds of chants and conches.
It would be of great help if the PM addresses his chief ministers separately – at 8 pm or any other time to their convenience – asking them to not be Covidiots.
Also read: DailyOh! Did Michael Jackson see the coronavirus crisis coming, to the choice that killed Nimmi's film career
The views and opinions expressed in this article are those of the authors and do not necessarily reflect the official policy or position of DailyO.in or the India Today Group. The writers are solely responsible for any claims arising out of the contents of this article.