In the early 90's when armed militancy had just begun in Kashmir, the sight of men carrying guns on their shoulders and moving in lines on the streets was nothing unusual. But what was different was the kind of weapons these men would carry. While policeman and CRPF personnel would usually be seen with old 303 rifles or SLR's, the militants had swanky new AK47's.
Sometimes they would even carry light machine guns and RPG propellers. For a long time, there was no competition between the two sides. The militants were armed with way better weapons and thus were guaranteed an upper hand. Things however changed in a few years when the government of those days realised the need to arm the security forces with equally modern weapons.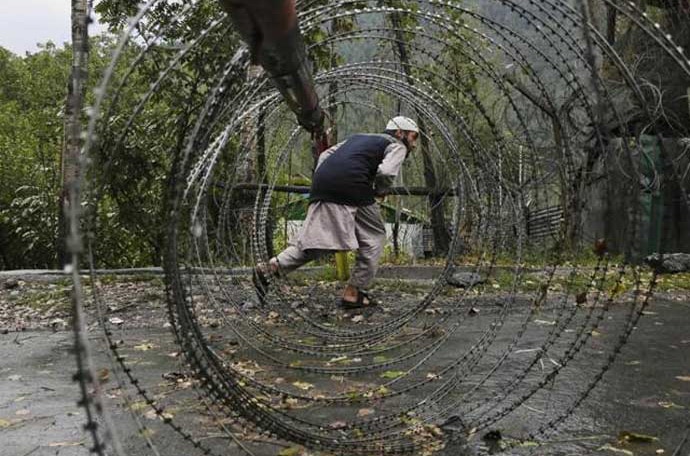 At least four militants of Jaish-e-Muhammad are believed to be involved in sniper attacks in the Valley. (Photo: PTI)
The conflict in the valley has seen its ups and downs for close to 30 years now. In these years the graph and capacity of militant groups have also seen changes. If recent reports are true, security forces in the Valley are now facing a new challenge in the form of sniper attacks by militants.
Three personnel of the armed forces have been killed in the last one and a half months in Kashmir by these sniper attacks. Sources say that at least four militants of Jaish-e-Muhammad are involved in such attacks. "There are sniper attacks that are taking place. It is a new challenge which we are trying to combat particularly in South Kashmir", said a senior police officer.
On September 18 a CRPF jawan was injured in the Newa area of Pulwama. It was a long distance shot. Since then three fatal attacks have happened. One claiming the life of a Sashastra Seema Bal Jawan in Tral, and another killing an Army jawan again in the same area. The most recent one was an attack on CISF assistant sub-inspector in Nowgam of Srinagar.
As per sources in the security forces there are four militants who are carrying out these targeted attacks. They work in two teams mostly in South Kashmir. Senior officials suggest that these militants have been highly trained by their groups across the line of control and have been sent to the Valley.
It is also being suspected that they are using M-4 carbines, used by the US-led allied forces in Afghanistan. Some of these rifles were recovered earlier by the police from militants in the valley confirming their presence. Since these attacks are taking place during night times in the valley, the forces also suspect that these gunmen are also equipped with night vision gadgets.
The presence of sniper militants has also sent alarm bells ringing among those who deal with the VIP security. (Photo: PTI)
In most of these attacks, the personnel were targeted while they were outside their posts using their mobile phones. Sources in the security forces say that the militants can target a person at a distance of 500-600 meters in such attacks.
The presence of sniper militants has also sent alarm bells ringing among those who deal with the VIP security. Former Jammu Kashmir chief minister, Omar Abdullah, commented on the reports of such attacks. He said: "We've dealt with snipers on the border and LoC regularly and have SOPs to deal with those but never in the hinterland. This will force a rethink of all manner of security and protection procedures," he tweeted.
So why is the presence of armed snipers such a big deal?
Firstly, it is new even for this decades-old conflict; secondly, the armed snipers with night vision capabilities will change the rules of the game. If all this is true the security forces won't feel entirely safe even behind their camp walls. Then comes the question of VVIP security which would need a massive review in such a situation when snipers can hit at long distances.
In short, a lot of recalibration would be needed by the forces to tackle this new challenge in front of them.