Is there a message for Congress vice-president and Amethi MP Rahul Gandhi in his mother's lunch for Opposition leaders on May 26?
Last Friday, Congress president Sonia Gandhi once again stepped out of the shadows - her home for some time now - by holding a "unity" lunch  for leaders of over a dozen like-minded  parties, including bitter rivals BSP's Mayawati and SP's Akhilesh Yadav from Uttar Pradesh and CPM general secretary Sitaram Yechury and Trinamool Congress and West Bengal chief minister Mamata Banerjee.
The immediate objective of breaking bread together was to try and identify a mutually acceptable Opposition candidate who could put up a fight - even a token one - against the BJP-NDA nominee for the presidential elections in July, in case the Modi government fails to seek consensus.
But there were two other motivations as well: to explore whether their interaction could pave the way for a joint anti-Modi, anti-BJP operation for the 2019 Lok Sabha polls and to signal to the ruling regime that a combined Opposition can carry political and perhaps electoral weight - a signal they hope to repeat during DMK patriarch M Karunanidhi's 94th birthday celebrations in Chennai on June 3 and RJD leader Lalu Prasad's Opposition rally in Patna in August.
While there is a question mark on whether these parties will stick together - be it for the presidential, 2019 or Assembly polls in between - there is little doubt that most of them are apprehensive of the impact that Prime Minister Narendra Modi's continuing appeal has had or can have on them nationally or in their respective states and are therefore trying to cover their flanks.
This holds true as much for the SP and BSP as it does for the Congress, which was left reeling with an alarmingly new low of 44 seats and less than 20 per cent of votes in the 2014 Lok Sabha polls by a marauding Modi and a resurgent BJP, and was thrashed in 13 of 16 Assembly elections held since then.
But the optics of Sonia occupying centre-stage among Opposition leaders must have gladdened the hearts of battered Congressmen for two major reasons.
One, they saw key Opposition leaders, ranging from JD(U) chief and Bihar chief minister Nitish Kumar to NCP's Sharad Pawar rallying around Sonia for consultations, thereby underlining the respect she continues to enjoy across the Opposition spectrum.
And two, she has, even if temporarily, given them hope by returning to the spotlight after consciously taking a backseat to son Rahul Gandhi since her illness in 2011, when she started transferring her responsibilities to him and allowed him to run the 2014 and other poll campaigns in which the Congress came a cropper.
So what does this have to say about Rahul, for whom Sonia has been ceding space much too often? 
The optics of Sonia occupying centre-stage among Opposition leaders must have gladdened the hearts of battered Congressmen. Photo: PTI
It essentially underlines the fact that though the Amethi MP is poised to take over as party president from his mother any day now, he continues to be seen as a second-ranking leader in the phalanx of Opposition stalwarts who had sought her out from hibernation and consider her primus inter peres or first among equals.
Even party workers realise that it is Sonia and not Rahul who can rally and build greater secular Opposition unity - as she had done before the 2004 elections - that could provide the much-needed salve to their mauled egos and outfits.
It is another matter that ideally the 70-year-old ailing Sonia would want to see Rahul in the big league of national leaders, just as she is obsessed with installing him to the top slot in the party organisation despite the damage her determination to do so may have caused to the party, given his poor track record as an MP, campaigner and communicator.
Though he may represent his party at the June 3 gathering, efforts to project him into the star cast of the Opposition galaxy have not met with much success so far. 
Take for instance, in what was to be a Rahul show, of the 16 parties Sonia had invited only eight turned up for a joint press conference to protest against Modi's move to demonetise Rs 500 and Rs 1,000 notes last November. 
In another instance, on December 16, 2016, several Opposition parties angrily boycotted the Congress-led march to the Rashtrapati Bhavan on the issue when in a terribly ill-timed move, just before the programme, Rahul and a Congress delegation met the PM to flag the farmers' issue. On other occasions, second-ranking Opposition leaders would give him company. 
More recently, when it came to brokering the ill-fated deal with Akhilesh Yadav and the SP for the 2017 UP Assembly polls, Rahul needed his sister Priyanka Vadra's helping hand and Sonia's behind-the-scene steering.
Given this scenario, Sonia's attempt to ensure that the Congress, despite its setbacks, continues to count with the Opposition is also aimed at cultivating the ground for Rahul, who is often accused of pushing the party into an abyss. 
Indeed, there is presently a sense of helpless and despair among demoralised Congress workers about the crucial 2018 polls in Gujarat, Himachal Pradesh, Karnataka, Rajasthan, Chhattisgarh and Madhya Pradesh and the 2019 Lok Sabha elections.
Sonia's reentry into the political scene, no matter how short, has given them hope. They may have lost confidence in Rahul but continue to repose their faith in her to somehow retrieve the party's fortunes as she had done when she gave the slogan of "Congress ka haath, aam aadmi ke saath'', chucked the party's go-it-alone policy and steered a Congress-led coalition to power in 2004 - when she renounced the PM's post - and 2009.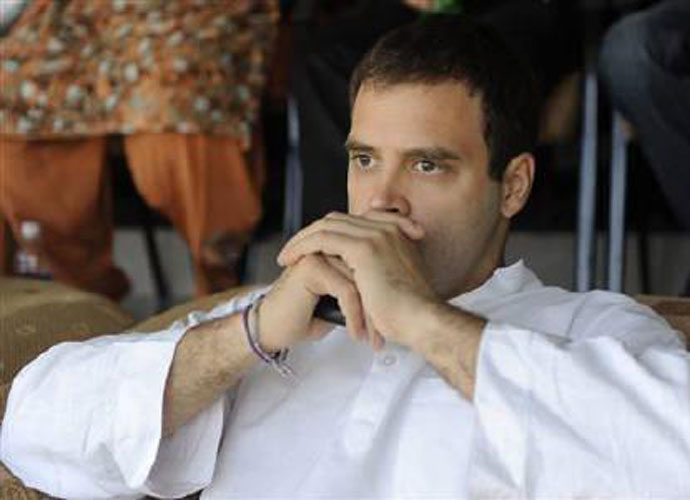 Rahul was blamed for being neither visible nor audible in Parliament or outside during the UPA regime. 
The downslide since then is blamed on UPA-II's scams, scandals and paralysis in governance, Modi's rise and Rahul's uninspiring leadership, absence of dedication and lack of voter-worker connect.
He was blamed for being neither visible nor audible in Parliament or outside during the UPA regime. Post-2014, he was seen and heard more often, though he flitted from issue to issue and remained inaccessible to many of his own leaders, falling short of the transformation his workers wanted in him.
As the party lost one election after another under his charge, the attacks on him sharpened. But each time this happened, Sonia surfaced to shield him, taking the blame for the Congress's performance on herself, promising introspection and necessary corrective actions which however did not materialise. 
She stepped in also to act as a buffer between the old guard which had rallied behind her when she entered active politics in the late nineties and the new team that Rahul has been trying to set up.
The old guard, which is not only apprehensive about its own future under their president-to-be, also has little connect with the ideas or style of functioning of their young leader whose experiment with elections in the Youth Congress ended up promoting  the use of money power.
Seniors like SM Krishna or ND Tiwari, for whom the party has little use, have quit and joined the BJP. Others are biding their time. Some like Gurudas Kamat have opted out of organisational responsibilities.
In re-entering the political scene, Sonia is seeking both to reestablish the Congress in the Opposition spectrum and to create an atmosphere for Rahul's elevation notwithstanding the political quagmire the Congress is in.
Reports of his impending anointment have had to be deferred each time because of the magnitude of the party's electoral debacles and the havoc it caused within. A change of guard is now speculated in October, when the party's internal elections take place.
Will things change for the Amethi MP after that? Will he emerge as an Opposition stalwart for the remainder of Modi's term? Will he begin to be counted as the kind of leader that Sonia, his party or his workers want him to be? In short, will the wheel turn for Rahul?
No one is willing to wager on that one yet.