Have you ever wondered why so many celebrities – ranging from D-listers Abhijeet, singer Sonu Nigam, to actor Ajay Devgn, Anupam Kher, Randeep Hooda and cricketers Gautam Gambhir, Virendra Sehwag – have all revealed themselves to be raging bigots, misogynists as well as inciters of violence and have happily outed themselves as Twitter trolls?
The short answer is that it pays to be a bigot in these "hyper nationalistic" times.
For out-of-work crooners such as Abhijeet and Sonu Nigam, it's a chance to get the attention they desperately seek from paid troll hyena armies, who bathe them in approval and love and trend #IStandWithX, where X stands for any D-grade wannabe Big Boss-type celebrity with a possible history of indulging in sexual harassment, communal incitement, or asking for violence against authors.
Look at Abhijeet, for instance, whose Twitter account has been suspended after he posted a series of sexually abusive comments against Shehla Rashid, a JNU student leader and former JNUSU vice-president. Not only did Abhijeet say this about Rashid, "There is rumour she took money for two hours and didn't satisfy the client ... big racket", he even wrote this to a woman user of Twitter who called him out on his Rashid comment: "You Ms Pak. Tell me your cage no? Will reach there ... Will do the favourite pose".
Of course, Abhijeet is a serial offender and I have been one of his previous online victims. As ​I, had written in this column earlier, in the first-ever case of its kind, former singer Abhijeet - who subjected me to online abuse by using sexual expletives on Twitter - was arrested and released on bail by the Mumbai Police. The singer had resorted to vile abuse when, on Twitter, I called out his claim that Chennai Infosys techie Swathi's murder was "love jihad".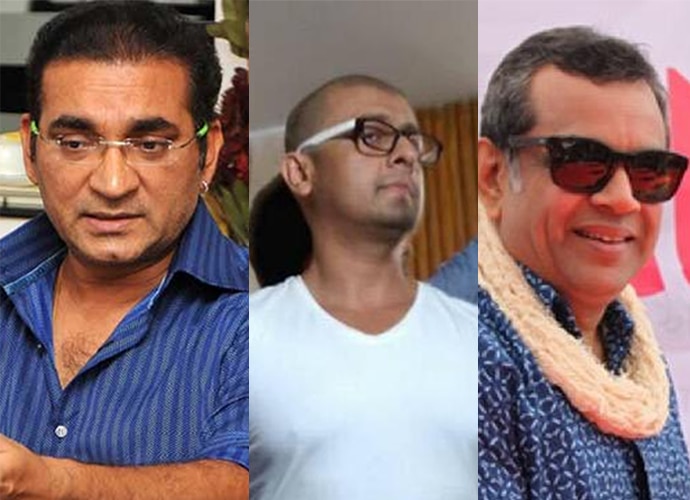 Photo: DailyO
Similarly, not too long ago, Sonu Nigam had put loudspeakers to shame by putting the spotlight on azaans. Today, Nigam, who batted for his Bollywood buddy Abhijeet, supposedly quit Twitter with a barrage of sign-off tweets, in which he ranted against Arundhati Roy, Shehla Rashid, while waxing eloquent on the bruised freedom of expression of his friends, including Paresh Rawal and Abhijeet.
His salacious see-off messages included gems like:
Media, is divided. Some Nationalists, some just Cold blooded Pseudos not ready to learn from our History of Traitors.
A woman can endorse a picture of Gautam Gambhir in the front of the Army Jeep, & Paresh Rawal, Criticized for doing d same to someone else
Accepted Arundhati has d right to her opinion about Kashmir, but then the other billion Indians have the right to feel Let Down too right?
One Could disagree wth Abhijeetda's language but isn't Shehla's accusation tht BJP has a Sex Racket, Provocation enough to Supporters?
If His account is deleted, why not Her? And the other Morons who hurl Mother Sister abuses to every Achiever?
But why just blame the D-grade desperadoes when Ahmedabad MP and actor Paresh Rawal has plumbed the depths of Twitter ethics by trying to incite an online mob against well known author Arundhati Roy? The blazing irony of a lawmaker not being remotely conversant with the Constitution of India that he has sworn to uphold is really lost in the barrage of social media hatred Rawal managed to unleash on Roy.
The buzz is that Rawal, a laggard MP who has made zero impact in Parliament in his first term, has now his eyes set on Gujarat which goes to polls later this year. He fancies he has a shot at a prestigious post in Gujarat Assembly, and seems to have understood that the first constituency he has to please is the frothing-at-the-mouth trollerati.
While Prime Minister Narendra Modi's obsession with social media as a way to bypass main stream media is known to the BJP, the fact that he follows more than 60-plus trolls who would like nothing better than Roy being used as a human shield, also indicates why it would earn Rawal brownie points with the BJP brass if the troll brigade makes a nationalist hero out of him.
Take the case of Ajay Devgn, who endorses tobacco products and asks people to "speak kesariya" (speak saffron) in surrogate radio advertisements. Devgn has got several one-to-one meetings with Modi, despite his name appearing in the infamous Panama papers. Devgn has publicly come out in support of demonetisation and claimed that he did not care that his film Shivaay was affected and suffered poorer sales than expected because of notebandi (demonetisation).
It clearly pays to be in the good books of the government. This may also explain why actor Anupam Kher, who led the oddly termed "Tolerance March" after a large number of writers and artists returned their awards protesting "growing intolerance" in India, was awarded with a Padma Bhushan last year.
His wife, Kirron Kher, is a BJP MP and Kher has trolled many journalists and activists on Twitter if they dare speak against Modi. Kher seems to have his heart set on a nominated quota seat in Parliament, which is in the government's kitty, while proudly proclaiming that he is "neutral" and a "nationalist".
Clearly, being a troll for the so-called "nationalist/Hindutva" causes has its dividends. Which is perhaps why cricketers like Gautam Gambhir and Virendra Sehwag unveiled their inner trolls, along with actor Randeep Hooda, to attack and lead an online lynch mob against a Kargil martyr's 20-year-old college-going daughter, Gurmehar Kaur.
Kaur's only crime – she hates war. She's a peacenik, and yes, despite losing her father to terrorist bullets coming from across the border, she doesn't want India and Pakistan to wage war against each other.
But that's exactly the reason why she got viciously attacked on social media. Her patriotism was questioned. Gambhir went a step further when he compared the tricolour to "a shroud" to wrap around and shame the "anti-nationals" in Jammu and Kashmir.
Padma awards, sinecures in committees and hitting pay dirt of the holy grail of the Rajya Sabha nominations; cosy one-to-one meetings with powerful ministers and growing influence, cultural and political. After all, a celebrity needs to have a post-retirement career and salience.
The troll traction is here to stay. Expect it to get worse.