So what really happened to Subhas Chandra Bose? How and where did Netaji exactly die? India's longest-running political controversy has a clear-cut, horrendous answer. Because irrepressible Subramanian Swamy claims he has it!
Swamy has emerged as the chief propagator of India's most nefarious conspiracy theory which paints war-hardened, prescient Subhas Chandra Bose as a naïve, hapless victim of a sinister gentlemen's agreement between Joseph Stalin, Jawaharlal Nehru and Clement Attlee, the British Prime Minister at the close of Second World War.
He continues to hammer on his "Netaji was killed in Russia" charge publicly. "According to the papers that exist with us [Government of India], Bose had faked his death and escaped to Manchuria in China which was under Russian occupation, hoping Russia would look after him. But Stalin put him in a jail in Siberia. Somewhere around 1953, he hanged or suffocated Bose to death," he said on January 10.
"Nehru was aware about Bose being held captive in Yakutsk Prison in Siberia," he further claimed. "I know for a fact that this is true and I have spoken about it."Swamy's conviction stems from "official records" he claims he had a privilege to study when he was a Cabinet minister in Chandra Shekhar's short-lived government. Added to this was his unimpeachable "research".
In 2006 he had elucidated thus:
"When the Chandra Shekhar's Janata government was in office, the Cabinet Committee on Political Affairs (of which I was member as Minister), had considered the Japanese request to send the ashes back to India but after reviewing the files we decided to reject it. This was because the Cabinet papers contained a record of a deposition by a stenographer of Prime Minister Nehru [Sham Lal Jain] stating that in December 1946 long after the alleged crash of Netaji's plane, he had taken down a letter dictated by Nehru addressed to Britain's Prime Minister Attlee complaining that Joseph Stalin was keeping Netaji in a camp in eastern USSR, and that Britain had to do something since Netaji 'is your war criminal'. This stenographer had deposed before the Khosla Commission but Justice Khosla ignored the evidence."
But how much of it is true? While it is clear that a fake news of Bose's death in Taiwan in August 1945 was circulated to give him a cover for his escape towards Soviet Russia, there is nothing whatsoever to suggest that he was killed there. This entire idea is the outcome of figment of imagination, fuelled by a mix of suspicion and ignorance.
But what about "evidence" Swamy keeps citing? Well, in plain words, Swamy has goofed up - his genuine, long-standing desire to know the truth about Netaji notwithstanding.
He got it all wrong even as he distributed last Sunday in a well-attended Bangalore meet copies of what were termed by his followers as "secret" records. What Swamy "made public" are actually records declassified following an RTI battle waged by Mission Netaji, a pressure group this writer is a part of.
Nowhere in the lengthy record of Sham Lal Jain's testimony before the Khosla Commission does it say that Netaji was killed in Russia. Swamy would have done it better to go through the testimony in full before distributing some pages from it. All Jain claimed was that Nehru (whose role in the entire matter was negative as I demonstrate it here, asked him to type a letter claiming that "Stalin has allowed Subhas...to enter Russian territory". This is perfectly in tune with the other evidence on record that Bose had sought asylum from the Soviets.
Jain's version as it really was and as it has been amplified by Swamy has a vital chunk missing. By cherry-picking and highlighting some parts of it, the former Harvard professor is not being objective. Either Jain was being truthful, or he was not. If one chooses to believe him, all Jain claimed before the Khosla commission was that Bose was in Russia after 1945, and that he was living in disguise in north India in the late 1960s.
Swamy is also oblivious to the fact that Stalin did not like Nehru and, therefore, had no reason to order the "killing" of someone who was pro-Soviet and had evidently been given shelter in Russia. Stalin refused to grant an audience to Nehru's sister Vijaya Lakshmi Pandit, first Indian mission head in Moscow in 1947. He accorded little importance to her successor Sarvepalli Radhakrishnan. All graphic details about Netaji's killing in Soviet Russia that are doing rounds now are pieces of unsubstantiated hearsay.
Insofar as the role of Chandra Shekhar's government is concerned, since it survived on support of the Congress party the very question of it doing anything positive with regard to the Netaji mystery did not arise. Documents from that time, sent to the National Archives by the Manmohan Singh government following the efforts made by Mission Netaji, tell their own tale.
On September 5, 1990, NK Sinha, joint secretary to PM wrote to home secretary Naresh Chandra that in view of dispute concerning Netaji's fate Prime Minister VP Singh was desirous of bringing the matter before the Cabinet Committee on Political Affairs (CCPA) for a decision.
This was complied with and the CCPA discussed this matter on February 25, 1991, when Chandra Shekhar was the PM. Swamy was one of his ministers.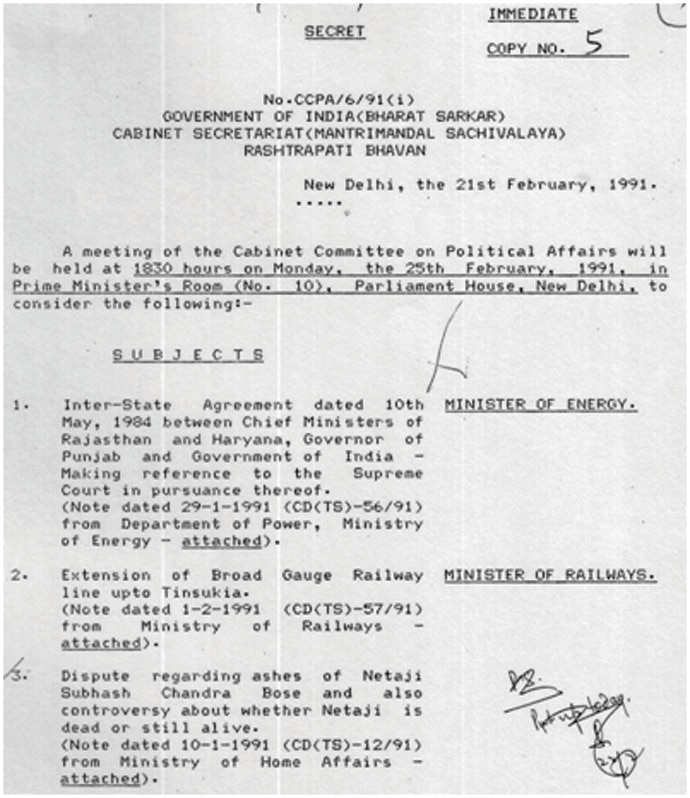 Courtesy: [National Archives, New Delhi] 
The deliberation at the CCPA were focused around a proposal presented by the home secretary  with the approval of Home Minister (Prime Minister Chandra Shekhar himself ) outlining the Netaji mystery matter in a most superficial and biased manner. The CCPA approved this proposal.
Courtesy: [National Archives, New Delhi] 
Contrary to what Dr Swamy has been claiming, nothing on record suggests that the Union Cabinet paid any attention to the "Netaji was killed in Russia" theory. In fact, the Cabinet more or less backed the air crash theory and buried the issue with these words: "It has already been accepted that Netaji Subhas Chandra Bose died in the air crash…no useful purpose would be served by bringing the ashes back to India at present as this might create unnecessary tensions."
There was no way lame duck PM such as Chandra Shekhar could have summoned the courage to tell the nation the truth about Bose - something that Prime Minister Narendra Modi would attempt next year.
Courtesy: [National Archives, New Delhi] 
Swamy's other claim that Netaji had been imprisoned in Yakutsk Prison in Siberia has actually been lifted from the account of adventurer and former MEA official Dr Satyanarayan Sinha. It was first recounted in Sinha's 1965 book Netaji mystery, and then repeated before GD Khosla in 1970. Sinha sourced this information to the son of Abani Mukherji, a revolutionary and co-founder of the Communist Party of India. Sinha claimed that in Moscow in 1960 he met Abani's son "Goga" from whom he gathered the information "Subhas Babu was locked up in Cell No 45 and Abani Babu in No 57 of the Central Prison of Yakutsk".
The claim is not correct. It is an established fact that Abani Mukherji, a victim of the Great Purge, was executed in 1937. His soldier son Gora Guar Mukherji also died during the second world war. Swamy connected dots on the basis of his prejudice and tried to pass off the outcome as evidence, which it is not. No matter how plausible it appears on the face of it, the conspiracy theory that Netaji was killed in Soviet Russia has nothing to stand on.
The weight of evidence in the Bose mystery is heavily tilted in favour of the so-called Gumnami Baba angle about which Swamy has been making all sorts of absurd claims betraying his complete ignorance of the facts.