When there is a dramatic development in a particular theatre, there is a proclivity among analysts to treat every temporally proximate event as intrinsically linked to such significant occurrences.
Consequently, the ceasefire violations along the Line of Control (LoC), occasional infiltration attempts, minor acts of terrorism that have resulted in one civilian fatality in the Valley, and now the Baramulla attack on a joint Rashtriya Rifles-Border Security Force camp, which has resulted in the death of one trooper, are all being seen as the Pakistani "response" to the Indian Army's "surgical strikes" across the LoC.
What is forgotten, here, is that there is a long continuum of ceasefire violations, infiltration attempts and terrorist attacks in J&K, and unless some radical discontinuity can be demonstrated, no connection to the surgical strikes can be established.
There has certainly been an escalation in the intensity of ceasefire violations since September 29, though no extraordinary spurt in frequency, and this is not unprecedented. Terrorist incidents and infiltration attempts have seen no remarkable surge.
In any event, an escalation in ceasefire violations has little significance as a "response" to India's surgical strikes, as it would invite immediate and proportionate reactions from the Indian side, and can provide little satisfaction to the seething Pakistani military command.
Nor, indeed, can Baramulla. It may be argued that the terrorists at Baramulla were thwarted by alert Indian forces and did not achieve their intended objectives but, given the nature and scale of the attack itself, no exceptional objectives were likely against this target, though fatalities may have been higher if reactions were slower.
Baramulla, consequently, is essentially part of the ongoing campaign of terrorism in Jammu & Kashmir, though it may have been informed by a general directive to Pakistani proxies to do the worst possible, especially against military targets, in the wake of the surgical strikes.
Crucially, Baramulla does not justify any premature assessments that the Pakistan Army "can only fight India using proxies". Pakistan's range of options has not been fundamentally altered by the surgical strikes, and nothing has been taken off the table.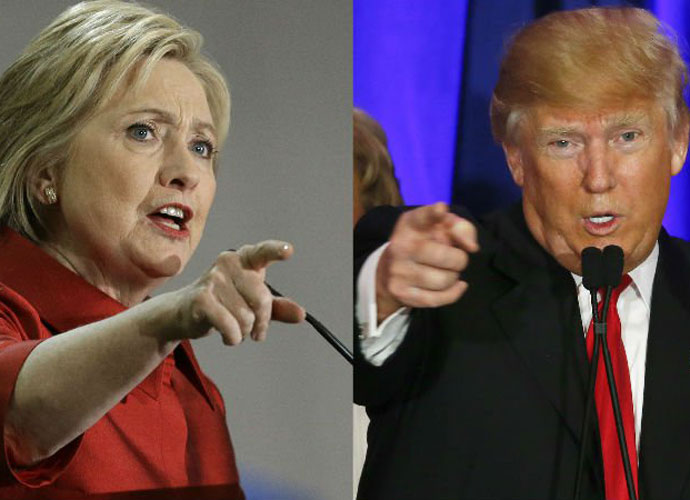 US presidential candidates Hillary Clinton and Donald Trump have made it clear that they regard Pakistan as the principal source of global terrorism. (Photo credit: India Today)
India must, consequently, remain prepared for the worst, though the worst may not, in fact, come.
In the first place, Rawalpindi appears to have managed the domestic constituency quite well, dismissing India's claims on the surgical strike as "a farce". In an exceptional departure from past practices, the Pakistan Army has taken media teams and foreign observers to the purported sites of the attacks to show them that nothing actually occurred, and this has been eagerly accepted not only by the country's media and public, but also some among the foreign observers.
Of course, it is not clear how these observers can be taken to the "terrorist launchpads" that Rawalpindi claims do not exist? And how does a guided tour of a few sanitised segments across the wide mountains demonstrate that tiny clusters of temporary tenting have not been destroyed?
Such niceties, however, do not trouble Rawalpindi's domestic constituency any more than questions of detail concern the armies of bhakts in India. The fact, then, is that just as the Narendra Modi government has addressed the concerns of the domestic constituency in India, proof or no proof, the Army in Pakistan has managed domestic perceptions, and is no longer under any overwhelming pressure to respond immediately and  disproportionately to India's strikes.
Crucially, moreover, the Pakistani establishment has had a rather sobering reconnect with reality over the past weeks.
For decades, and up to the very recent past, Islamabad had confidently manipulated global perceptions and positioned itself, through a complex mix of behaviours - alternatingly belligerent and obsequious, always deceitful - as a critical element in the west's (read US's) strategic necessities. Evidence that this is now a thing of the past has been mounting for some time, though the Pakistani establishment managed to delude itself that nothing had changed.
This delusion is no longer sustainable. There is unconcealed anger in Washington today and it is not transient. Significantly, both the principal presidential candidates in the US, Hillary Clinton and Donald Trump, have made it abundantly clear that they regard Pakistan as the principal source of global terrorism, and its possession of nuclear weapons as an international threat.
When nuclear threats emanated from "responsible" parties in Islamabad in the wake of the surgical strikes, there was a sharp reaction from the US department of state, reminding Pakistan that nuclear states have a "clear responsibility of practising restraint" and reiterating that action needed to be taken to neutralise and deligitimise terrorist formations such as the Lashkar-e-Tayyeba, Jaish-e-Muhammad and the Haqqani Network.
The clubbing of India-directed terrorist formations with the Haqqani Network, which operates in Afghanistan, is particularly significant in this formulation. 
These reactions have been enormously compounded by Pakistan's visible and growing isolation the world over, more than apparent at the UN General Assembly, in the specific reactions to Uri and the surgical strikes, and the statements and eventual boycott of the SAARC summit.
Pakistan appears to have lost most of its most committed supporters, including Saudi Arabia and Qatar, and even China chose to sit on the fence on the surgical strikes, asking India and Pakistan to resolve outstanding issues "through dialogue".
Though China has temporarily blocked the move at the UN Security Council to designate Azhar Masood a terrorist, there are increasingly visible limits to how far Beijing is willing to extend itself in defence of its "all weather friend".
Pakistan, today, is under no extraordinary pressure to intensify terrorist or military action against India, and disincentives to escalation are considerable. Both countries face a volatile and uncertain situation, and the choices of response - as is evident in the Indian case - rest largely on the nature and profile of individual leaders. At the moment, New Delhi can only wait and watch, and above all, prepare, prepare, prepare.