The recent incidents relating to members of the African community are not only very unfortunate, but also very painful. As a mother, I can understand the pain of a mother who loses a son on foreign soil. It would be a traumatic experience.
India's historical relations with Africa rest on the foundation of brotherhood and solidarity and we should not allow such incidents to deflect from our historical friendship and close development partnership with Africa.
MK Olivier.
Immediately after we learnt about these incidents, my ministry proactively reached out to the African diplomatic community and the African student community. I personally monitored the situation and spoke to the Lieutenant Governor of Delhi, Najeeb Jung and requested him to have the case investigated on a fast track basis. I also spoke to the Union home minister, Rajnath Singh and he has given instructions for police patrolling to be increased in areas where a sizeable African community resides.
Minister of state (external affairs), Gen (Retd) VK Singh, has also met the members of the African diplomatic community and has assured the government's full support in this issue. MoS will hold meetings with the African community in all major metros where they reside. He will be accompanied by Secretary (ER) and police commissioners of these cities. We will also carry out a sensitization campaign.
All criminal acts should not be construed as racial attacks. As the CCTV footage of the incident in question showed, this was an act committed by goons who also thrashed the Indian bystanders who had attempted to intervene to save Mr Olivier. The Delhi police immediately swung into action after the unfortunate incident. Two of the perpetrators of the crime have already been apprehended, while a search is on for the third person.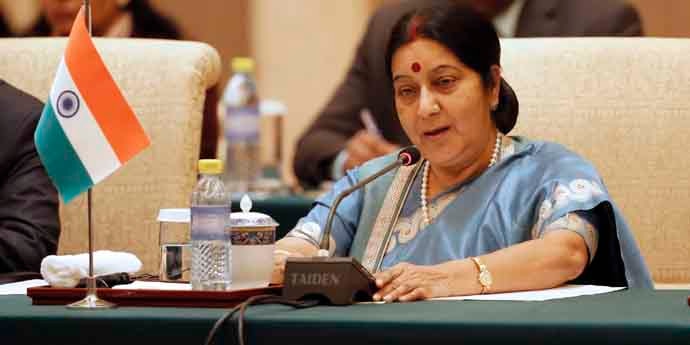 Sushma Swaraj.
India is the land of Gandhi and Buddha. We have fought consistently against racial discrimination. Mahatma Gandhi himself championed the cause of fighting against this evil. We can never have a racist mindset.
These were not premeditated acts against a particular community, rather these were spontaneous attacks perpetrated by anti-social and criminal elements.
Nevertheless, it is incumbent upon us to prevent such attacks and we are determined to do so. I assure our African friends that institutional mechanisms would be put in place to ensure that such incidents do not recur in future. India will continue to remain a country where they will always feel welcome.