Taha Siddiqui: 'India hit JeM in Balakot, forced China to change Masood Azhar stand. Imran Khan's a puppet PM. If Jaish is touched, there'll be a backlash'
Taha Siddiqui is an award-winning Pakistani journalist living in Paris, due to a threat to his life in Pakistan. Founder of safenewsrooms.org, Siddiqui spoke with Rohit E David on the Masood Azhar ban, Balakot and if a jihadi backlash may follow now.
Q. Why is this ban on Masood Azhar important?
Well, he has been designated as a global terrorist by the United Nations after China lifted its reservations on him. So, in that sense, his being labeled a global terrorist by the UN sends a strong message from the global community that Jaish-e-Mohammed — which is a banned organisation but continues to operate in Pakistan — and its leadership like Masood Azhar, which continues to operate in Pakistan, there needs to be action against them now.
It's a strong message — and it will pressure Pakistan to act against them, even though we have seen in the past that Pakistan promised action against such groups but it continues to allow Kashmir, India, Afghan and Iran-focused terror groups to operate from its soil.
We are not sure that we will see any concrete measures against Jaish-e-Mohammed or Masood Azhar even after this global designation by the UN.
Q. What could some concrete measures of action be? Could Masood Azhar be arrested?
We do know that the foreign minister for Pakistan, Shah Mehmood Qureshi, said that he is not well and he doesn't get out of his house — that reflected a sympathetic point of view towards Masood Azhar.
I'm not sure that will change in the coming days and if he would be arrested.
We have seen that there was some house arrest in the past, but then, these arrests are more or less cosmetic. These groups and people like Masood Azhar continue to operate freely, collect charity, train people, so I'm not sure that the UN's listing will result any actual action on the ground in Pakistan.
Taha Siddiqui: 'If there's a crackdown on Jaish-e-Mohammed, there will be a backlash.' (Source: Reuters)
Q. Pakistan says it won't be 'pressured' by anyone on Masood Azhar — what's your view on that?
Pakistan is facing pressure, we do know that the country has a review in September for the Financial Action Task Force. It must prove that it has taken concrete measures with regard to terror financing and money laundering. Pakistan is facing international isolation in many ways because of its acts in the region when it comes to crackdowns on terror groups.
The UN listing puts further pressure on Pakistan to act against militancy that operates on its soil.
Q. What do you think led to this softening of China's stand on Masood Azhar?
China has since long been saying that they had reservations on putting Masood Azhar on the list — and it was blocking that move by other superpowers. It seems that China has had a change of heart perhaps since India has been able to lobby itself successfully and also because of China's reservation in blocking was not in line with international values and principles.
Masood Azhar is known to have carried out terror activities in India and Kashmir, he continues to do that and he continues to have a presence where he has been involved in hate-mongering, militancy, recruiting, his organization having links to international terror groups like Al-Qaeda. In that sense, China needed to correct itself and it has come around and corrected itself.
I think China has finally done the right thing.
Award-winning journalist Taha Siddiqui is constantly under threat, in Pakistan and abroad. (Source: Reuters)
Q. Will this change the way Pakistan acts on terrorists?
I'm not sure this will change anything — or the way Pakistan deals with terrorists or their actions against terrorists. Pakistan follows the policy which is known as the 'good militant, bad militant' policy. Pakistan terror organisations which are externally focused operate on Pakistani soil but carry out activities in neighbouring countries. This policy has continued for many years and it seems that Pakistan has not changed that particular policy.
It serves Pakistani military interests, strategically to have these proxies — militants who act on behalf of the Pakistani state to carry out activities and keep the conflict alive in the region. The Pakistani military which in a sense backs these proxies sort of creates an issue of threat, it sells this idea that Pakistan is under threat from these neighbouring countries. It justifies itself, their own military budget, dominance in Pakistani politics, saying that, look, there is a threat and conflict in the neighbouring region and we need to have a stronger military.
By having these militant proxies, the Pakistani army ensures that Pakistan remains a security state where the military remains the most dominant force and that idea or policy seems unlikely to change, given that historically the Pakistani military is the most dominant organisation and no one can challenge their power in the country.
The fact is also that Pakistan has not been so reluctant in putting Masood Azhar behind bars but rather, they don't want to do that. Azhar or organisations like his serve their interests as Pakistan wants to support Kashmir-focused militancy.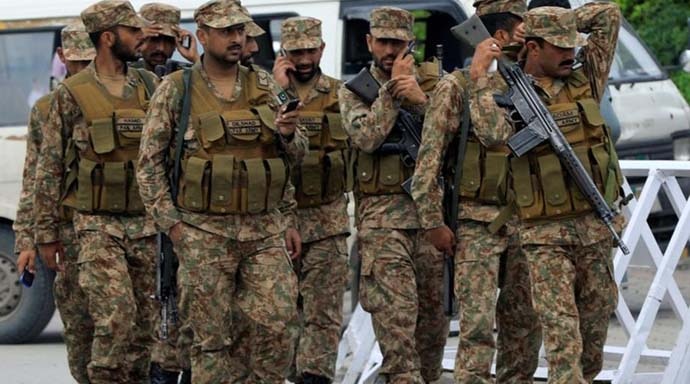 'The Pakistani military runs everything in the state. It needs the facade of a weak democracy.' (Source: Reuters).
Q. Will there be a backlash from the jihadis against the designation of Masood Azhar? Are attacks likely?
Masood Azhar's organisation Jaish-e-Mohammed has carried out terror attacks in Pakistan. In the early 2000s, they carried out an assassination attempt against General Pervez Musharraf. He did say to a Pakistani local channel that action should be taken against Masood Azhar's group. He acknowledged that not enough action was taken against them because they were using the groups to carry out bombings in the neighbouring country — particularly India.
We do know in the past, when Pakistan has done some crackdowns against these militant groups, there has been a backlash. Obviously, when you have these kind of mercenaries who carry out terror activities and you crack down on them, they will tend to target the Pakistani state and people also.
In the past, many members left the Lashkar-e-Taiba and went on to work independently or call themselves self-styled Islamic State members — and then attack the Pakistani state.
There is a serious chance that if there is a crackdown on Jaish-e-Mohammed, there will be a backlash from them.
The state is supposed to counter, provide security and ensure that Pakistan remains safe — and also the region remains safe from these terrorists. Action should be taken on these groups because it not only creates terror internationally or regionally but also at home, by creating militancy and that militancy sometimes acts against its own masters.
Q. What is your estimation of what happened in Balakot? Was there real damage?
In my investigations which I have seen with Balakot, we do know the Indians were targeting a Jaish-e-Mohammed camp and seminary there.
From what we understand, the Pakistani military at first allowed access to this particular camp and then denied journalists from going there. Later on, it organised an embedded trip — which happened almost 40 days after the Balakot bombing which India carried out. So, in those 40 days, I believe that anything can be staged and fabricated.
Also, what we understand was that the whole of the seminary was not allowed to be visited, only some parts — so we cannot assess what type of damage was done. But what I understand from local sources I have spoken to, the target of Indian forces was definitely the Jaish-e-Mohammed camp and they were successful in targeting it.
But if there were any casualties or not, that cannot be ascertained yet. The Pakistani military at first did not allow access to it and there is some truth to come out yet.
'Imran Khan is definitely a puppet PM, he's called the 'selected', not 'elected' PM of Pakistan.' (Source: Reuters)
Q. Is Imran Khan a puppet PM? Who runs the show in Pakistan?
Imran Khan is definitely a puppet PM — not just in political circles, but in Pakistan, he is referred to as the 'selected' rather than 'elected' PM because of the controversial elections in which he won.
We saw a lot of pre-poll rigging and on poll day to ensure that Khan's party wins. Imran Khan is the face of the powers which are in Pakistan — the Pakistani army. They have installed him as a civilian facade, so that they can do whatever they do at the backend. There is a sort of weak democracy which does not challenge them in any way, and now we are seeing there is a return of many cabinet members who are people from General Pervez Musharraf's time — including the recently appointed interior minister Brigadier (retired) Ejaz Shah, who is known to have had linkages with Pervez Musharraf, local and international militant organisations. He was also named as one of the co-conspirers in Benazir Bhutto's assassination.
These are people who are part of the military establishment and they are running the show — Imran Khan is like the rubber stamp or signatory for the actions the military will do, so that the world cannot complain that Pakistan does not have democracy.
Q. How will the army in Pak cope with the displeasure of the West and China now?
The Pakistani army is really good at playing a double game — we have seen that after 9/11, when they played this game against US and NATO allies. They claimed to pursue terrorists and also catch some terrorists of Al-Qaeda — while, at the same time, allowing Qaeda sanctuaries on their soil which carried out the war and insurgency in Afghanistan.
Given the fact that the Pakistani media and politicians are controlled, it is tough for people to challenge the Pakistani military and the whole narrative they have set in that action is being taken against terrorists. So, in a sense the Pakistanis may play this game with China, where they may say, yes, we are taking action against militants but on the ground, they may not take that action. Pakistan has no interest in dismantling the jihadi infrastructure — but it does have an interest in showing that it is dismantling the infrastructure. It is more a game of perception and propaganda rather than taking any concrete measures.
Q. Why have you been exiled from Pakistan? Why were you attacked? By whom?
I live out of Pakistan because I have been in self-imposed exile for the last 15 months. In February 2018, I moved out because I survived a possible assassination and kidnapping attempt on my life in January 2018.
For the last one year or so, I have been living in Paris — I believe that in Pakistan, things are not safe for me. If I go back, I could be targeted again because the last time they tried to target me, it was unfinished business. They might come again.
When I was there, I was told and advised that I should be quiet and not speak against those who attempted to attack me but I chose not to and I did name the suspects — which I think was the Pakistani army.
I continue to speak internationally how the Pakistan army abuses human rights in my country, how they have a footprint in politics, militant organisations, industry. I speak very freely about it without any self censorship. If one wants to do that, then I guess they need to live abroad and continue to speak about Pakistan because I believe that while living in Pakistan, I will not have absolute freedom of speech.
I wrote a piece for the Washington Post after one year in exile, where I mentioned how I have been informed by western intelligence agencies that if I go back, there'll be an assassination plot against me. So, even right now, while I live in exile, Pakistani forces are out to get me.
I have concerns for my safety, other countries have targeted dissidents abroad — Turkey has targeted dissidents in Paris where I live, Saudi Arabia targeted Jamal Khashoggi in Istanbul, Chinese have done that. Even abroad in exile, it is not absolutely safe for me but I try to keep my movements limited and I'm vigilant when I share my GPS location. I try to be safe here also. We have seen that with Jamal Khashoggi's murder in Istanbul and Suadi Arabia getting away with it, other countries like Pakistan could be emboldened — and that's the assessment given by western intelligence agencies.
Also read: Masood Azhar 'Global Terrorist': Does the designation realistically mean anything? And what should India do now?
The views and opinions expressed in this article are those of the authors and do not necessarily reflect the official policy or position of DailyO.in or the India Today Group. The writers are solely responsible for any claims arising out of the contents of this article.