The Taliban have gone berserk since they took over Afghanistan on August 15, 2021. It was the return of a regime that ruled over the country from 1996 to 2001. An era that was marked by the implementation of shariah or the Islamic law. Men were to keep their pants above their ankles, women needed to be in full veil, men and women couldn't come together under one roof, and several other such restrictions were put in place.
Back in the late-90s, when a journalist asked the head of Taliban Mullah Omar about the shariah, he said that he had to answer his God, so he couldn't do anything when it came to implementing the Islamic rule. Mexican journalist Bette Dam wrote in her book on Mullah Omar, Searching for the Enemy.
Taliban fighters. Photo: Getty Images
In 2021, when the Taliban seized power back from America, they had promised that they would not be harsh in their implementation of Islamic laws.
In their first press conference, Taliban spokesperson Zabiullah Mujahid had said that women's rights would be ensured within the framework of Islamic law, and that they would have the right to education and work.
However, nearly six months down the line, the words of Taliban spokesperson Mujahid have not seen the light of day. Instead, the Taliban has imposed several restrictions on women in public life.
Here are six such restrictions that Afghan women are facing under Taliban 2.0:
1. NO FLYING WITHOUT MALE CHAPERONE
Photo: Getty Images
In a fresh restriction on travelling for women, Taliban have asked airline officials in Afghanistan to stop women for boarding flights without a male relative, French news agency AFP reported. The decision was taken after a few Taliban officials met two officials from airlines and immigration authorities.
Afghanistan's Ministry for Promotion of Virtue and Prevention of Vice had said that it hasn't issued any directive banning women from taking flights alone. But AFP obtained a copy of the letter issued by senior official of Ariana Afghan Airlines to the airline's staff after meeting with the Taliban.
The letter read, "No women are allowed to fly on any domestic or international flights without a male relative."
2. MEN AND WOMEN NEED TO VISIT PARKS SEPARATELY
This was another bizarre order by the Taliban and the latest in their rulebook, where women and men are supposed to visit parks separately. This order also came from the Ministry for Promotion of Virtue and Prevention of Vice. It mandated that women will visit the parks on Sunday, Monday and Tuesday; while men can visit them on the remaining four days of the week.
3. WOMEN CAN'T GO TO SCHOOLS UNTIL FURTHER NOTICE
Photo: Getty Images
The Taliban went back on its order on re-opening educational institutions for women above the sixth standard. On March 23, 2022, the date set for reopening of schools for older women, thousands of girls flocked to their institutions. But a few hours later, the Taliban backtracked on its order and issued a fresh order of closure of schools until further orders.
This was met with huge resentment by the girls and several women's rights groups in Afghanistan who also protested outside the Ministry of Education.
4. NO INTER-CITY ROAD TRIPS FOR WOMEN TRAVELLING ALONE
In December 2021, Taliban had ordered that women travelling more than 72 kms on road would not be allowed to travel alone. The order was issued by the Ministry of Promotion of Virtue and Prevention of Vice which said that women travelling more than 45 miles should be accompanied by a male relative.
The order had also asked vehicle owners to refuse rides to women who wouldn't wear headscarves or veils. It also bans the playing of music in cars.
5. FEMALE JOURNALISTS ORDERED TO WEAR HEADSCARVES
Photo: Getty Images
In November 2021, Taliban had ordered a ban on women from appearing in television shows, and had ordered women journalists and presenters to wear headscarves. This order was also floated by the Ministry for Promotion of Virtue and Prevention of Vice.
Not only this, it had also ordered a complete ban on films against the principles of shariah and foreign films which promote foreign cultural values.
6. MEN AND WOMEN CAN'T WORK UNDER ONE ROOF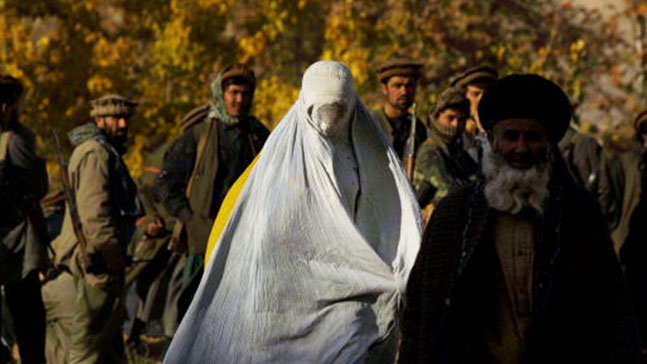 Photo: Getty Images
Just one month after the Taliban took over Afghanistan, they ordered that men and women cannot work together and only those jobs which cannot be done by men can be done by women. In September 2021, Taliban had ordered the ban in the capital city of Kabul, where a large number (around 27%) of women worked in government institutions.
BONUS, ONE FOR MEN: ALL GOVERNMENT EMPLOYEES NEED TO HAVE A BEARD
Not just women; the Taliban have also put in place a rule for men. All government employees need to keep a beard, adhere to a dress code, or else they will be fired, news agency Reuters reported.
There were also several representatives from the Ministry of Propagation of Virtue and Prevention of Vice at the gates to check the men for this. Also, the employees were ordered to observe prayers five times a day, not to shave their beard, and wear correct local clothing consisting of long, loose trousers and a headgear.
The reason why a beard is mandated by the Taliban is because it comes under the mandatory requirements under the Islamic way of life.