Telangana Election Results: KT Rama Rao leads from Sircilla. Is he heading towards Delhi?
TRS supremo's son leading in his constituency. The TRS top brass could have big plans for KTR.
Kalvakuntla Taraka Rama Rao is Telangana Rashtra Samithi's K Chandrasekhar Rao's son and the former IT and Textile Minister of the state.
Known for his pro-industrial and development-based outlook, KTR is considered the brains and the force behind the Telangana State Industrial Policy that led to job creation for over 8 lakh youth in the private sector.
KTR's constituency — Sricilla — is considered a textiles hub. It was infamous three decades ago for a slew of suicides of textile workers owing to lack of power, poor market conditions, cheaper imports from China and high transportation costs.
However, since the TRS came to power in the new state in 2014, things have reportedly improved drastically.
With KTR being the MLA from the constituency, he has ensured development projects including construction of check dams, laying drainage canals and implementation of various pro-farmer measures announced by the state government.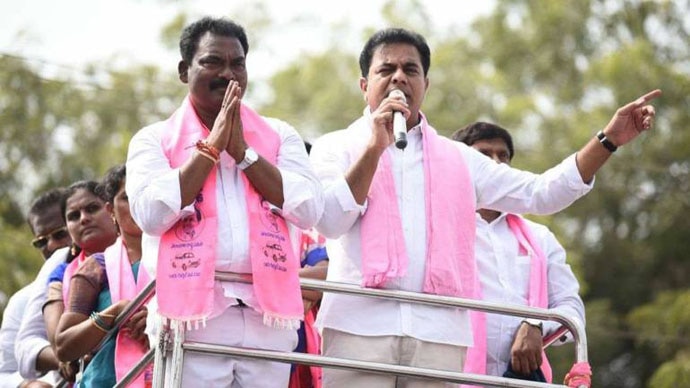 TRS leader KT Rama Rao campaigning for the TRS in Choppadandi constituency. (Photo: Facebook)
Furthermore, the TRS reviving the Bathukamma festival in the state has come as an added bonus for the region. The government has been distributing free sarees to women across the state and the orders are being handed over to Sircilla textile units. In March 2018, the Sircilla weavers bagged Bathukamma sari orders worth Rs 250 crore — that provided employment directly to nearly 15,000 weavers and another 5,000 people got indirect employment from the order.
K Kavitha, Telangana Rashtra Samithi (TRS) MP: We believe people of Telangana are with us. We have sincerely worked and utilised the opportunity given to us. So I believe voters will bring us back to power, and that too independently. We are very confident about it. pic.twitter.com/fgY4EwfguZ

— ANI (@ANI) December 11, 2018
As of 11:30 a.m. on December 11, 2018, KT Rama Rao is leading in Sircilla assembly segment by 15,096 votes after the third round. Rao secured 20,471 votes, while his Congress rival KK Mahender Reddy got 5,375 votes.
Considered a TRS rebel, Mahender Reddy joined the Congress after the ticket to contest from Sircilla was given to KTR ahead of the 2009 polls. The first time Mahender Reddy took on KTR was in 2009 — KCR's son barely scraped through the election with 171 votes. But in the 2010 by-election, KTR had covered vast ground and won with 68,220 votes margin over Mahender Reddy.
Telangana: TRS members celebrate outside party office in Hyderabad as the party leads in trends. #AssemblyElections2018 pic.twitter.com/dJIxlJF3Tf

— ANI (@ANI) December 11, 2018
According to political analysts, KCR went for early assembly elections to have an advantage in the 2019 Lok Sabha elections.
Sources confirm that KCR intends to try and get his son a union ministerial berth after the upcoming 2019 polls.
Also read: How KCR is betting on sop-saturation strategy to take on the 'Praja Kutami'
Also read: Assembly Polls 2018: India deserves more than empty promises from its politicians
Also read: Telangana sentiment or KCR's magic, or probably both: TRS sweeps Telangana assembly elections, according to Exit Polls