Over the years, Beijing has become more and more quick-tempered, not to say paranoid, about Tibet. Recently, the Chinese under-20 men's football team was in Germany to play a series of friendly matches against local teams as part of a project to improve China's chances at the 2020 Tokyo Olympics. One should remember that President Xi Jinping is a great soccer fan and his "Chinese dream" includes a great national soccer team.
The exchange was organised by the Chinese Football Association (CFA) and its German counterpart (DFB). It would have been an innocuous incident elsewhere, but on November 18, during a match against TSV Schott Mainz, a regional team, some Tibetan activists unfurled Tibetan flags; furious, the Chinese players left the pitch for around 20 minutes in protest.
It later turned into a full-fledged diplomatic incident. The German football association said that the Chinese under-20s would not play the three matches scheduled before the end of the year, while the CFA announced: "It has been decided to pause the U20 project and arrangements have been made for the team to return home."
The German media was rather amused by this knee-jerk reaction. But The People's Daily was not. "It was inconceivable that the just act of safeguarding China's national interest was labelled by some German media outlets as an 'attack on freedom of expression' and a 'suppression of democratic rights'," it wrote. The mouthpiece of the Communist Party questioned: "Where was the friendship in the 'friendly' games," adding: "Who would tolerate turning a sports game into a political assault against national sovereignty."
The paper went in a long tirade justifying China's stand on Tibet: "Tibet has been China's territory since ancient times, and the Tibet issue involves China's core interests and the feelings of the Chinese people." It even quoted Pierre de Coubertin, the father of the modern Olympics Games. "O Sport, You are Peace! … Through you, the young of the entire world learn to respect one another, and thus the diversity of national traits becomes a source of generous and peaceful emulation!"
Well, it is doubtful that the French baron would have banned the Tibetans to exist as a nation; he was a great humanist, but that is another story. The point is that China is getting touchier; a historical incident about the Tibetan flag is telling. Phuntso Tashi Takla, the Dalai Lama's brother-in-law, was in charge of the Tibetan leader's security when the latter visited China in 1954-55.
Three decades ago, in an interview, Takla told me: "In 1954, the Chinese extended full courtesy and cooperation to the Dalai Lama. On some occasions, Mao Zedong came himself to the Dalai Lama's guest house in Beijing. During one of the several discussions that the Dalai Lama and Mao Zedong had, they were talking on some subject, when Mao suddenly said: "Don't you have a flag of your own, if you have one, you can hoist it here". Takla was surprised to hear Mao speaking thus.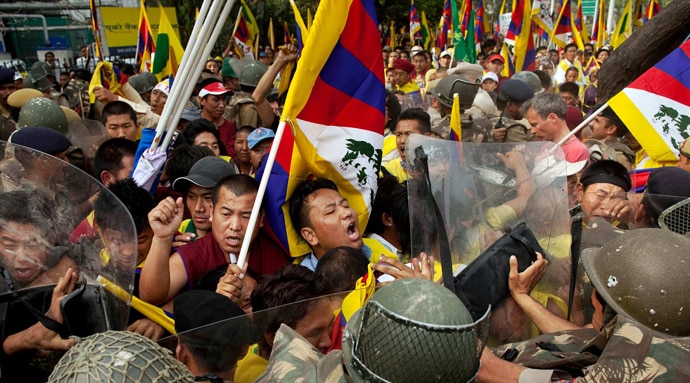 In his memoirs, the Dalai Lama's translator Phuntso Wangyal corroborated the story. "One day, Mao unexpectedly came to visit the Dalai Lama at his residence… During their conversation, Mao said, 'I heard that you have a national flag, do you? They do not want you to carry it, isn't that right?' Since Mao asked this with no warning that the topic was to be discussed, the Dalai Lama just replied, 'We have an army flag'. I thought that was a shrewd answer because it didn't say whether Tibet had a national flag. Mao perceived that the Dalai Lama was concerned by his question and immediately told him, 'That is no problem. You may keep your national flag'. Mao definitely said 'national' flag," recalled Wangyal.
The episode in Germany reminded of another incident during President Jiang Zemin's visit to Switzerland in 1999. As Jiang arrived near the Swiss national parliament building in Berne, a dozen Tibetan sympathisers standing on the rooftop of a nearby building unrolled banners to which multi-coloured balloons were attached; it said 'Dialogue with Tibet' and 'Free Tibet'.
The incident made the Chinese President so angry that in his speech to the Swiss parliament he said: "You've lost a good friend." He asked his hosts through an interpreter: "Do you not have this capacity to run this country?" He continued: "I have visited many countries all over the world and have always been welcomed everywhere." Later, Jiang declined to shake hands with Swiss President Ruth Dreifuss. It was a great diplomatic embarrassment for his hosts.
These incidents raise serious questions. Was Mao, the ruthless leader, more tolerant than his successors? Why is China today so nervous when it comes to the Dalai Lama or Tibet?
One reason is probably a guilt consciousness; Beijing knows perfectly well that till 1951 Tibet was an independent nation; did not Mao speak of 'liberating' and reuniting Tibet with the motherland? The Dalai Lama recently declared in Kolkata that he does not seek independence from China: "The past is past. We will have to look into the future. We are not seeking independence... We want to stay with China. We want more development."
Were Beijing to agree to the Tibetan leader's proposal, what would happen if some young Tibetans unfurl a flag in Lhasa? It is frightening just to think of it.