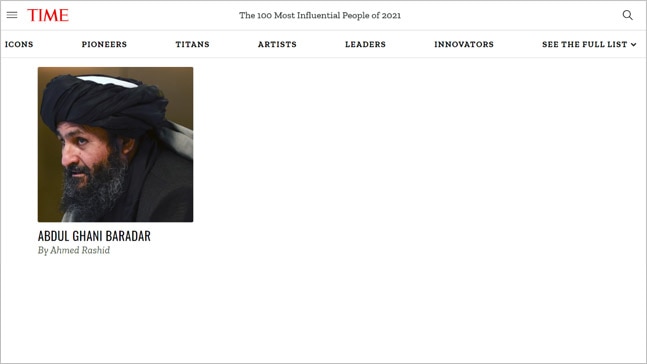 Mullah Baradar on the TIME 100 2021 list. Photo: Screenshot/TIME
WHY: Baradar is on the list because "he has made all decisions, especially the ones in regards to the amnesty offered to members of the former regime, the lack of bloodshed when the Taliban entered Kabul, and the regime's visits with China and Pakistan."
WHO: Powerful yet calm, Baradar's rise to power can be credited to his close familial relations to Mullah Muhammad Omar, the leader of the Taliban during the late 90s. It is because of their closeness that Omar changed Mullah Abdul Ghani's name to Mullah Baradar, which translates to brother. Baradar has been a founding member of the Taliban, deputy minister of defence during Taliban's rule from 1996 to 2001, and now is the Deputy Prime Minister of the Taliban government in Afghanistan. Baradar is known to employ the strictest sharia rule in Afghanistan and swears by violent jihad.
Mullah Baradar is the new Taliban Deputy Prime Minister of Afghanistan. Photo: Getty Images
QUOTE: "His [Baradar] wife is Mullah Omar's sister. He controlled the money. He was launching some of the deadliest attacks against our security forces," an Afghan official told the BBC in 2013.
CONTEXT: Baradar negotiated the US's departure from Afghanistan this August. His skills in negotiating with the West also secured him a release from Pakistan in 2018, specifically at the request of the Trump government. Post creating the Taliban, Baradar began his role as a military strategist. He went on to become the de-facto leader of the Talibani forces in both Herat and Kabul. During the Taliban's rule in the late 90s, in an email exchange with Newsweek, Baradar 'vowed to continue the "jihad" until "the expulsion of our enemy from our land"' and that his basic condition for peace talks was the withdrawal of foreign forces from Afghanistan.
Mullah Baradar is apparently trying to gain roles of higher significance in the current Taliban regime. Photo: Getty Images
TALIBAN NOW: Now that foreign forces are out of Afghanistan, it is being speculated that there is a power struggle within the Taliban. Baradar is apparently trying to gain roles of higher significance in the new Talibani regime under Hibatullah Akhundzada. Eventually, this led to a gunfire clash where it had been presumed that Baradar had died. Soon, Baradar claimed otherwise. In a video statement accessed by ARY News, Baradar is heard saying, "There had been news in the media about my health and death. Over the past few nights, I have been away on trips. Wherever I am at the moment, we are all fine, all my brothers and friends."
He also denied reports of internal clashes, "The media always publish fake propaganda. Therefore, bravely reject all those lies, and I'm 100 percent confirm to you (sic) there is no issue in the ranks of the Taliban and we have no problem."
THE O: Mullah Baradar's influence in Afghanistan (before and) after the US's exit has found him a place among TIME's 100 Most Influential People 2021. His ability to negotiate deals, said the magazine, was why he was on the list.