It's ironic that while we are constantly searching for new drugs to cure diseases, we are unable to eliminate a disease which can be treated in just six months using the available drugs. This means that the mere availability of potent drugs — and even making them free for patients — doesn't mean the end of a disease. Tuberculosis is the perfect example of this.
The disease kills almost half a million Indians every year. This comes to 1,400 deaths a day or around one death per minute. India is the world capital of TB, accounting for a quarter of the global burden. Progressing towards eliminating TB in India is critical if TB is to be eradicated worldwide by 2035, as envisaged by the World Health Organisation (WHO), or bring down the numbers significantly by 2030, as laid down in the UN Sustainable Development Goals.
At the current sluggish rate of decline of TB cases in India, it may take several decades to eliminate the disease. Experts have repeatedly warned that just scaling up current strategies won't take India far. We still don't know the full picture of the epidemic, as revealed last year when India had to revise its TB figures based on the data of those seeking treatment in private sector.
The TB programme in India faces several challenges. It has remained underfunded for a long time. Millions of people have latent TB infection which may develop into the disease at any point. The risk factors of diabetes — undernourishment, poverty, indoor air pollution, poor living conditions in slums — have also remained unaddressed. Due to ill-equipped government services and lack of access, TB patients continue to go to private providers including quacks, who either misdiagnose or don't treat properly.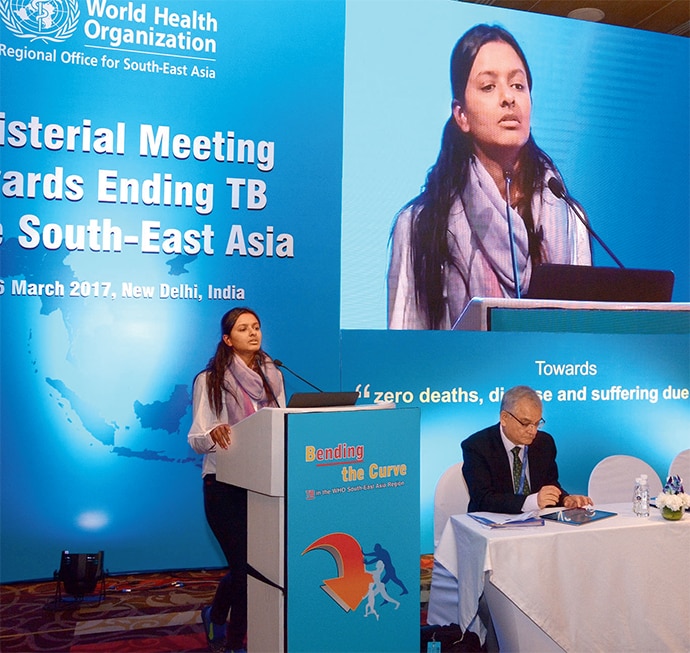 A TB survivor addressing the WHO ministerial meeting on ending TB held in New Delhi last week. [Photo: Mail Today]
This leads to delayed diagnosis and wrong treatment, which, in turn, means continued transmission in the community and development of drug resistance in those who are already infected. Patients seeking care in the government sector have a better chance of being treated, but one third of the patients don't complete the treatment. They are lost between care-seeking and successful cure.
Both, the problems and the solutions, have been known for a while. What is needed is a plan to act and the money to fund it. The health ministry has unveiled a draft strategic plan to eliminate tuberculosis by 2025. It recognises that interventions will have to be deployed comprehensively to quicken the rate of decline of TB incidence from 1.5 per cent currently to 10 to 15 per cent (annually). Detailed strategies have been outlined in a framework called Detect-Treat-Prevent-Build.
The new plan lays equal emphasis on prevention and detection of new cases and treatment. The more difficult one is the "build" part — undertaking critical management reforms, restructuring of human resources and financial norms, building pathways for private sector participation. The need is to improve overall efficiency, effectiveness and accountability of the health system. As for funding, we are still to hear the last word.