A dash of political masala is spicing up an otherwise dull race for who will become London mayor after the May 5 election. Zac Goldsmith, the Eton-educated billionaire's son who is the Conservative Party's candidate, has been accused of inflaming Islamophobia and ethnic tensions here, after his campaign distributed leaflets that addressed concerns voiced by London's NRI community.
The Guardian newspaper, compelled by its psychotic class-based racial hatred of British-Indians - a community that unforgivably thrived against the odds in Britain, and never needed rescuing by the luminous white saviours of the Left - is running articles that suggest Goldsmith is exploiting cultural divisions by telling Indian Londoners that they will be safer from crime under a Tory mayor, and that the Conservative Party is committed to improving India-British relations. In the deranged minds of the British left these anodyne and patently obvious statements are regarded as highly sinister developments.
Conservative Party mayor candidate Zac Goldsmith.
Goldsmith's leaflets pictured him standing with David Cameron and welcoming Narendra Modi to London, while pointing out that neither Labour leader Jeremy Corbyn, nor Labour's candidate for mayor, Sadiq Khan - the son of a bus-driver immigrant from Pakistan - showed any such warmth during the visit.
Indeed, Corbyn couldn't stand to be in the room when the prime minister of half the democratic world, mandated by an unprecedented 172 million votes, gave his historic address to British parliamentarians. Both Corbyn and Khan have, however, been more than happy to share platforms with jihad-sympathisers.
Indeed, Corbyn has even gushingly referred to the lunatics of Hamas as his "friends". And no fuss whatsoever was made by The Guardian or others on the left when the former Labour mayor, Ken Livingstone, tried to win an election by courting Muslims with the sectarian promise to make London a "beacon" for Islam.
Labour's candidate for mayor, Sadiq Khan.
Any hand reached out towards Indians in Britain will invite snarling attacks from the Left. Like Jews, Indians in Britain are increasingly suspected by a Left that both despises success and is increasingly dependent on a Muslim bloc-vote - of a heavily Pakistani nature - to secure a significant number of Labour seats. Labour's relationship with British Jews is regarded to be at its worst in history; such is the virulent anti-semitism on the Left here.
Goldsmith's leaflets also promised to improve policing in London after NRIs he met and talked with, particularly elderly ones, complained of being targeted by burglars for the expensive jewellery that is often found in Indian households. This most basic of political commitments - to protect vulnerable citizens from robbery - has elicited a nasty response from Khan's supporters. The prattling ignoramus Guardian columnist, Zoe Williams, dismissed the wish to help these NRIs as a "primitive programme of materialism and fear". She then contemptuously exhorted NRIs not to care about the "trinkets" of their ancestral heirlooms - full of priceless cultural and familial value - and to worry about things other than "what is under your mattress".
The Guardian writers have a toxic distaste for Indians. I've been on the end of it myself. Some years back, Kira Cochrane, then a senior editor at the newspaper, wrote at length about me in The New Statesman - another outlet for dogshit British leftism - saying what a fool I'd made of myself on a BBC arts show while wearing a silver jacket. I'd never been on that show, nor ever owned a silver jacket. She had simply seen another brown man on the television and decided it was me, before enthusiastically belching forth scorn. She never apologised to me for this and has, of course, since been promoted.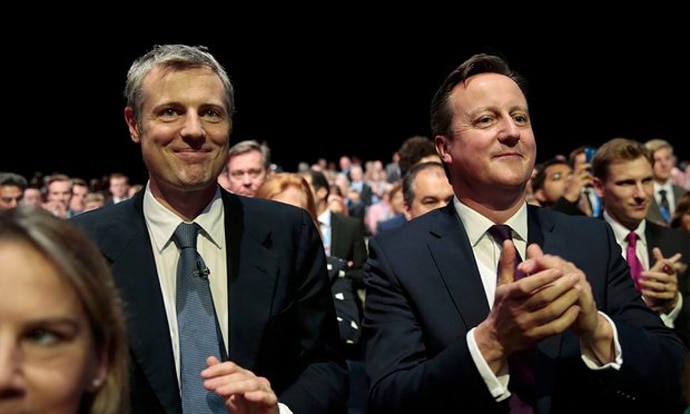 Zac Goldsmith with UK PM David Cameron.
These are the idiots employed by The Guardian. But then The Guardian is little more than an affirmative-action programme for mentally ill white people who think they are saving the world. It loses over an astonishing £30 million each year, all squandered on its inane delusion that it is leading mankind into the light of socialism.
And despite its gargantuan expenditure, The Guardian now has officially the lowest circulation of any national paper in Britain. Its staff would be making a more constructive contribution to human progress if they were to stop writing and instead burn £50 notes in front of homeless people.
The newspaper, like Britain's Left in general, is controlled by people who lack the basic intelligence and grasp of reality to run a samosa-stall in Southall. Indians should be worried about them controlling a city in which many of their friends and family live and work, and in which they have vital commercial interests. An email or a phone call to those they know here in London might be in order, suggesting a vote for Zac Goldsmith in May.