Angiography
Varun Gandhi 'Honey Trapped': 5 questions to ask Modi government now
Joint press-conference by Prashant Bhushan and Yogendra Yadav gives several pointers to continuing murk in defence deals.
On Thursday, October 20, in an explosive press conference, eminent Supreme Court lawyer Prashant Bhushan and political analyst Yogendra Yadav – both of whom are members of the newly launched Swaraj Abhiyan, brought into public domain disclosures that rock a number of boats floating in the choppy waters of both the current NDA government and the previous UPA regime.
In the press conference, Bhushan and Yadav handed over two letters from one C Edmonds Allen, an American lawyer who was the erstwhile business partner of the notorious arms dealer Abhishek Verma, both written to Prime Minister Narendra Modi, dated August 25, 2016 and September 16, 2016.
While the letter dated August 25 details alleged roles played by a bunch of naval officers in leaking out the defence secrets pertaining to the 2005 Scorpene submarine deal to Abhishek Verma, who is currently out on bail, the letter dated September 16 traces Verma's close relationship with BJP MP Varun Gandhi, and significantly enough, claims that Gandhi was "honeytrapped, compromised" into revealing minutes of a top secret government defence meeting.
While the press note and the annexures containing copies of C Edmonds Allen's letters put out by Bhushan and Yadav can be accessed on their website, a number of questions arise in the wake of these revelations.
Varun Gandhi was 'honeytrapped, compromised' claims C Edmonds Allen's letter. [Photo: Agencies]
1. Why no action from PMO yet?
If the letters have been in possession with the Prime Minister's Office for about a month for the one dated September 16 and nearing two months for the one dated August 25, what have been the reasons that there was virtually no action taken by the government on any of the alleged accused? Can the PMO and indeed PM Modi clarify if he had initiated any internal inquiry, any proceeding whatsoever in the wake of the revelations by C Edmonds Allen?
Not only that, even Abhishek Verma, who has served jail terms twice in relation to the Navy War Room Leak case as well as the Scorpene submarine bribing scam, is currently out on bail. Moreover, what legal action will be taken against the slew of naval officers, as well as Verma's "Romanian wife" Anca Neacsu, who were involved in various dubious capacities in brokering the Scorpene deal, getting hefty kickbacks to the tune of Rs 1,000 crore as per this Outlook magazine coverstory and the 2006 PIL by Prashant Bhushan.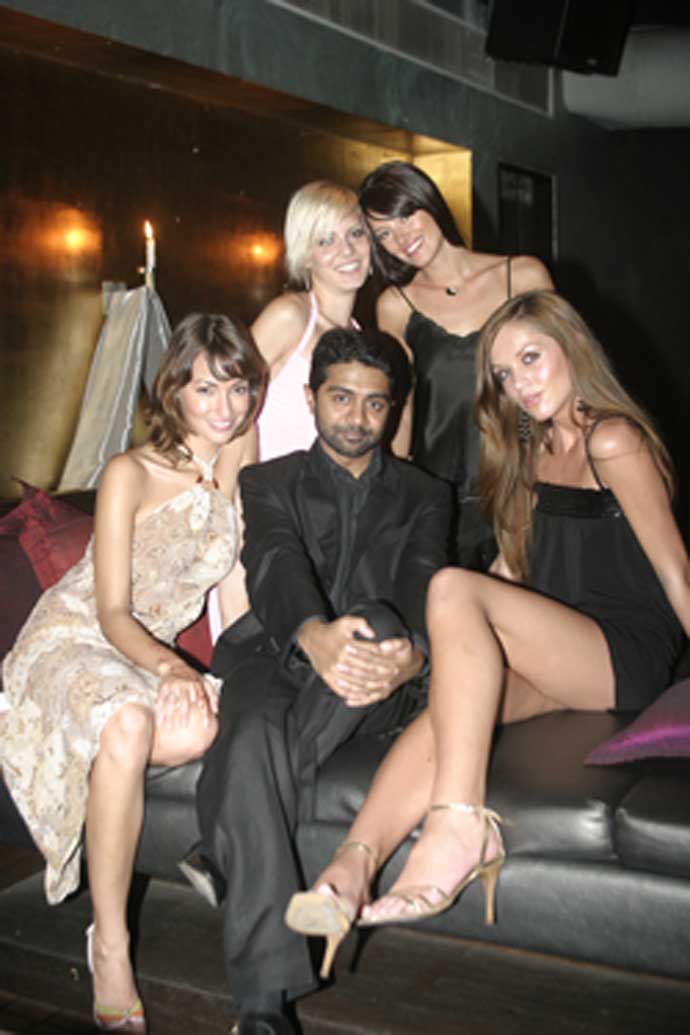 Arms dealer Abhishek Verma, the centre-piece of this prolonged tale of murk and corruption in Indian defence sector. [Photo: India Today]
2. Will allegations against Varun Gandhi be investigated and will he resign until the investigation is over?
In the letter dated September 16, C Edmonds Allen mentions as many as seven emails which Abhishek Verma sent out to his associates, all of which either brag about the presence of Varun Gandhi, or indicate his presence in future meetings. While the subject of the letter says "arms dealer Abhishek Verma has compromised your national security and the evidence already exists with the CBI", the very first line of the body text reads: "a Member of Parliamnet of the Defence Consultative Committee named Varun Gandhi has been honeytrapped and compromised by the notorious arms dealer Abhishek Verma."
The letter also names Anca Neacsu, Ravi Chauhan, Air Marshal H Masand, Israeli Gili Golan and Wing Commander Sam Surve as being involved in the conspiracy to honeytrap and blackmail Varun Gandhi into ferrying out sensitive defence secrets. It goes on to say that photos of Varun with foreign escorts are in possession of various foreign intelligence agencies, including those from Israel, thanks to Abhishek Verma.
Moreover, an email from Verma dated September 8, 2010 boasts of a top-level defence meeting held on September 4, 2010 with Brigadier Fredrik Hillelson from Sweden, which was attended by Varun Gandhi. How did Verma come to know of the meeting unless it was mentioned by Varun Gandhi himself? Allen goes on to enclose several more communications between Verma and his associates that allegedly show that between 2008 and 2012, before Verma was arrested once again, he actively colluded in selling defence secrets to the highest bidder and boasting of brokering mega deals between foreign defence companies and Indian defence sector.
In the light of these disclosures, what action will the Modi government take to get into the heart of the matter? Given that mainstream media is mostly focusing on the sleazy aspect of the case, dropping names like Nicoleta every five minutes, will the crux of the matter be lost in pursuit of TRP-seeking sensationalism?
Yogendra Yadav and Prashant Bhushan. [File photo/PTI]
3. What did defence minister Manohar Parrikar mean when he said there was "dalali" in 2006 and what does he mean when he says that "Rafale deal is the best deal ever"?
When, on October 10, defence minister Manohar Parrikar shot back at Congress vice-president Rahul Gandhi's "khoon ki dalali" jibe, he said, "We know there was dalali in 2006 when there was deal of submarines. There was dalali also in helicopters deal."
He obviously means the Scorpene submarines and the AgustaWestland VVIP chopper deals here. Was Parrikar aware of the letters sent by C E Allen, or was he simply talking what is already public knowledge, particularly after the August 29, 2016 scoop by the newspaper The Australian that said that over 23,000 pages of sensitive data pertaining to the Scorpene submarine design and stealth capabilities have been leaked and it's in possession of that tranche, significantly one on "Project 75", which was the design and acquisition details of the kilo-class submarines.
Given that another Australian newspaper, The Sydney Morning Herald, reported in February this year that the "French sub-builder DCNS, awarded the right to build Australia's $50 billion submarine fleet [was] embroiled in a multi-million dollar bribery scandal over a submarine contract in Malaysia", and "the allegations in Malaysia have engulfed the country's prime minister and spun out into a sordid tale of bribery, blackmail and murder", is it obvious that DCNS, the company also bagging the Scorpene submarine deal in 2006 in India, was/is an international offender.
Cut to 2016, and on September 23, 2016, about two weeks before Manohar Parrikar's previous comment on dalali, the Rafale deal was announced to much fanfare. Only problem was, instead of the original Rs 90,000 crore for 126 Rafale aircraft, of which 18 were to be acquired ready-to-fly and the rest 108 were to be made in India in collaboration with one of the Indian companies, possibly HAL, with technology transfer in the contract, now the deal was spiked to Rs 58,000 crore for mere 36 Rafale fighter jets, and the technology transfer clause was duly dropped. The French company, Dassault, which bagged the Rafale deal, in other words gained almost three times the original price per aircraft. How is this significantly bloated deal the "best deal ever"?
Can Manokar Parrikar kindly explain?
4. Why was Thales not blacklisted before and why would it not be blacklisted now?
Now we come to this kingdom of murk's heart of darkness, the best kept secret that links both the Scorpene deal and the Rafale deal. It goes by the name of Thales.
Now according to Thales Group's website, "Thales is DCNS's main shareholder (35 per cent), alongside the French state". When DCNS bagged the contract for renewal of its submarine fleet with the Australian ministry of defence, Thales bragged about it in its website on April 26, 2016. Of course, the Scorpene submarine data leak scoop was published in August 29. As mentioned in point 3 above, it was DCNS, which got the Scorpene submarine contract in 2006, but allegations of bribery and corruption were already out that year.
What's the connection between Thales and Dassault Aviation, which has bagged the Rafale contract? Dassault is the second largest shareholder in Thales Group, with a stake of 25.9 per cent (the largest shareholder being the French state at 27.1 per cent in Thales).
So effectively, Thales owns a chunk of DCNS' shares, while Dassault owns a big slice of Thales. Common to both the deal, one proven shady, the other looking extremely suspicious but inviting little interrogation as of now from the mainstream media, is the French company Thales Group.
On India Today's Newsroom programme on October 20, it was said that the ministry of defence has categorically ruled out any blacklisting of any company as of now. Does it mean that Thales would not invite any questions whatsoever? In fact, in the press note put out by Swaraj Abhiyan, one of the five demands that Yadav and Bhushan make happens to be related to Thales Group. Given that it was Bhushan who led the PIL against Scorpene deal in 2006, which was quashed after a shoddy investigation by the CBI, why would the points raised by them once again be not taken seriously?
5. How is it that tainted and/or untested companies are part of PM Narendra Modi's "Make in India" dream?
Now another interesting detail about Dassault Aviation and Rafale deal. Actually, a two-part detail.
One: In February 2012, when Rafale deal was still being considered by the then UPA government, and Dassault Aviation was in the bidding stage though a clear frontrunner given its significantly low quotes, Mukesh Ambani's Reliance Industries signed a pact for partnering in the defence and homeland security sector. How much stake does Mukesh Ambani's RIL have in Dassault Aviation? Does giving money to Dassault Aviation means also benefitting Mukesh Ambani's RIL?
Two: Who has got 50 per cent of the offset contract in the Rafale deal? It's Anil Ambani's Reliance Defence, a barely one-year-old company that was touted as Anil's great entry into India's booming defence sector, following big brother Mukesh's footsteps. Not only does Reliance Defence owe Rs 12,600 crore to public sector banks, but Anil Ambani's Reliance Group as a whole owes Rs 1,21,00 crore to PSU banks. Now, it's obvious that Anil's Reliance Defence was awarded the contract as a shining example of Make in India initiative by PM Modi. However, what benefit or expertise or experience does a one-year-old company with no tested record in defence manufacturing and that's neck-deep in debt can bring to the table that the public sector Hindustan Aeronautics Limited (HAL) with its decades of defence manufacturing experience cannot?
That the Rafale deal involves Thales – a company that has been under the radar for years now, and Reliance Defence – a company that is so new that it baffles the mind why at all it has been considered in a defence deal as sensitive and as strategically important as this, the MMRCAs (Medium MultiRole Combat Aircraft) to be used by the Indian Air Force in highly explosive combat situation, is indeed an intriguing question. Is this how PM Modi's "Make in India" dream going to come true?
Also read: Disability pensions cut: How Modi sarkar is betraying Indian Army
Also read: Modi's Rafale deal is a billion-dollar loss to India's public sector
Watch: BJP refuses to defend Varun Gandhi on defence leaks allegation
The views and opinions expressed in this article are those of the authors and do not necessarily reflect the official policy or position of DailyO.in or the India Today Group. The writers are solely responsible for any claims arising out of the contents of this article.