Such Good Times: How Vijay Mallya left India, and can he ever be brought back?
Mallya's desperation to stay in the UK is matched by the Indian government's zeal to get him back. Who will win?
Anyone in Vijay Mallya's shoes on February 4, living in his £11.5-m Ladywalk estate mansion in the sleepy Hertfordshire village of Tewin, would have told himself — minus the usual air of insouciance he goes around with — "I am deep within a cell of my own making."
Mallya had fled to London in March 2016, owing Rs 9,000 crore to Indian banks, leaving behind assets worth Rs 13,000 crore, hoping British law would protect him and allow him to lead the life the rich and unscrupulous think they deserve.
So far, so crude: Vijay Mallya has managed to remain his fizzy self during his extradition hearings. (Photo: Reuters)
Mallya faces financial and legal trouble not just in India. His alleged financial misdeeds have left distress and disappointment in faraway Barbados in West Indies and California in the US.
But now, the UK is turning out to be not so safe a 'haven' after all. His assets in India are being sucked away — and the prospects of doing jail time in India are turning real.
This will make Mallya contest his extradition with ferocity, as that's the only way he can live as a free man. Probe agencies say he has "enough wealth siphoned away" to live the opulent life he dazzled people with before the law woke up and told him to pay back the public's money.
Sun setting for Mallya under the Union Jack
On February 4, the UK Home Secretary Sajid Javid approved Mallya's extradition order — clearing the deck for his return to India. A short and telling statement from the UK home department said: "On 3 February the Secretary of State, having carefully considered all relevant matters, signed the order for Vijay Mallya's extradition to India."
Mallya has been preparing for this day and the struggle beyond.
He has 14 days to appeal to the UK High Court.
He fired a post on Twitter:
In December 2018, Westminster Magistrates' Court Chief Magistrate Emma Arbuthnot had ruled in favour of extraditing Mallya. The chief magistrate had rejected Mallya's attempts to oppose extradition on the grounds that Mumbai's Arthur Road prison was not fit to house him. The court said there was "no ground at all" to believe he faced any risk as the jail had been recently "redecorated".
The liquor baron's contention was that the extradition plea by India was based on a "politically motivated case" against him, and the loans he was accused of defrauding were not personal, but to keep his defunct Kingfisher Airline afloat. He claimed: "Being held as guarantor is not fraud as the money borrowed was lost due to a genuine and sad business failure. I have offered to repay 100 per cent of the principal amount to them."
A UK court wasn't too impressed with Mallya's argument that Mumbai's Arthur Road Jail was not fit for a man of his 'stature'. (Photo: PTI/file)
The extradition battle will turn more intense in the coming days as Mallya has nothing much to return to India to, barring the discomfitting prospect of spending time in jails he has himself been claiming aren't a 'suitable habitat' for a man used to mansions, speedboats and all that which makes up a way-above-prosperity-line lifestyle.
Mallya plans to exploit every layer of the British legal system to delay or thwart his extradition.
The UK Home Secretary's approval doesn't mean that Mallya is actually going to be extradited any time soon.
The first extradition order was delivered at the magistrate level — Mallya now has three courts of appeal in the hierarchy of UK courts.
Mallya can challenge the chief magistrate's extradition order in the Crown Court, from where his case can be taken to the Queen's Bench of High Court of Justice, followed by the Court of Appeal and the Supreme Court of UK. British laws allow one more level of appeal in the form of a judicial review at the SC. Each judicial level takes time. For example, the average time taken for disposing a plea by the Crown Court could be 5-6 months.
Mallya's desperation to stay back in the UK is matched by the Indian government's zeal to get him back. Elections are 100 days away. Vijay Mallya's escape had hurt PM Modi's tough-on-corruption image. The Opposition, led by Congress president Rahul Gandhi, linked his escape to demonetisation, to build a dominant 'harsh on poor and soft on rich who plunder and flee' narrative against the government.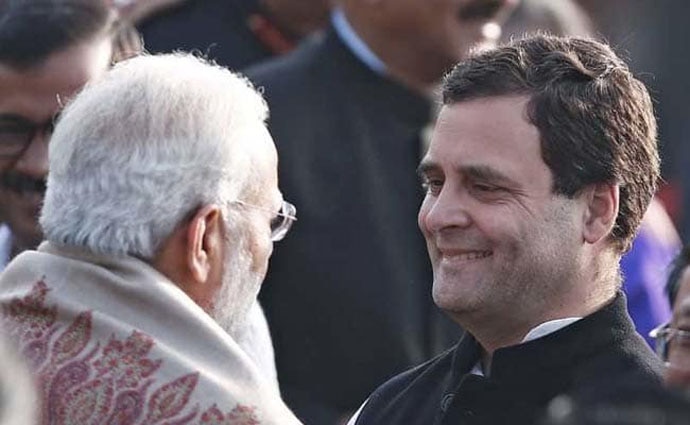 Here's laughing at you, kid: The Opposition led by Rahul Gandhi merrily used Mallya's escape to mock PM Modi. (Photo: PTI/file)
Stung, the Centre both escalated its diplomatic efforts to tell the UK it needs Mallya and also brought in the tough Fugitive Economic Offenders law.
But image correction needs bringing back offenders — not bringing in laws.
So, the clock is ticking for the Modi government. If he is extradited post-the May 2019 polls, it would be too late. The next three months are the only window of political opportunity.
Life for Mallya has changed in the last few months. In 2016, he had Rs 13,000 crore assets and a chance to pay up. But he first said no to returning what he had borrowed, then refused to return himself.
So in January, a special Prevention of Money Laundering Act (PMLA) court allowed the Enforcement Directorate's (ED) plea to declare him a 'fugitive economic offender'. The rules for 'fugitive offenders' aren't the same now. Gone are the days when they kept their assets till the time the court decided the cases against them. The new law says: 'evade the law, turn fugitive offender and lose your assets'.
Mallya has admitted that bad news about the confiscation of his properties hits him every morning.
He claimed his group's properties worth over Rs 13,000 crore have been attached — more than the "claimed" Rs 9,000 crore that he "ran away with" — asking where is justice and how far all this would go.
That's the strength of the Fugitive Economic Offenders Bill.
Banks had lent Mallya nearly Rs 7,200 crore. With interest payments, the amount outstanding is Rs 9,000 crore. But under the law, every asset he or his kin own can be seized to rest with the government, which can dispose of it and repay the consortium of banks he defrauded.
His frustration is visible from his posts on social media sites, where he claims that "the banks to which he owes money "have given an open licence to their Lawyers in England to pursue multiple frivolous litigations against" him, questioning the "brazen" spending of "public money on legal fees".
And despite all the attachments in India, Banks have given an open licence to their Lawyers in England to pursue multiple frivolous litigations against me. Who is accountable for spending Public money on Legal fees in such a brazen manner ?

— Vijay Mallya (@TheVijayMallya) February 1, 2019
Days before he escaped
Just a few years ago, due to his "connections" in Lutyens Delhi's power circles, the 'King of Good Times' Vijay Mallya, liquor baron-turned-lawmaker, was considered above the law. His airlines got most favoured status. Banks gave him loans, virtually no questions asked. He didn't pay back — banks did nothing. There was a "lookout circular" or LOC at airports in 2015 to nab him if he tried to leave India. Someone in the CBI diluted it.
He managed to escape to London on March 1-2, 2016
February 29, 2016
Finance minister Arun Jaitley was inside the Rajya Sabha as the Finance Bill was listed on top of the day's agenda. A few journalists were waiting outside his chamber in Parliament at the entrance of the red-carpeted Rajya Sabha lobby when MP Mallya arrived, with the commotion he usually attracted.
As the finance minister made his way to his chamber, Mallya tried to walk with him and strike up a conversation. One could hear him complaining about action by banks. The finance minister — the administrative boss of the banks to which Mallya owed Rs 9,000 crore — was suitably dismissive.
The conversation ended as Jaitley, without asking Mallya to come inside his chamber, was heard saying "settle it with the banks".
Later, we found that Mallya made an unsuccessful attempt to meet the Prime Minister in his Parliament office.
Arun Jaitley did not take kindly to Mallya's attempt to twist a small conversation with him into a so-called proper 'intimation'. (Photo: PTI/file)
In 2018, Mallya burnt his bridges with the government completely when he used that less-than-a -minute 'ambush meeting' with Jaitley to claim that he had "informed the government" that he was going to London and "was ready to settle dues". He did this to build a narrative for the courts that he didn't "flee" and the government knew he was leaving.
Jaitley reacted angrily. Mallya backed down.
That day in Parliament, Mallya didn't hang around too long after the conversation with Jaitley, and left in a Mercedes Benz. Not the black beauty he used in one of the earlier sessions, making journalists and security personnel waiting outside Gate No 12 drool. Then, he had smoothly eased out of the car and shut the door with a sound that only a hand-crafted Italian masterpiece — a Maserati quattroporte with a V6 3 litre engine that had enough horse power to propel the car like a rocket from 0-100 kmph in less than 5 seconds and a top speed of 290 kmph — would do.
July-August 2015
During the 2015 Monsoon Session, I found the Rajya Sabha MP in a sitting room adjacent to the Central Hall in Parliament. The Houses had been adjourned due to disruptions. Many MPs were there, coffee cups in hand, munching on the very popular toasted multi-grain bread.
Mallya was not in his usual flamboyant whites — he was wearing a linen shirt with a green Jawahar jacket that day. And he was unusually mild, visibly uncomfortable. As though the rising losses and debts had taken some fizz out of the liquor baron. He started talking about the disruptions in Parliament, but other MPs nudged him towards a conversation about his crashing business.
Feeling Blue? In the 2015 Monsoon Session, Vijay Mallya as seen in Parliament was not his usual ebullient self. (Photo: PTI/file)
He talked about how tough the airline business was. How his rivals were short-changing flyers. Lawmakers from Left parties in the group egged him on to first pay his employees, to whom he owed Rs 150 crore-odd.
The door opened — Ashok Gajapathi Raju, then-civil aviation minister, walked in. I kept my eyes on Mallya. His first reaction was a fresh wave of discomfort. After a few minutes, it was clear that he was making small talk, but attempting a rendezvous with the minister.
Gajapathi Raju is the erstwhile Raja of what was the Vijayanagaram kingdom and known to be disarmingly simple man. I saw him smiling, knowingly. "Sure you can come and see me some time. I am here during the session," the minister told Mallya.
When Raju got up to leave the room, Mallya tailed him out.
December 2015
The next I heard about Mallya was from a friend holidaying in Goa in December 2015. He told me that people near the Candolim and Sinquerim beaches were startled by loud sounds. They rushed out to find fireworks streaking across the dark night sky.
Mallya was celebrating his 60th birthday at his Kingfisher Villa.
He was nose-deep in trouble due to non-repayment of loans. Already declared a wilful defaulter by banks. The bash was on at the Kingfisher Villa — barely months after the Goa bench of the Bombay high court had cleared that lender banks led by the SBI could take over the villa.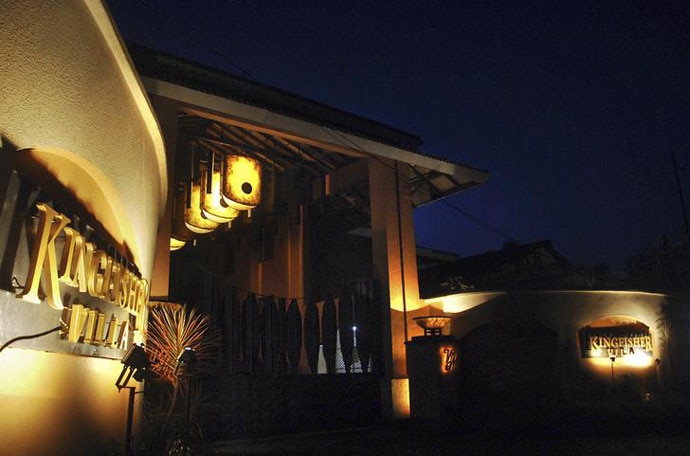 Kingfisher Villa, Goa: When Mallya hosted his 60th birthday bash here, the villa was already in a court battle. (Photo: Reuters/file)
But Mallya was celebrating, as he knew that the day he wanted to leave, no one would block him at the airports.
Sources say that party was attended by nearly 250 guests, accommodated at two Taj Group properties nearby. A probe agency official says a 150 minute-long music session was held, with the highpoint apparently being Sonu Nigam belting out the famous Asha Bhosle number "Tum jio hazaron saal, saal ke din hon pachaas hazaar". And the show stopper was the Madrid-born king of Latin pop, Enrique Iglesias, flown in for the party
Two months ago, on October 16, 2015, the CBI had issued a notice (LOC) stating that the liquor and airline tycoon should be detained if he tried to leave India.
But Mallya was celebrating — probably knowing that on November 24, 2015, the old circular was withdrawn and the CBI had issued a fresh LOC. This notice said that the only action to be taken in case Mallya reached any airport to leave India was to just inform the CBI.
It's not a coincidence that Mallya was out of India on the day the LOC against him was scaled down. He arrived from an overseas trip on the night of November 24, a few hours after the CBI had amended its notice.
To camouflage his plan to escape, apparently Mallya used the diluted LOC to the hilt — by frequently flying in and out of India.
He flew out on December 1, 2015. Returned on December 7. Again, on December 23 2015, he went on a foreign trip, and returned on February 2. 2016.
Mallya's Footprint — India to West Indies to California
His last foreign trip before fleeing was to Barbados in the West Indies, where he met PM Freundel Stuart and purchased a Caribbean T20 team, Barbados Trident.
And his collapse has led to a crisis for the Caribbean Premier League as by early last year, a number of Trident players and management faced delays in receiving payments due to them, ranging from US$ 10,000 to more. A CPL spokesperson said, "For the Caribbean Premier League, this is an unacceptable situation and we are currently going through due process in order for all of the players to be paid in the shortest timeframe possible."
Mallya's luxury yacht, Indian Empress, was auctioned in Malta in June 2018. (Photo: Reuters)
His brewery firm in the US, Mendocino Brewing Company Inc, too was hit by the legal proceedings in India. The California-based firm was banking on an USD 1 million bridge loan promised by his holding firm UBHL (United Breweries Holding Ltd) for survival. The firm was served 'default' notices by lenders in the past.
February 2016: The escape
By February 28, 2016, 'someone' had tipped off Mallya that the SBI had apparently received advice from senior Supreme Court lawyer Dushyant Dave to approach the apex court to restrain him from leaving the country.
But, in yet another suspicious move, the SBI — lead banker in the consortium of lenders — took its time to act.
That provided Mallya the time he needed to plan his escape.
He was then a Member of the Rajya Sabha and held a diplomatic passport. His ticket was booked on the London-bound Jet Airways flight 9W-122 from New Delhi barely a few hours before his departure. He reached the airport and is said to have gone to the Premium Plaza Lounge.
Swiftly leaving the House: MP Vijay Mallya fled India on a diplomatic passport. (Photo: PTI/file)
His seat number was 1D, in a first class cabin, and he checked in seven large pieces of luggage. No one on a business trip travels so heavy. Immigration officials noted his exit — but did not stop him from boarding the flight as the CBI notice didn't ask them to detain him. But, as mandated by the new notice, they informed the CBI that Mallya had left for London.
Alarm bells started ringing at the CBI headquarters.
Rattled, the then-CBI director Anil Sinha called up the heads of the lender banks to find out why they hadn't filed a complaint against Mallya. He is also said to have given a dressing-down to his juniors in Mumbai over the diluted LOC.
On March 8, 2016, a consortium of banks moved the SC for recovery of dues from Mallya and seeking direction that he was not allowed to leave India.
The public came to know about his escape on March 9, 2016.
The Attorney General of India told the SC that "the bird has flown".
From the safety of his London home, Mallya made another move to confuse the agencies and banks. He tweeted on March 11, 2016: "I am an international businessman. I have to travel to and from India frequently. I did not flee from India and neither I am an absconder. Rubbish."
I am an international businessman. I travel to and from India frequently. I did not flee from India and neither am I an absconder. Rubbish.

— Vijay Mallya (@TheVijayMallya) March 10, 2016
Mallya's last paycheck
Mallya didn't leave India with just his personal belongings, but a large tranche of cash. Less than a week before he fled, on February 25, Mallya cut a whopping severance package from United Spirits Limited (USL), the company built by him but taken over by the world's largest liquor manufacturer, Diageo Plc, in 2013.
By the time Mallya left India, he made sure he was sitting pretty with his finances. (Photo: Reuters/file)
After taking over the management of USL, Diageo found Mallya had reportedly transferred Rs 1,225 crore from the company to entities that he privately controlled. A special audit of USL account books uncovered Mallya's apparent sleight of hand.
He was forced to step down, but only after he extracted a promise from Diageo that he would be paid US $ 40 million upfront and the rest in 5 annual tranches.
The liquor giant informed the bourses. The ED filed a PMLA case against him on March 7, 2016 — one day before the banks moved the Supreme Court.
But by then, Mallya was in London.
And now, if India fails to secure an extradition, in the UK he will stay.
Also read: Truth behind how Vijay Mallya fled India
The views and opinions expressed in this article are those of the authors and do not necessarily reflect the official policy or position of DailyO.in or the India Today Group. The writers are solely responsible for any claims arising out of the contents of this article.