If anyone is calling Kanhaiya or the students and faculty of JNU and elsewhere, progressive people from all over, not to speak of prominent poets, actors and others, who have come to campaign in Begusarai, 'champagne socialists', these critics should be quite aware that the relatively backward Begusarai can provide no champagne to socialists.
This tweet has uncorked the 'champagne socialist' charge.
As for jet-setting, there is not even an airport closer than Patna, and a gruelling bus ride from there. As for the charge that Kanhaiya and his supporters are seeking to be in the limelight, Kanhaiya has been in the limelight for a number of years already.
In any case, isn't it true that in every campaign, people seek the limelight? In Kanhaiya's campaign, dignitaries would be addressing public meetings, and speaking on Kanhaiya and his struggles — but Kanhaiya would be away in one of the 37 villages of Begusarai, along with his supporters — many from JNU. These spurious allegations, such as 'champagne socialists', 'limelight-seekers', etc., ignore the fact that a substantial number of JNU students and others, including poets, human rights activists, teachers and faculty from several universities, have braved the difficult conditions in Begusarai, to light a spark towards a more secular, egalitarian and considerate state.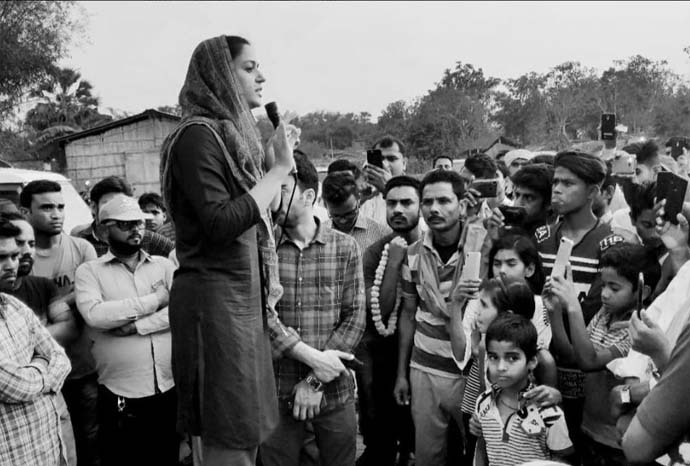 Kanhaiya and his followers have campaigned on the power of their beliefs. (Photo: Twitter)
I have known Kanhaiya since the time he joined JNU.
I realised very quickly that he is an exceptional person who has grown every day intellectually, politically — and as an ethical human being. He chose to join the CPI and many of the students and faculty were Left or left liberal-inclined in JNU. In those night meetings after dinner, which were a common way of interaction in JNU, he quickly drew crowds.
He also had hard times. In February 2016, when he was the president of the JNU Students Union, he was accused of sedition. But the courts rejected that charge. Even earlier when he was being taken to the Patiala House Court in New Delhi, he was dragged and kicked by BJP supporters in the presence of Delhi Police. 
Kanhaiya was even savagely attacked as an under-trial just by the courts. (Photo: PTI)
When this question was raised, police Commissioner BS Bassi claimed that Kanhaiya was not injured in the fracas. But the doctors of the RML Hospital certified that he suffered injuries. Between the JNU Vice-Chancellor who is apparently pro-RSS and the police, linked with the state, there were attempts to cow down the student community, including student leaders like Shehla Rashid, Umar Khalid and Anirban Bhattacharya.
All four were also accused of being part of a shouting brigade that questioned the existing government and its cohorts. A large number of students were reportedly fined — on little basis — of sums up to Rs 20,000. JNU had been through radical phases before — but it did not have to face this kind of pressure from the state. The faculty stood firm with the JNU students Union. Now, they stand with Kanhaiya, on principle.
This campaign is a deadly serious business. People may not wholly or largely agree with what is going on. But it must be obvious that something major has happened within the boundaries of Begusarai — which has caused reverberations in the politics of our country.
It is not only frivolous but dubious and diversionary for people who are facing an autocratic prime minister, who has been hiding away from us what he has done during processes like demonetisation, the promises of Rs 15 lakhs for the poor and using, to my mind, Balakot politically, to advance his agenda.
This needs more questions. And more answers. Neither seems forthcoming. (Photo: Reuters)
It is grossly trivial for onlookers to make spurious claims about jet-setters, limelight-seekers and the like, when a very large and sustained campaign has been put together in gathbandhans, new coalitions, and the renewed strength of students and youth — who are trying with all their might to bring secularism and democracy for a progressive and pro-poor India.
As for the illustrious critics with wordy charges, all this will be forgotten in a matter of days.
But Begusarai and Kanhaiya will be remembered.